Each year, architectural news website ArchDaily compiles a list of buildings around the world that made waves and turned heads. Their top picks for 2019 include a mind-bending museum that spirals over a river, an Indonesian restaurant filled with hovering logs, and a tiered rooftop garden in Vietnam where a married couple harvest vegetables. Read on for the year's most innovative, stunning, and wildly influential projects.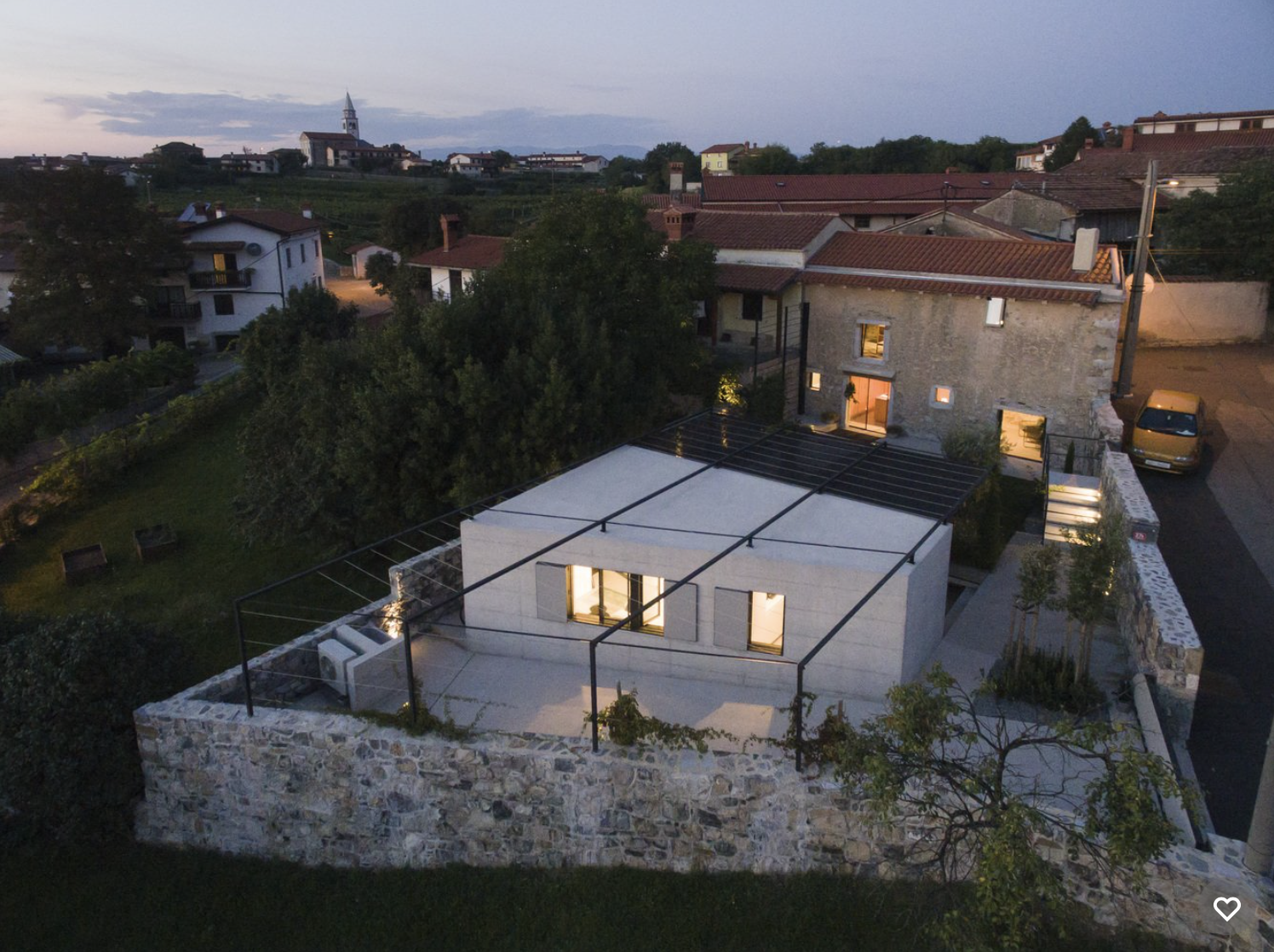 Once home to a cow named Sivk—Lavender, in English—a refurbished barn is now a homestead on a hill above the Slovenian city of Trieste. The updated structure retains many of its original elements, like stone window and door frames, oak roof beams, and a time-worn facade. Across the garden, a new single-story in-law unit in iron and concrete supplements the existing structure. In time, and as the garden grows, the project will age into the landscape—with the patinated barn from yore melding old and new against the Mediterranean landscape.
Inspired by Villa Savoye, 911-Villa in Ho Chi Minh City is essentially a steel box resting on columns, with an emphasis on providing plenty of space for the owner's extensive car collection. A central courtyard fills the home with natural light and ventilation and sets the tone for the residence's interior. The ground floor is completely open, providing visual connections to the entire site, and the functional space opens directly to the courtyard and surrounding landscape for unhindered views of the owner's automobiles. The design is an exercise in Vietnamese tradition, where materials are thinly layered and strategically balanced through each corridor, awning, and hallway. In a region where both sunlight and rain are plentiful, the home celebrates humankind's connection to nature.
At Under, a Snøhetta-designed restaurant balanced on the Norwegian coast, guests dine 16 feet below the ocean's surface. The tilted concrete tube gives the impression that it's sliding into the sea. "The idea was to make a tube that would bring people from above sea level down under the sea," lead architect Rune Grasdal told Dezeen. "That transition is easy to understand, but it's also the most effective way to do it. It also feels secure, but you don't feel trapped." The angle was also designed with the building's aquatic neighbors in mind. Over time the structure will become part of its environment, acting as an artificial reef. Marine research tools like cameras have been installed outside the restaurant to help scientists learn about the population, behavior, and diversity of the species living in this part of the North Atlantic.
In the forested outskirts of Mexico City, Casa Flotante—or Floating House—is a home that spirals towards the heavens. Built of wood that blends into the flora, the home features giant windows on multiple levels that meld nature and shelter into one. Wraparound decks and exterior staircases provide multiple platforms from which to take in elevated views of the forest canopy.
The design of Kayu Kayu Restaurant melds the backgrounds of its proprietors: a wood craftsmen, a furniture maker, and a garment artisan. Heavy logs are suspended over the heads of visitors to create an illusion of lightness, but simultaneously to shade the interior from sun peering through the western facade. Mirrored staircases spiral around a giant Alstonia tree that hovers over a koi fishpond. The first floor holds a restaurant and café, while the second floor serves as an event space with a bar and a terrace overlooking the garden area. Huge skylights provide plenty of natural lighting, and the structure features exemplary wood and steel joinery by local craftsmen and locally sourced materials.
Buried beneath the terrain in Portugal, House in Monsaraz is a cast dome that shelters living and social areas within convex spaces. A protected courtyard faces out towards Alqueva Lake and the natural landscape, and the bedrooms open onto circular patios that do the same. The nearly invisible home nests into the earth, remaining hidden from all but one vantage point.
Hidden in a eucalyptus forest on the edge of a lotus pond, Garden Hotpot Restaurant is a destination touting Chengdu's hotpot food culture. To pay respects to the unique environment—the area is known as "green lung"—MUDA omitted walls from the design, instead using pillars and boards to form a semitransparent structure. The wavy restaurant emulates steam rising from a hotpot as it peacefully traces the outline of the lake. With simplified, low-cost building methods, the architects achieved a durable but sensitive design that pays great respect to the natural environment.
The Opus, home to the Middle East's first ME by Melia hotel, is designed as two separate towers that coalesce into a singular whole. It's a cube with a carved-out central void, which is an important volume within the building in its own right. "The Opus will be aligned with Omniyat's vision of treating each project as if it were a unique work of art," says Mahdi Amjad, Executive Chairman and CEO of Omniyat—a luxury real estate company. "The design conveys the remarkably inventive quality of ZHA's work, expressing a sculptural sensibility that reinvents the balance between solid and void, opaque and transparent, interior and exterior."
The Twist by Bjarke Ingels Group is a museum that hovers over the Randselva River, adding a second, spectacular water crossing to Norway's Kistefos sculpture park. Visitors can wander through the bridge's shifting volumes, peering out at the forested landscape through a full-width glass wall that twists upwards as one moves from North to South across the river. Aluminum panels stack like a fan to create a mesmerizing spiraling effect. "Wherever you look, you see arches and curves, Fibonacci spirals and saddle shapes, but when you look closer you realize that everything is created from straight lines—straight sheets of aluminum, straight boards of wood. It's an expressive organic sculpture composed of rational repetitive elements," says Bjarke Ingels.
In the wake of a ravaging cyclone, a local philanthropist donated land to build Friendship Hospital, an 80-bed structure set against the predominantly rural and riverine Bengal landscape. It's a series of interconnected courtyards with a central canal, where rainwater is collected and used to nurture the internal landscape. The site holds two large tanks for harvested rainwater—a valuable resource in an area where the saline groundwater is unusable for most practical purposes. It's an efficiently built campus that blends with its deep-green, earthy surroundings.
Built for an aging married couple, Red Roof House champions a style of regional architecture that accommodates their culture and lifestyle. The multiuse ground floor provides space for bicycle repair, a living room, a kitchen, a traditional outdoor woodstove, bedrooms, and cooking and meal preparation facilities. Instead of one major courtyard, three outdoor spaces in the front, middle, and back of the home connect indoor to out. A rooftop garden provides produce for every meal while providing a layer of insulation that's far better than the steel roofs of nearby homes.
Musée Yves Saint Laurent is a museum dedicated to the French fashion designer. It houses thousands of items of clothing, haute couture accessories, sketches, and assorted objects. In addition to a museum, the building holds a permanent exhibition space, a bookshop, a café-restaurant with a terrace, and a research library with some 5,000 books. Studio KO studied Saint Laurent's archive to arrive at a structural design that mimics his curved and rectilinear designs, and one that uses intricate brickwork to achieve a look not unlike stitched clothing.
Article originally posted by DWELL