Known for its beautiful rivers, national parks, and vibrant urban centers like Saint Louis and Kansas City, the state of Missouri is also home to several striking prefab and kit homes. We've rounded up a few of our favorites that combine contemporary design with high-quality manufacturing techniques that streamline and simplify the construction process.

In Kansas City, Missouri, a family sought to construct a new home using prefabricated structural insulated panels (SIPS) instead of traditional frame construction. The entire kit house is composed of 4′ x 8′ sections, and the shell was constructed in about a week. The project's relatively low cost, quick build time, and highly insulated envelope were positives, but the panels also have their limitations. "Most SIP projects look pretty stupid," Jamie says. "They haven't been manipulated by someone who's thinking creatively." In this case, Jamie augmented the simple panel system with a dynamic cantilever.
Missouri-based architect Rocio Romero designs ADUs that serve as studios, backyard offices, guest cottages, and short-term getaways. She's sold over 50 prefab units in 17 different states, and she recently launched a line of more modestly sized, construct-it-yourself structures dubbed the Camp series. Here, Romero and product manager Julie Schaefer review plans together at a Base Camp prototype in Missouri.
A Prefab Barn from Stockade Buildings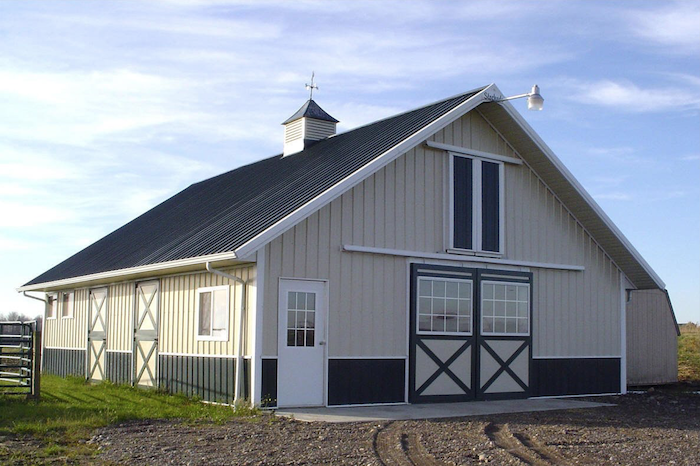 Interested in constructing your own barn? This stockade stall barn with an attached loft was built by Missouri-based Stockade Buildings. Based in Oran, Missouri, the company offers a range of prefab barns and other types of buildings.

Although it's more of a studio space than a full-fledged home, The Shed by Kansas City, MO–based Hufft Projects is a simple structure constructed using prefabricated steel trusses. The building is clad in white oak sourced from the surrounding property in Springfield, Missouri.
Article originally posted by DWELL