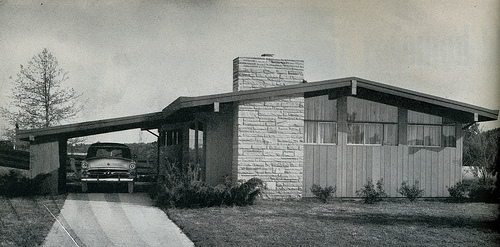 ModernSTL is pleased to present the unique opportunity to tour several homes of the Ridgewood Neighborhood in Crestwood, Mo., as part of their annual home tour. Designed by local modern architect Ralph Fournier and built by Burton Duenke in 1951 thru 1953, the neighborhood of 258 homes is as much of a desirable place for an affordable modern home now as it was then.
To meet the public's growing demand for modern homes, successful St. Louis Developer Burton Duenke, in collaboration with architects Ralph and Mary Jane Fournier, conceived Ridgewood as a modern alternate to the traditional style homes Duenke had been building since 1946.
The Ridgewood concept was an immediate success, and popular publications of the time such as Better Homes & Gardens and House + Home magazine were quick to showcase Ridgewood homes in their feature articles. Unique both for the time and for St. Louis, the Ridgewood project was also advanced in its form of construction. Duenke founded his Modular Homes company to create a unique, partially prefabricated building method that would further the success of his project. Post and beam frame construction, combined with an innovative modular panel system allowed the Ridgewood home to be affordable, practical, and approachable. The modular panel system was successful enough to allow the Ridgewood home to be built in numerous locations within a 500 mile radius of St. Louis.
At the time the Ridgewood development began, other builders across the country were working to fill a similar void in the housing market. In California, builders such as Joseph Eichler sought to provide the ultimate in living the "California Lifestyle" with his tract homes. Similarly, Cliff Maybegan developing his own modular home program using techniques similar to those utilized by Duenke and Modular Homes. In cities like Tulsa, Okalahoma, Lortondale became one of the first large scale housing developments to incorporate features such as slab-on-grade construction and central air conditioning. The Ridgewood project allowed St. Louis homeowners to experience living in a home with features similar to these, while enjoying a modular, partially prefabricated home that was entirely unique.
Duenke and the Fournier's went on to design and build Craigwoods (Kirkwood, ModernSTL home tour 2015), Sugar Creek Ranch (Kirkwood, ModernSTL home tour 2017), and Harwood Hills (Des Peres, ModernSTL home tour 2013). The homes in Ridgewood are in high demand and remain affordable, practical, and approachable for buyers seeking a modern home in the St. Louis area.
Date: Saturday, October 13th, 2018
Time: homes open 1-5pm, refreshments and conversation until 6pm
Check-in Location: 1331 Liggett Dr. Crestwood, Mo 63126
Cost: $10 members, $20 non-members
Pre-purchase tickets soon at ModernSTL.com