Neighborhood: Central West End Architect: Frederick C. Dunn Landscape designer: Matthew Moynihan, Moynihan & Associates Significant stats: Designed in 1948 and completed in 1952. About 4,000 square feet; three bedrooms, four baths
Why we chose it: Built for philanthropists and ardent art collectors Howard and Isabel Baer, this Modernist structure has always stood out from the neighboring Beaux-Arts manses on the block. Built in the International Style, it makes a statement with its white brick–and–glass façade and front-facing second-floor terrace with wood louvers. Inconceivable today, the bricks on the home and guesthouse were once pink. Nearly 20 years ago, the current owner, acting on a hunch that the architect would've preferred white-painted brick, consulted MoMa architectural curator Terence Riley. "[Terry] agreed with me," says the owner. "He [also] felt that the architect's original intent would have been that the building be painted." The landscaping is just as showstopping: A U-shape allée of pleached hornbeam trees affords privacy for the homeowner and delights passersby. "People respond differently to different elements of the house," the owner says. "Some find the gardens magical." Indeed, the front and back yards—featuring boxwood and holly that change colors with the seasons—have been designed as outdoor rooms. Says the owner: "I always liked the contrast between this house and its surroundings."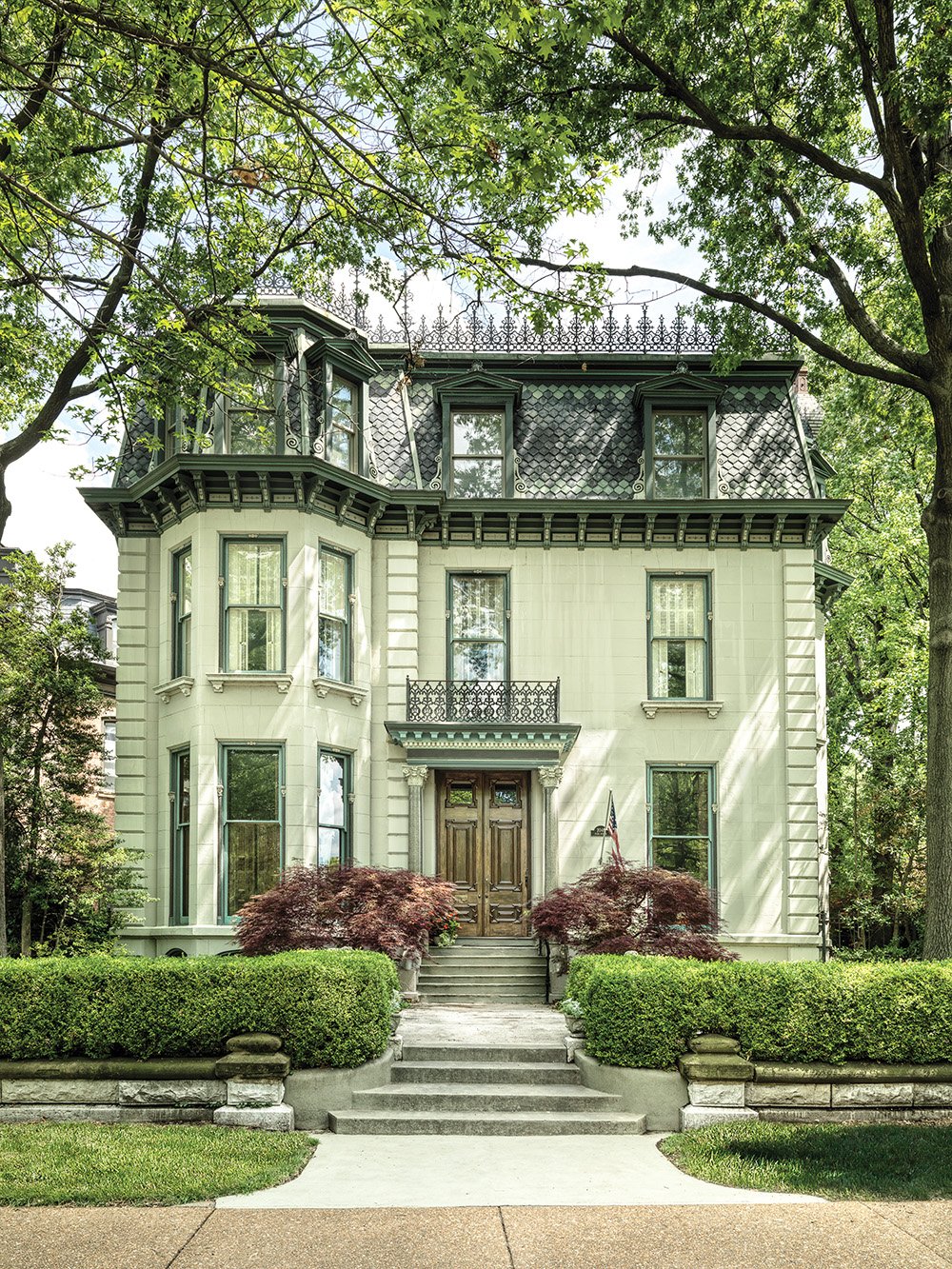 Neighborhood: Lafayette Square Architect: George Ingham Barnett, a St. Louis architect who also designed the Missouri Governor's Mansion, in Jefferson City, and the Henry Shaw House in what is now the Missouri Botanical Garden Landscape designer: Owners Significant stats: Built in 1878 for William Huse, a wealthy local businessman; 8,000 square feet; six bedrooms, five and a half baths
Why we chose it: This stately mansion facing Lafayette Square Park is the epitome of the neighborhood's Victorian era grandeur. Built in a French Second Empire style with Italianate influences, it's constructed of locally sourced red brick and faced with limestone slabs to give it a smooth appearance. Its owners, Mike and Carolyn McAvoy, purchased the house in 1983 and two years later started their real estate company in its library. In 1982, a fire destroyed its back frame and some of the interior finishes. The couple spent years restoring it. "Restoring this home was much more difficult than we had ever imagined but also much more rewarding," recalls Carolyn. She notes that the home's ornate iron cresting was removed many years ago, possibly during the patriotic metal drives of World War I. A photo of the home from the 1890s clearly shows the cresting, and Carolyn says the replacement of this "crown" was one of their most satisfying efforts. When the couple purchased the house, the original front doors were also missing, so they had the current ones custom built on templates from a neighbor's home that was designed by the same architect. "We realize that we are just one part of the long history of this home," Carolyn says, "and we hope that everything we've done will preserve it for the next hundred years."
Neighborhood: Compton Heights Architect: Otto Wilhelmi Landscape designer:Owner Significant stats: Built in 1891 as a Queen Anne with eight bedrooms; about 4,000 square feet; now has four bedrooms, three full baths, and one half-bath
Why we chose it: This house was a gift from a couple to their daughter in 1923, on her wedding day. But after honeymooning on the French Riviera, the newlyweds returned to St. Louis and, inspired by the architecture that they saw there, decided to renovate their wedding gift to look more like the French Eclectic houses they'd admired while abroad. According to Dr. John Merkle, the home's current owner, the couple removed coal-burning fireplaces and added windows to open the rooms to sunshine. "It was a house that needed a good owner who would restore it, take it back to what it was—with modern conveniences," he says. For the past three decades, Merkle has tried to follow their example, making the third-floor attic into a theater, transforming a second-floor nursery into an Edwardian library, and imagining other spaces as galleries to hold his extensive collection of European antique furniture, Japanese cloisonné, and other antiquities and decorative artworks that he's collected for half a century. Merkle's enthusiasm for the interior rooms is also seen in his passion for the gardens, where he's planted 400 boxwoods, a Victorian knot garden, and an area devoted to English woodlands. "It's a constant evolution," he says. The house is also the background for his family's large gatherings, such as at Christmastime. "Whoever inherits or purchases this home after I'm gone," Merkle says, "is going to have a wonderful template on which to continue the traditions."
Neighborhood: Shaw Architect: Raymond E. Maritz and Gale Evans Henderson (Maritz & Henderson) Landscape designer: Abigail Ullmann, Landscapes by Design Significant stats: Built in 1914 for Walter Schmitz, a local salesman, for a mere $5,000; 2,856 square feet; three bedrooms, one full and two half-baths
Why we chose it: Though somewhat more modest than its neighboring homes on historic Flora Place, this house exudes charm, with its ivy-lined walk and elegantly sloped slate roof. Owner Lee Kling has lived in the house for 16 years. A longtime city resident, Kling had noticed the house before eventually buying it and felt an instant connection. He later learned that it was designed by Maritz & Henderson, the same architects who built the home he grew up in. The home's interior, which is larger than it appears,  is filled with pristine original woodwork, stained glass windows, and loads of special details. "I always discover something new, which is fun," Kling says. The French-style front doors, topped with stained glass transom windows, lead to a small enclosed vestibule. The cozy side porch, framed by columns and overlooking the garden, is one of his favorite spots in which to relax with a cocktail. Kling loves his home but the tight-knit neighborhood is what he values most: "We vacation together, have parties, take care of each other. We're like a family."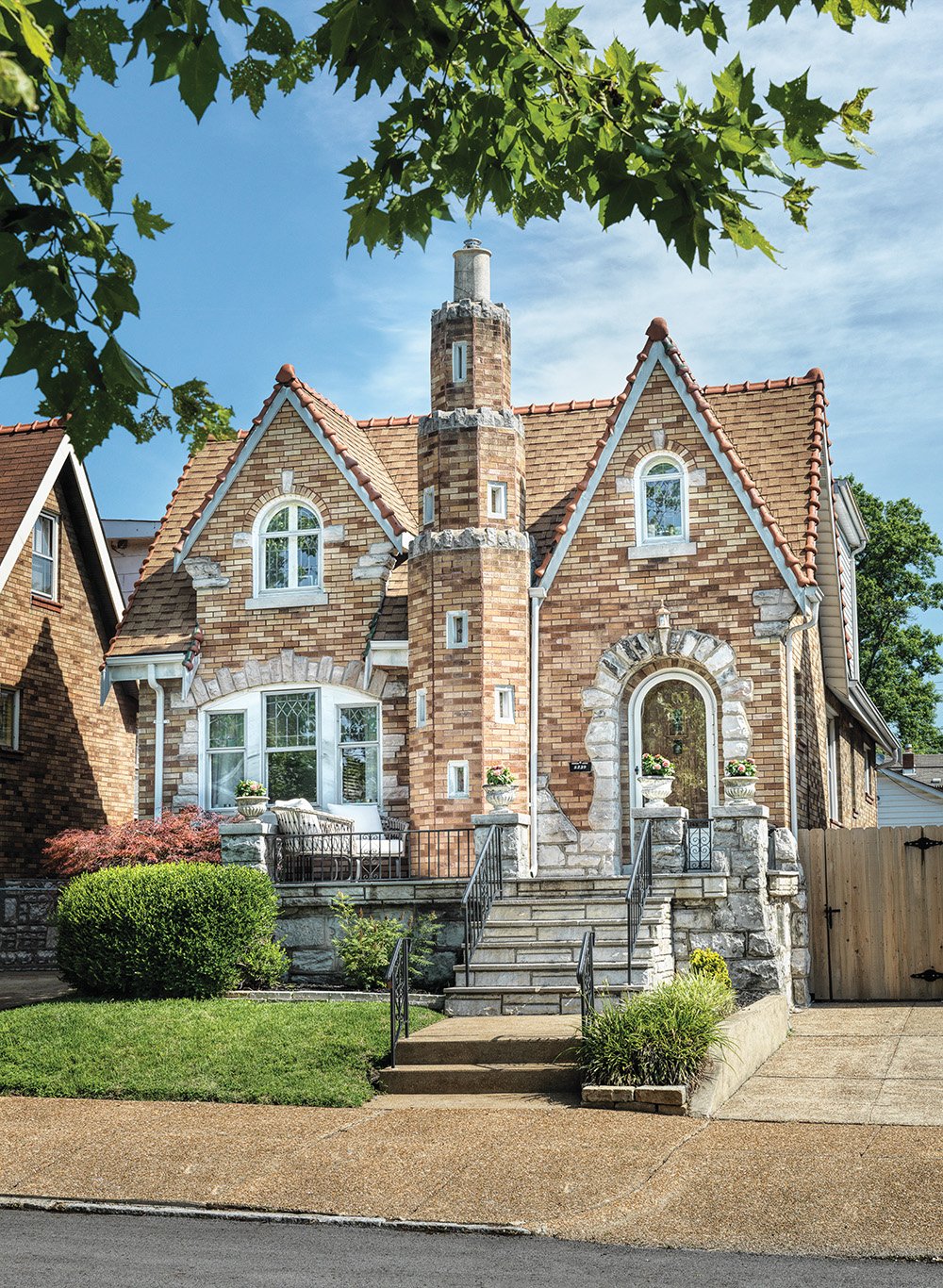 Neighborhood: Kingshighway Hills Architect: Unknown Landscape designer: None Significant stats: Built in 1934; 1,742 square feet; four bedrooms, two baths
Why we chose it: Although this South City neighborhood is filled with charming gingerbread brick homes, this house stands out as the only one with a castle-like tower on its façade. The feature is dotted with tiny stained glass windows all the way to its top. But the structure isn't actually a room at all: Its interior is completely inaccessible from either inside or outside the home, only adding to its intrigue. Built of multicolored brick that's accented with stone and two sharp peaks edged in terra cotta tile, the house looks like it has jumped straight from the pages of a storybook. Owner Kris Peterson, a transplant from Seattle, moved to St. Louis in the midst of the pandemic last summer and purchased the house without ever having set foot inside. Thanks to her local best friend and a trusted real estate agent, as well as the magic of FaceTime, Peterson took a leap of faith on the basis of a virtual tour alone. "The minute they walked in," she recalls, "I was, like, 'This is the house I want.'" A Mizzou graduate, Peterson had spent time in St. Louis but is now immersing herself in city life: "I always loved it. It always felt like home to me."
Neighborhood: Southwest Garden Architect: Unknown  Landscape designer: Owners Significant stats: Built in 1902. One of the current owners' great-grandmother and great-grandfather bartered with the home's original owner to exchange the house for the land on The Hill where St. Ambrose Roman Catholic Church now stands; 2,304 square feet; five bedrooms, two baths
Why we chose it: Nicholas Collora is the fourth generation of his family to call this house home. Seven years ago, he and his wife Natalie, parents to five children, purchased the house from Nicholas' father. "It's been my husband's dream since he was a little boy," says Natalie. Growing up, Nicholas loved listening to stories about the house, including one about a young Yogi Berra catching a few pitches in the backyard's muddy baseball field. Eventually, the diamond gave way to flowers and trees, as well as a pergola, fire pit, and wood-burning pizza oven. Seven years ago, the couple decided to replace the original front porch and add black awnings. "We love the front of the house," says Natalie. "It just has so much character." Inside, 10-foot ceilings, original hardwood floors and parlor doors, and a mahogany mantel remind visitors of the home's Victorian provenance. The house's legacy isn't lost on the young Colloras, says their mother: "It's a funny conversation with our children around the dinner table about who gets to purchase the home next."
Neighborhood: Holly Hills Architect: Unknown Landscape designer: Owners Significant stats: Built in 1928; approximately 3,300 square feet; four bedrooms, two and a half baths
Why we chose it: The intricate brickwork on this Tudor-style home facing Carondelet Park stops passersby in their tracks. The winding brick walk and impeccable landscaping, all installed by the owners, accentuate its beauty. Ed and Wendy Papes have lived here for 24 years and are the second family to own it. Ed previously owned a house on a neighboring street, and his dream was to live in one of the grand homes on Holly Hills and raise a family there. That dream came true: The couple raised their four children here. Now empty nesters, the Papes plan to stay put. The previous owner was an ironsmith, and his craftsmanship can be seen throughout: on a Juliet balcony in the entryway, on the scrolled radiator covers, and on the railings that line a backyard walk. The original rounded iron-and-glass front door is another stunning feature, weighing in at around 400 pounds. "[The house] has been a labor of love since its purchase," says Wendy. It's a frequent stop on neighborhood tours, and admirers often pause to ask questions or snap photos. The couple's favorite spot is the living room, which lies behind the limestone-framed triple windows on the first floor. "You can find us every Saturday and Sunday sitting there, watching people in the park," Wendy reports.
Neighborhood: Central West End Architect: Weber & Groves Landscape designer: Outdoor Creative Design; maintained by Selz Gardening Significant stats: Built in 1899, with a separate carriage house erected in 1901; 4,500 square feet; four bedrooms; three and a half baths
Why we chose it: The ornate façade, unique flourishes, and lush landscaping of this Beaux-Arts/Renaissance home are a feast for the eyes. Rows of hydrangeas flank the stairs leading to the front walk. Terra cotta adornments on the pilasters, arched windows, and entry arch include acanthus leaves and fleurs-de-lis. Other architectural features—tripartite windows, a balcony topped by egg-and-dart cornice and quoins, copper-clad dormers—add to the elegance. For longtime CWE residents Celeste Vossmeyer and John Sandberg, who purchased the home in 2003, it was love at first sight. She was widowed and he divorced when they met and decided to marry and start a new life together with their combined families. "We wanted a house where the kids could come together and that could be our first house," Vossmeyer recalls. "We walked in and were, like, 'This is it.'" Before moving in, the couple held their wedding in the home's backyard. Since then, they've installed a pool, hot tub, and gardens. The kids are now grown, but the couple continues to enjoy the house and neighborhood, Vossmeyer says: "We can sit in our backyard and not hear a thing but then walk down the street and have a drink at Brennan's."
Neighborhood: Princeton Heights Architect: Unknown Landscape designer: Homeowner Significant stats: Built in 1929; 1,400 square feet; two bedrooms, one bath
Why we chose it: It's fitting that this bungalow, often referred to as a gingerbread house, is home to the Ginger family: Scott, Gwen, daughter Blake, and two dogs. Gwen and Scott Ginger bought the property in 2016. "We wanted a home with Old World charm," Gwen says. "The second we laid eyes on it, we said, 'This is just adorable.'" The petite home's character is only amplified by its big-on-looks stylistic elements: a prominent turret, intricate brickwork, and arched doorway and window. The exterior architecture of the home is unique, say the Gingers, and aside from hanging custom flower boxes each spring and occasionally touching up the paint, they refuse to change a thing. Inside, however, they've been busy renovating the kitchen to match their modern tastes. The couple say they spend most of their time in the backyard, where they've used cozy patio furniture, green space, and colorful flowers to create an oasis for the family. Bringing newborn Blake home from the hospital was a special milestone for the couple in their first home. Gwen says that their daughter, now age 2, tells people that her "house is pretty." We couldn't agree more.
Neighborhood: DeBaliviere Place Architect: Maritz & Young Landscape designer: Owners Significant stats: Built on two lots in 1915 for Clarence Curby, general manager and vice president of Smith & Davis Manufacturing; 9,000 square feet plus carriage house; seven bedrooms, five baths
Why we chose it: The homes along this storied block are architectural jewels. This house, one of the newer homes on the street, is no exception. "The architecture, the materials, the craftsmanship—it is all extraordinary and breathtaking," says owner Pina Hanson. "We have not seen anything like it anywhere else." Soon after she and her husband Morin Hanson purchased the home, nearly 20 years ago, they moved out for three months so Saint Louis Symphony volunteers could move in, stage a showcase house, and welcome hundreds of visitors to tour the residence as part of the organization's fundraising. The home has benefited from having had just a few dedicated owners, each contributing to its preservation. The kitchen still holds the original stove and icebox, and the butler's pantry features the original copper sink. The marble from which the five fireplaces were all fashioned is no longer available. Like many homes of this era, this one comes with a signature motif—in this case, musical notes—carved into the woodwork. Though the Hansons love the house and have played host to many a social gathering there, they see themselves primarily as its caretakers. "We're very fortunate to live in this beautiful home," says Pina, "and we want to take good care of it so that it's preserved for future generations."