Article originally posted by STL Mag
Visiting the Pulitzer Arts Foundation will not be the hands-off experience that one might expect at an art museum. The provocative, participatory exhibition "Assembly Required," on view now through the end of July, comprises works by nine artists, and many of them invite viewers to handle or entirely create the work itself.
For example, enter Hélio Oiticica's neo-concretist sculpture Penetrável Macaléia (1978). Try rearranging the table-top "critters" in Lygia Clark's bichos sculptures or share the view with another person through her "dialogue goggles," with mirrored lenses changing the view. A hundred pages of Yoko Ono's Grapefruit (1964) on the wall in a long single line provide simple, poetic instructions for performing artwork, such as: "Watch snowfall until dinner time."
"What we really want people to do is come into the space, be ready to play, be ready to experiment," says curatorial associate Heather Alexis Smith. "Just be ready for a totally new experience."
Beyond getting visitors to engage deeply and physically with the work, the show takes on questions of what art can do out in the world, of art's role as social action itself. Some pieces don't invite participation but depict it, such as When Faith Moves Mountains by Francis Alÿs, documenting 500 volunteers with shovels moving a sand dune four inches over the course of a day in Peru—action the artist thought up during the last days of the Fujimori dictatorship in that country in 2000.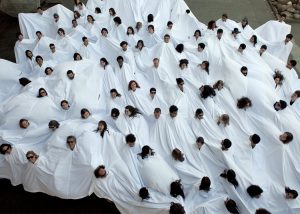 Lygia Pape's 1968 performance work Divisor had dozens of local kids marching in Rio, connected by a sheet than covered their bodies but revealed their heads—a provocative gesture during a year when the Brazilian government had suppressed public assembly.
Outside the museum, Rasheed Araeen's work Zero to Infinity, conceived in 1968, is made up of 36 red open frame wood boxes laid out in a grid. Visitors can move them around in any way they see fit.
Depending on who is at the museum when you visit, and what their plans are for boxes, critters, sculptures and more, you'll have a totally different experience across visits, or even minute by minute on the same visit.
"How do you invite people to act a little differently in the museum?" asks Smith. "So often at the Pulitzer, we talk about how the building shapes our shows. It's a unique space. The very structure of the building, of its different gallery spaces, prompts further thought and reflection, especially when you're thinking about how art functions in space."
The exhibition, curated by Pulitzer Arts Foundation Curator Stephanie Weissberg, includes artworks from Francis Alÿs, Rasheed Araeen, Siah Armajani, Tania Bruguera/INSTAR, Lygia Clark, Hélio Oiticica, Yoko Ono, Lygia Pape, and Franz Erhard Walther.