There are three prominent names in the history of Hortense Place: Jacob Goldman, Paul Jones, and George W. Hellmuth – a capitalist, a real estate developer, and an architect.
In 1900, Goldman, a wholesale cotton factor and principal in the Lesser-Goldman Cotton Company, purchased a bit of land lined with Stately residences. In 1900 Goldman reserved lot No. 9 for himself and commissioned architect William Levy to plan his house. Goldman then contracted Paul Jones & Company to lay out 17 more residences. Gates designed by architect William Levy were erected at either end, and Goldman named the street Hortense Place for his daughter. A 1906 activities report from the Paul Jones Company indicates the lots sold immediately and the first purchaser soon resold for a 25% profit.
Unlike Goldman's Romanesque-style home erected of rough-cut Carthage stone with a red tile roof that recalls Link's Union Station, the other houses on Hortense are of brick. All but five are by the same architect, George Hellmuth. Hellmuth's first opportunity to design likely came through the Paul Jones Company.
Hellmuth's designs for the Marion L.S. Lambert House at No. 12 (1902) and V. Reyburn House at No. 13 (1905) are both solid, one-over-one sash variations in the Georgian style in comparison to the Walker House (No. 5.) which has an asymmetrical configuration of the facade reflects an asymmetrical plan within.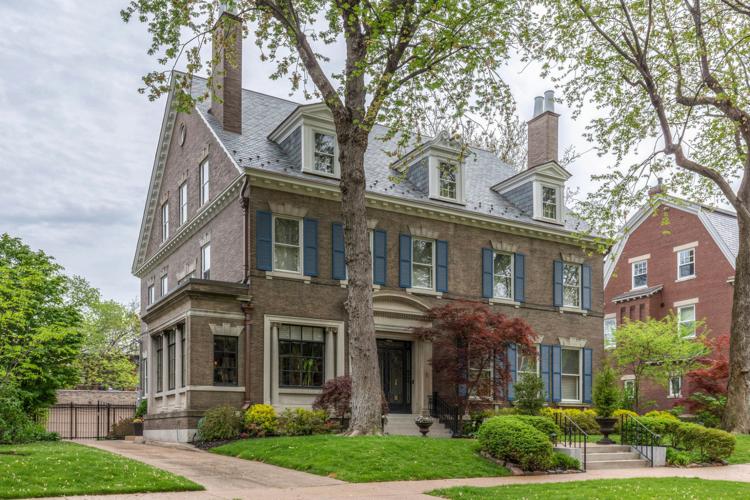 The two-story portico and attic of the Albert B. Lambert House, at No. 2 (1903), make it one of Hellmuth's most imposing private street commissions. However, it can be seen as a variation of the Marian L.S. Lambert Georgian Style facade at No. 12. This design resembles several earlier houses by Eames & Young and by Barnett, Haynes & Barnett.
In contrast to the uniformity of the houses Hellmuth designed here, Hortense Places boasts two of Barnett, Haynes & Barnett's most remarkable houses, No. 4 and No. 17.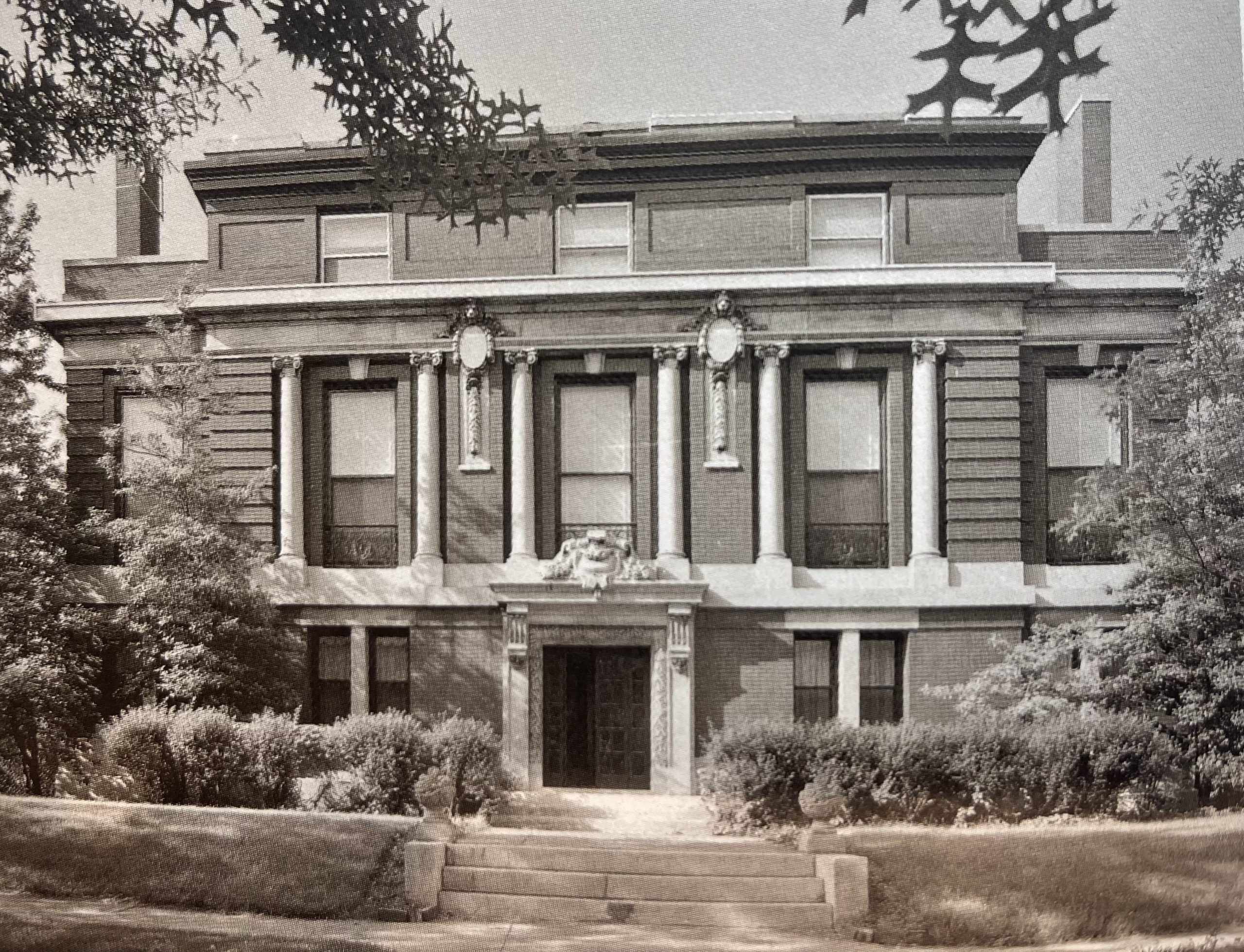 The Eugene R. Cuendet residence, 1904, at No. 4, is red brick and yet another essay in that firm's Beaux-Arts mode (fig 132).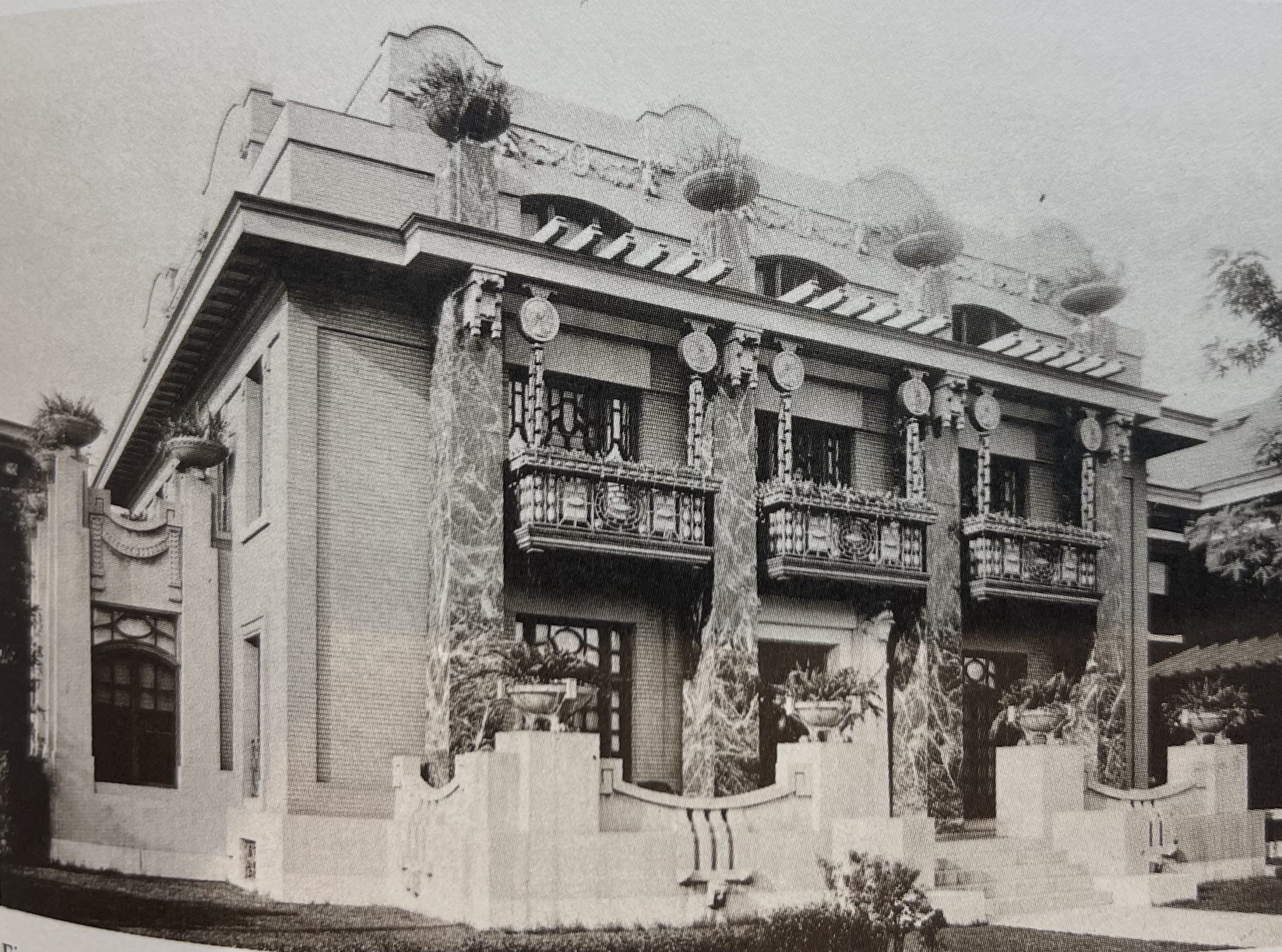 The J.W. Thompson house at No. 17 (1909), is even more remarkable (figs. 133-34). Tom P. Barnett designed the three-story yellow brick house with Verde-marble pilasters. It is perhaps one of the best examples of the influence of Otto Wagner and contemporary Austrian design in the country! Read more about 17 Hortense HERE.