[Article written by Architectural Digest]
Barbara Millicent Roberts, originally from the small—and fictional—town of Willows, Wisconsin, was introduced to the world in 1959. Better known by her nickname, Barbie, after graduating from Willows High School, one of the greatest pop icons of all time set off to live her own independent life in 1962. The young blonde doll, created by the American toy company Mattel, was destined to live forever at age 19. In 1962, she got a home of her own when the original Barbie Dreamhouse debuted.
In the book Barbie Dreamhouse: An Architectural Survey, by Mattel Creations, it's possible to see a snapshot of the original house, made entirely of cardboard, with yellow walls, a single bed, and college pennants as decoration. From the very beginning, Barbie was determined to live independently, and her home reflected her desire for freedom. Her pursuit of an independent life is even more noteworthy when considered in the context of her time.
After that first foray into the world of interior design, where the color pink was used only as an occasional accent, a string of increasingly sophisticated flats and mansions followed. In 1974, Mattel launched the Barbie Townhouse, which recalled Le Corbusier's Maison Dom-Ino with its open-plan modular construction model. It wasn't until 1990, however, that the image most of us have in our heads of Barbie's home—an elaborate construction bathed entirely in pink and fuchsia, with furniture to match—became a reality with the debut of the Magical Mansion. But what if, instead of merely providing inspiration for Barbie's home, Le Corbusier himself had been asked to design her home? What would he have produced for his client? And what if that task had fallen instead to Santiago Calatrava? Or perhaps to Lina Bo Bardi? Fortunately, the artificial intelligence software Stable Diffusion allows us to play with these pipe dreams and turn those fantasies into reality.
Zaha Hadid
The celebrated architect Zaha Hadid, born and raised in Iraq, had one of those minds for whom nothing was impossible. "I don't have a style, rather I try to be always on the frontier of innovation, trying to invent everything. It took me a long time to review and rethink typology, archaeology, and styles, and then learn to reach the level of complexity and then build on that special diversity," she once told AD Spain during an interview at her London home. The Barbie home inspired by Hadid is a sculptural construction, in which a dynamic and powerful curve plays a starring role. According to the AI software, the Barbie house that Hadid would have built would include this unmistakable signature element, and also be characterized by a precise neatness broken only by a few touches of pink—at the client's request, of course.
Frank Lloyd Wright
Frank Lloyd Wright was one of the leading figures in architecture in the 20thcentury. He despised buildings that plagiarized from Europe and he had only one God: Nature, which he always wrote with a capital N. With these premises he created horizontal houses and other buildings, with low ceilings and organic forms. They were integrated into their environments and characterized by fluid interiors. According to AI, Fallingwater would have been a fundamental inspiration for Barbie's house. With the vegetation and the environment playing key roles in the project, the residence mixes materials like brick with a play of superimposed volumes.
Oscar Niemeyer
From his office on the Champs-Élysées in Paris, where the Brazilian architect went into exile after a military coup in his homeland, Niemeyer explored a tropical version of rationalism, combining concrete and glass softened by his mastery of organic forms. This would be precisely the house that Barbara Millicent Roberts would have commissioned from him and which we can imagine amid the prairies of Wisconsin: a modern, bright, and sinuous building in which the furniture plays a fundamental role.
Le Corbusier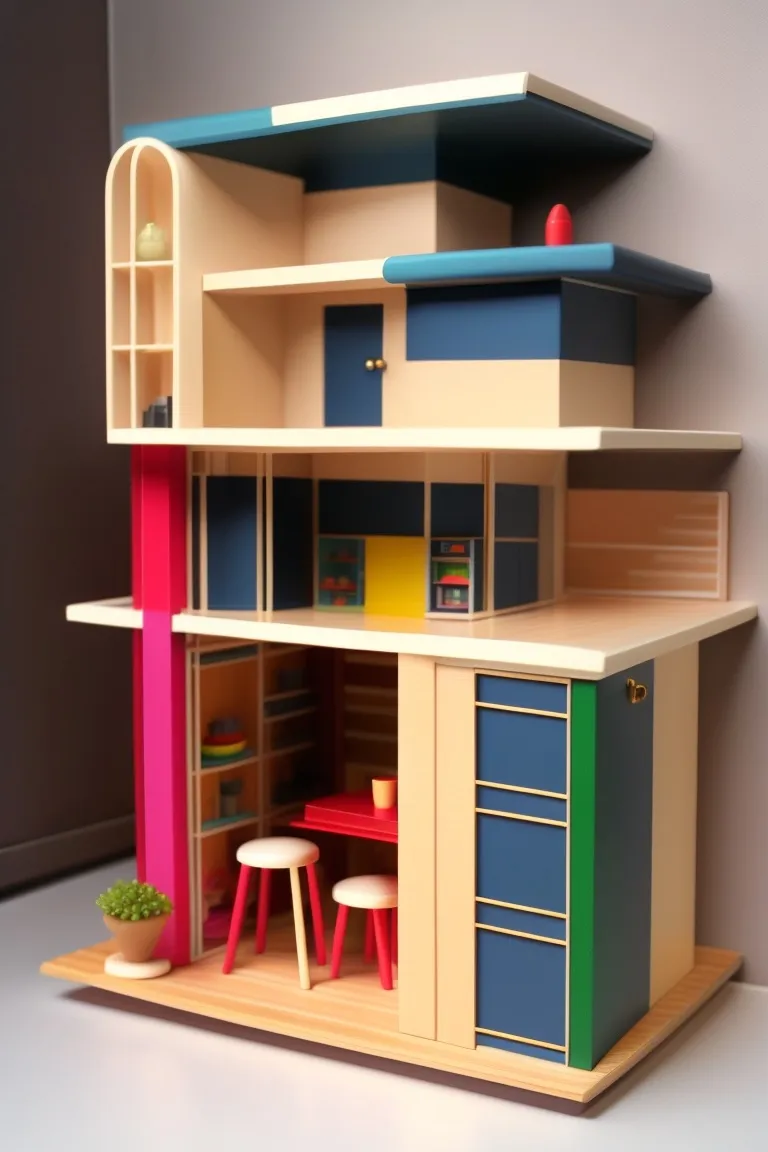 Le Corbusier's influence was already apparent in the 1974 Barbie Townhouse, and his proposed design here is also distinguished by his use of color and right angles.
Santiago Calatrava
"For me, the strict separation of art and architecture is merely a consequence of the 20th century and the functionalism that prevailed after World War II, which gave rise to the doctrine of 'form follows function.' But it is much more than that. And, of course, there is a kinship between sculpture and architecture," Santiago Calatrava once said when asked about the relationship between art and architecture. In his designs, he often made the sources of his inspiration obvious. Like the City of Arts and Sciences in Valencia, Barbie's house incorporates marine-themed shapes and angles that evoke a cabin on a ship.
Frank Gehry
Frank Gehry would use curved forms in a different way, covering the façade with metallic plates in a light purple tone. In fact, the AI model evokes the Hotel Marqués de Riscal in La Rioja.
Ludwig Mies van der Rohe
The greatest German representative of Rationalism and the last director of the Bauhaus School, Mies was the son of a stonemason, the source in part of his respect for noble materials and precise, refined visual perfection. It is not surprising, therefore, that the AI design inspired by his work has only a few elements—albeit very well-curated ones—and rejects the use of pink while opting instead for the sobriety of more natural tones.
Luis Barragán
In Barragán's design, the strong influence of Mediterranean architecture is evident through references to nature, water, and low, horizontal volumes. Like many of his buildings, the house combines modernity, tradition, and a fearless embrace of color.
Tadao Ando
For many, Tadao Ando is synonymous with a contemporary vision of simplicity as he combines concrete, water, light, and natural forms in ways that few other architects can. Deeply influenced by Le Corbusier, Ando is distinguished by his desire to create a sense of calm and emotion in his spaces. In his buildings, it is possible to enjoy a visual minimalism that also manages to generate a sense of awe through the atmospheres of the different spaces. As with the Mies van der Rohe design, the Barbie house he would have created according to AI is far removed from the aesthetic references we associate with the doll.
Lina Bo Bardi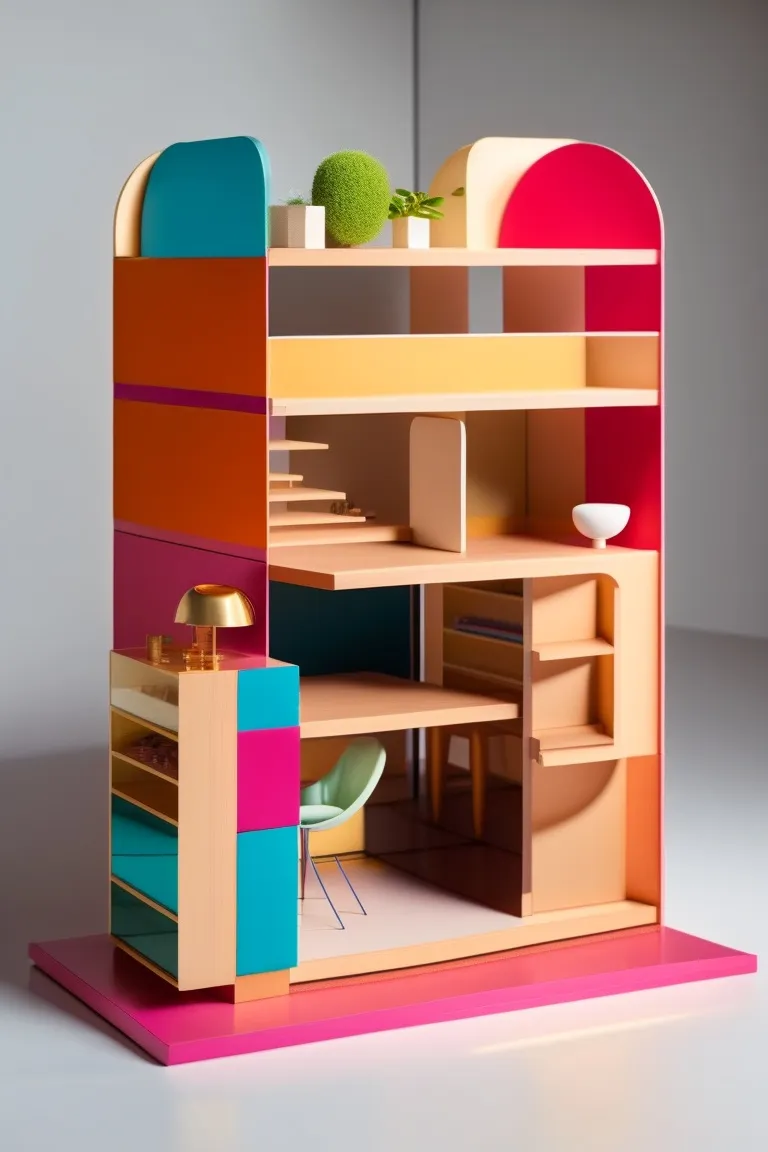 The Lina Bo Bardi house surprises us with the architect's signature intelligence that is at the heart of all of her designs. The powerful mix of colors recalls the São Paulo Museum of Art.
This story was first published by AD Spain.