Article originally posted by Architectural Digest
Minimalist bedroom ideas are dotted all over Pinterest and Instagram, promoted by furniture giants like IKEA, curated by the most innovative designers, and lauded by celebs like Busy Phillips. But what exactly makes a minimalist bedroom so appealing?
The philosophy of simple interior decorating and architecture can be found around the world and through history. Way before hygge—the Danish concept of cozy interior design—there was feng shui, a Chinese philosophy fashioned anew to create zen homes with simple elements and good energy. And although hygge may be a worldwide phenomenon, lagom (from Sweden) and hodo-hodo (from Japan) share a similar conceit: Simplicity is the way to a content home. Lagom translates to "just the right amount," a reminder to focus on quality over quantity. And it makes sense: Once the weather cools and the holidays come and go, it's only natural to desire simplicity and comfort.
Hodo-hodo is nearly the same principle, and it translates to "just enough." Taku Satoh's recent book, Just Enough Design: Reflections of the Japanese Philosophy of Hodo-hodo, describes how to apply this approach in designing a room: "Hodo-hodo is deliberately holding back, fully aware of the ideal of completion. Holding back before completion gives us precisely the room that we need to respond to any object according to our unique sensibilities. You could say that this space allows us to customize our relationship with the objects."
But how can you achieve the coveted yet elusive minimalist bedroom in your own abode? Anything goes in experimenting with minimalism: blend hygge, lagom, and hodo-hodo for the optimal calm factor. At the end of the day, as Calgary designer Krista Hermanson says, the most important part of minimalist bedroom design is creating "snuggle spots," places that are "perfect for a cup of tea." Here, 11 down-to-earth ideas ranging from implementing limewash paint and creating an art-inspired room refresh to adding zen-inducing furniture.
1. Try limewash paint
Creating texture without adding too many elements can be a tricky game, but Elisa Baran—designer of this bedroom for influencer Alisha Marie—found the perfect solution in limewash paint. One of the original house paints, limewash is a Belgian design staple, made of crushed lime, water, and pigments. The result is an aged-looking and textured paint perfect for bringing depth into a minimalist bedroom. "The limewash allows [Alisha Marie] to avoid using artwork as the textural paint is art in itself," Baran says. "It feels calming and cool, a space filled with necessities only." Ready to paint your walls with limewash? Baran recommends a block brush, painters tape, and JH Wall Paints.
2. Match nightstands to floor finish
Seattle-based interior designer Jessica Nelson was tasked with creating a sanctuary in this client's bedroom and delivered with an almost unnoticeable choice: matching the nightstands to the floor. "We focused on a neutral palette with texture over pops of color here, creating a really cohesive, calming feel that is quite restful for your brain," Nelson says. Sticking with the same material and color is key because they create clean lines and unity in the room.
3. Implement a subtle accent wall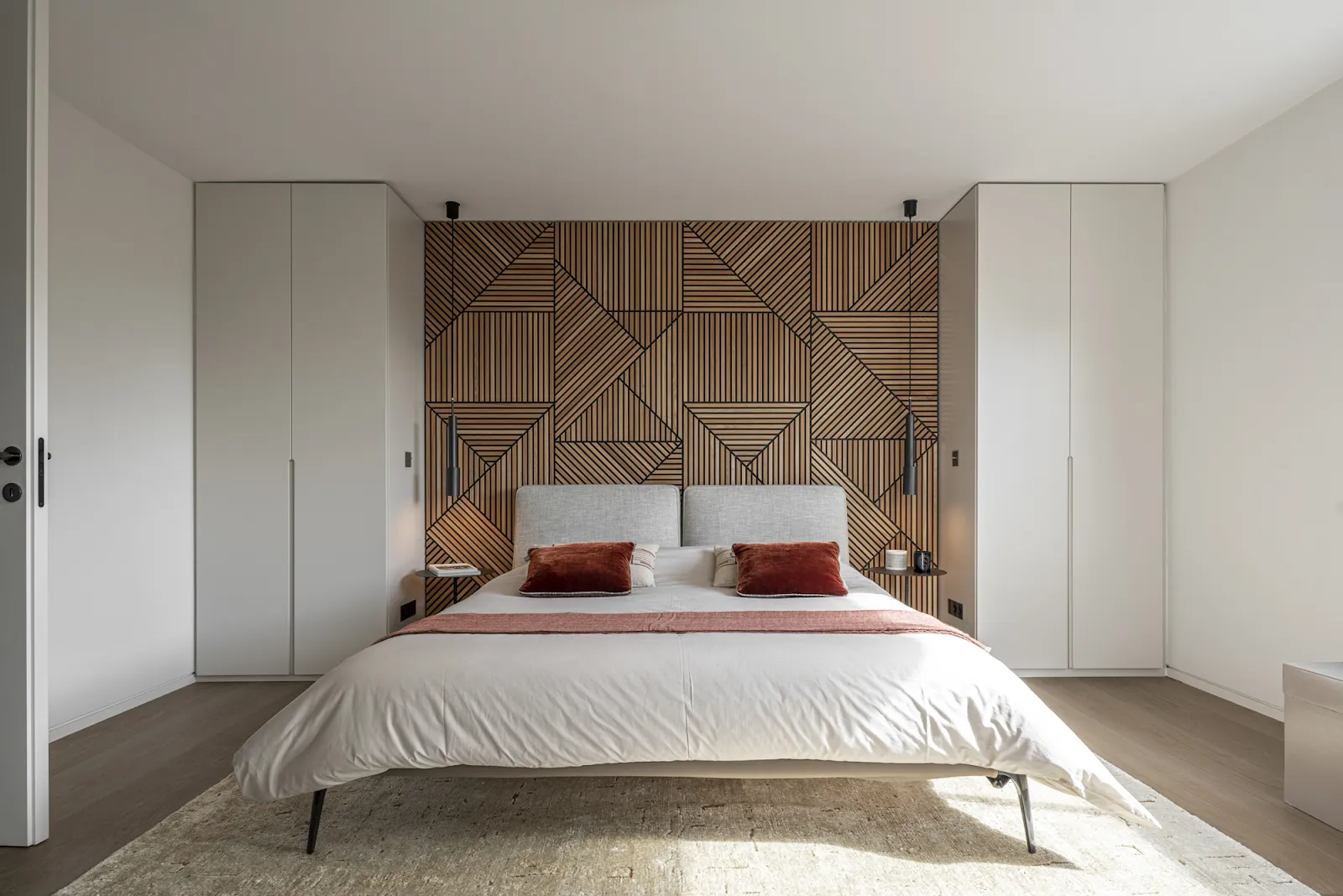 If you're looking for comforting vibes but still have a maximalist streak, express it with an accent wall. With the right design, the room will still maintain a minimalist energy while the centerpiece gets to shine. Laurence Beysecker, of Maison Amarande in Lisbon, designed this wood-paneled accent wall that she describes as "defining a cozy alcove for the bed area." Keep everything else in the room simple and symmetrical, like the matching lamps and closets, so the accent wall can do all the talking.
4. Go for statement lighting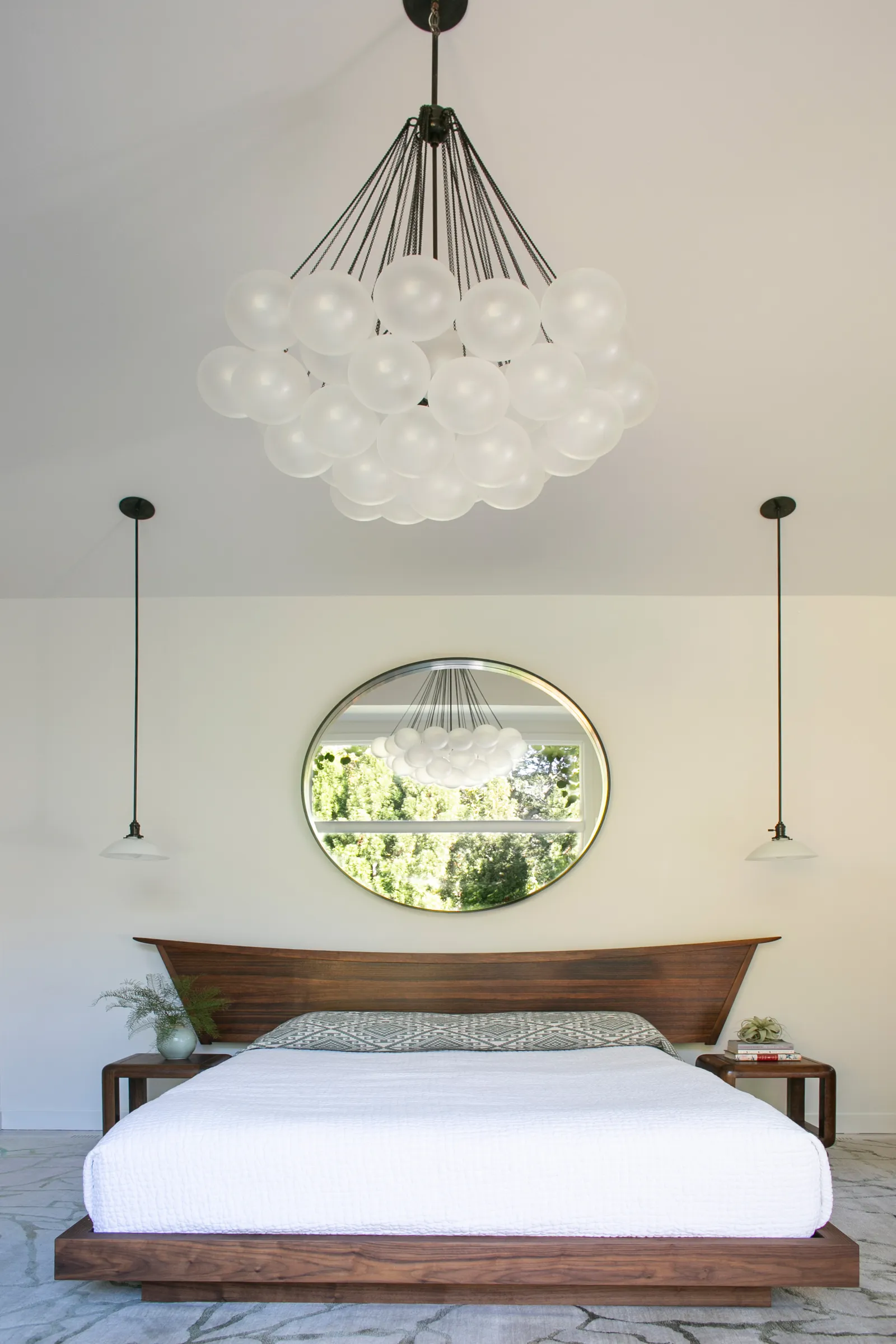 Designer Victoria Ninette was looking for "something special that wasn't too loud" for the lighting in this minimalist bedroom. "It had to make a subtle statement during the day and be something soft and calming in the evening," Ninette says. This frosted glass chandelier with a dimmer met these needs and fitted seamlessly into the room, which features curves in the bed frame, mirror, and lights. To get the same look when using a blend of lighting sources, Ninette recommends keeping all the finishes the same, like the blackened brass seen here.
5. Don't be afraid of bold colors