Article originally posted by Architectural Digest
It's become an annual tradition—and predicting 2024 interiors will be no exception. Each fall the online marketplace 1stDibs reaches out to the designers and industry professionals who rely upon the site—a go-to for finds ranging from 18th-century Louis XVI sideboards to Ettore Sottsass consoles—and asks them about the future. Today, the results of the seventh survey are in.
More than 600 designers around the world answered the call to offer their insights on what's hot for 2024 interiors. "It's interesting to see the aesthetic shifts anticipated by interior designers, those discerning friends of ours who reliably lead the way in matters of style and taste," says Anthony Barzilay Freund, director of fine art and editorial director at 1stDibs. AD PRO called him up to walk us through what the landscape looks like in the year ahead.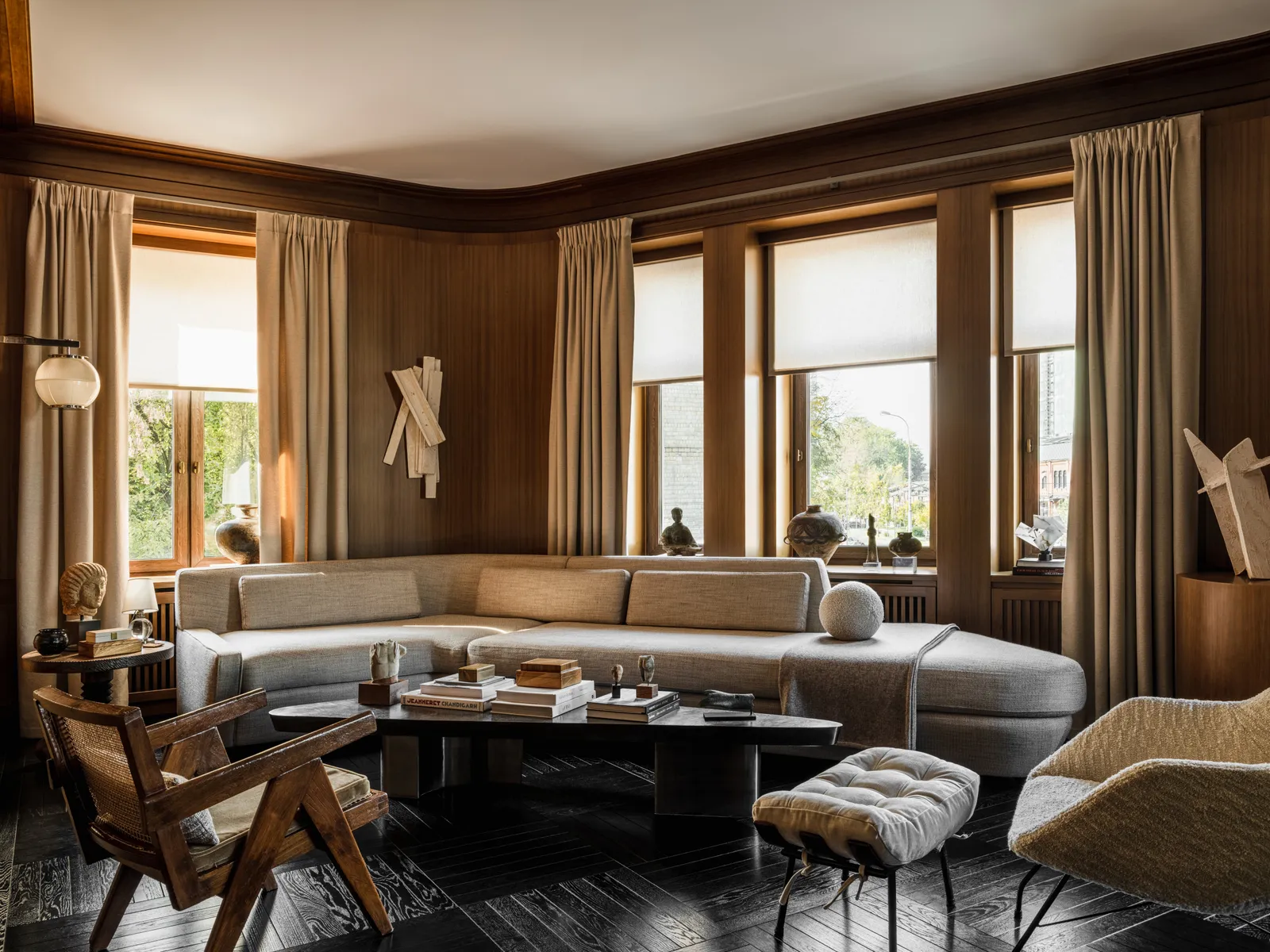 Chocolate brown is on the way up
When it comes to the colors designers say will rule in 2024, chocolate brown, it seems, is melting hearts: Compared to last year, the sultry hue jumped from sixth to third place for most-favored color, with 21% of respondents anticipating it as the shade for the new year. Earthy tones like burnt orange and mustard followed.
A blue shift
In the blues family, robin's egg is soaring, almost reaching the heights of cobalt: 24% of designers like the former; just under 25% prefer the latter. Both rank slightly above navy, which was the preferred shade for 23% of designers.
It's still easy being green
Green will continue its multiyear reign in 2024 interiors, the survey says. "We saw during the pandemic the idea that elements of nature that people found soothing were increasingly incorporated into people's interior schemes," notes Barzilay Freund. And this trend hasn't solely been limited to color: Floral and plant motifs came in as the survey's most popular patterns for 2024.
"Enveloping ourselves in this verdant kind of environment is why the color green resonates," he says. In the past three years, emerald has come out on top. For 2024, however, the jewel tone has been supplanted by a sage green, 26% to 23%. "We don't necessarily need that jewel sparkle in our life," he says. "We just want softness, which plays into this love of new neutrals. Sage feels a little more timeless."
Texture takes the lead
Limewash came in as the number one choice for popular materials and finishes among surveyed designers. "It feels softer and enveloping," Barzilay Freund explains. Ceramic/terra-cotta (21%) and blond wood (19%) carry on that warm trend.
Curves, patterns—and wallpaper on the ceiling
In 2024, it's about taking the curves: A third of respondents praised irregular shaped furniture (32%). And finding patterns: 29% percent of designers anticipate patterned wallpapers will remain popular. (A quarter of respondents expect to see these wallpapers being installed on ceilings in the new year.)
Designers are betting on references to midcentury modernism and Scandinavian modernism in the year ahead; they will also embrace both minimalism and maximalism. Each of these movements earned more than 30% of votes for 2024.
Icons of design
While popularity has seen a slight dip since 2021, Eames chairs, Serpentine sofas, and Wishbone chairs still top the charts, followed by increasing interest in Barcelona chairs, De Sede Snake sofas, and Scarpa Soriana seating. In lighting, Murano glass pendants and chandeliers, Noguchi lamps, and luminaires by Ingo Maurer ranked among the most anticipated for the new year.
Objective futures
Designers report feeling both cautious and optimistic about the future. Three-quarters of respondents said budgets and cost increases due to inflation will significantly impact projects. A whopping 91% have resisted using AI in their work, with 75% expecting this reticence to continue into 2024. And 67% say the supposed NFT and digital art boom was actually a bust, with little impact on the vibrant market for abstract, contemporary, and modern art markets.
Storage wars
That preference for physical media will also shine through in home amenities: The projects designers recommend over all others are walk-in closets (57%) and libraries (40%). Old-fashioned storage for physical objects might not be the most innovative design impulse, but it's an enduring one. "We all love things," says Barzilay Freund. "I cannot see this sort of virtual world that people predict ever happening." But there's one way of knowing for sure: "Come back next year. We'll see where we're at!"
What's out
Eye-popping shades like bright red, neon yellow, and bright orange all seem to be on the chopping block, favored by a mere 5% of designers. Preferences for lavender also dropped by half year over year.
Harder, cheap-and-cheerful accessories like checkprint rugs lost over half its popularity since last year, and disco balls and neon signs are among the least likely to be featured. That "dormcore" look "was a bit of a gag, and it had its moment," says Barzilay Freund. "But it's not a serious kind of commitment to an aesthetic."
Edginess is out, with geometric shapes dropping 18% in popularity since last year.
A lonely 1% of designers expect gingham to be popular in 2024.
Though other natural elements like florals and plants will thrive in 2024, butterfly and insect styles seem to be nearing extinction: 16% of designers predicted the styles would dominate in 2022 and 2023, while only 4% see them doing so in the new year.
Rustic themes like cottagecore and retrograde styles like Neoclassic are falling out of favor, with 20% or less ID'ing them as here to stay for 2024 .