Article originally posted by houzz
Many kitchen photos uploaded to Houzz these days feature a standout island, often with enviable storage and an attractive countertop. And these photos reflect what's happening as homeowners renovate: Nearly two-thirds of remodeled kitchens (63%) include an island, according to new research from Houzz.
Homeowners are making those islands shine with distinct materials and colors, as well as by highlighting them with lighting. They're also including practical storage in this kitchen feature, according to the 2021 U.S. Houzz Kitchen Trends Study. Read on for more insights on kitchen islands provided by the study.
A Majority of Remodeled Kitchens Include an Island
More than half of homeowners remodeling their kitchens (55%) are adding or upgrading an island, while 7% are keeping one that was already in place. A minority of remodeled kitchens (38%) have no island.
Homeowners Seek Islands With Built-In Storage
Nearly all homeowners who add or upgrade an island (98%) include at least some storage. The most popular island storage choice is cabinets with doors (76%), followed closely by drawers (74%). Fourteen percent of remodeling homeowners upgrading or adding an island are including open shelving.
In terms of shape, remodeling homeowners are most commonly choosing rectangular or square islands (81%). Seven percent are choosing L-shaped islands and 6% are selecting U-shaped ones. The most popular length of island is 6 to 7 feet (39%), followed by more than 7 feet (34%) and less than 6 feet (27%).
Not sure where to start? Click here to learn the basics
Blue and Gray Make Islands Pop
Four in 10 homeowners upgrading their kitchen islands are selecting a cabinet color that contrasts with the main cabinets. Blue (27%) and gray (20%) are the top color choices for contrasting islands, followed by white (10%).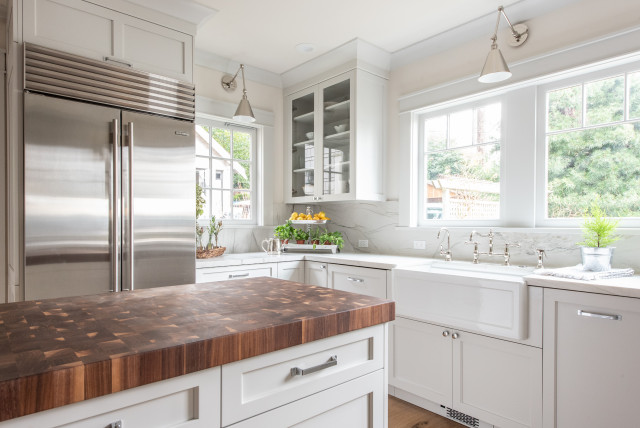 Countertops Help Islands Stand Out
Another way to make the island stand out is with a different countertop color and material than the primary countertop. One in 4 remodeling homeowners upgrading the kitchen island opts for a contrasting color for the island counter, such as white (32%), medium tone wood (18%), gray (9%), multicolored (8%) or light or dark wood (7% each).
Also, 1 in 4 upgraded kitchen islands features a countertop material that differs from the primary countertops. The top contrasting counter material for upgraded kitchen islands is butcher block or wood slab (41%), followed by granite (16%), engineered quartz (15%) and marble (5%). (Notably, in this year's report, engineered quartz for island counters is 13 percentage points less popular compared with the previous year, probably because of increased tariffs on imports from China.)
Upgraded Islands Often Feature New Appliances
Some homeowners are choosing to include more than storage in their kitchen islands. More than half of new or upgraded kitchen islands include a new appliance, with 1 in 3 featuring a dishwasher or microwave and 1 in 4 featuring a garbage disposal.
A sink may also be included in a kitchen island, so it makes sense that 1 in 5 homeowners upgrading or replacing kitchen faucets as part of the remodel is installing a new faucet on the island. One percent of homeowners upgrading kitchen faucets install two new faucets on the island.
Pendant Lights Cast a Glow on Kitchen Islands
After all the effort to create a functional and beautiful island, it's nice to draw attention to it with flattering lighting. To that end, 93% of renovating homeowners adding or upgrading a kitchen island are installing lighting fixtures above it. Pendant lights are by far the most common choice (62%), with recessed ceiling lights the second-favorite (33%). One in 10 installs a chandelier above the kitchen island.
Remodeling homeowners installing lighting over the island are commonly choosing two (36%) or three (36%) fixtures, though some are choosing one (17%) or even four or more (12%).
The 2021 U.S. Houzz Kitchen Trends Study gathered information from 2,014 Houzz users who reported that they were homeowners age 18 or older who had completed a kitchen remodel or addition in the past 12 months, were currently working on one or were planning to start one in the next three months. The survey was fielded in June and July 2020.