Article originally posted by Sotheby's Extraordinary Living
The world's most illustrious new properties provide a prophetic and tantalizing peek into the future. Luminaries in the fields of architecture, interior decor, and industrial design integrate bold new technological features and innovations long before they've become commercially viable for the mass market.
So what will tomorrow's luxury homes look like, according to today's most prestigious residences? All signs point to a surging appreciation for sustainability. This is not simply because it's the responsible path and because lower resource consumption leads to lower costs. Sustainable design is an aesthetic movement as much as it is a social movement, transforming how a home looks, feels, and interacts with the planet.
There are many techniques, technologies, and features that contribute to the sustainable designs that are at the forefront of new architectural trends.
Elegance and Efficiency
Clint Ballard and Michael Pallier – Sydney Sotheby's International Realty 
Generating renewable power through photovoltaics is green, clean, and gaining prevalence in homes across all markets. In the past, the main barrier to adoption has been the fact that differences in location, weather, season, and time of day make it difficult to completely switch to living off the grid. However, the evolution of battery storage technology is rendering these hurdles obsolete—and even when homes don't embrace full off-grid living, dwellings can still reduce their environmental footprint significantly through a combination of solar power and high-efficiency lighting and appliances.
Clint Ballard and Michael Pallier – Sydney Sotheby's International Realty 
That's precisely the approach taken by this contemporary mansion that is one of the most coveted addresses in Sydney's premier neighborhood. A subtle solar installation provides the power for parts of the home such as the glamorous guest suite and impressive lap pool, while specialized fixtures—appliances by Miele and Gaggenau and lighting by Flos, Reggiani, and Produzione Privata—help limit the amount of electricity the home consumes.
Minimal Impact, Maximum Inspiration
Folke H. Bergstrom – Chile Sotheby's International Realty 
The phrase "ecological footprint" is often a figurative description of the extent to which a person, place, or activity affects the environment—but in the world of sustainable design, it can also be a literal description. From this perspective, truly visionary properties are those with the lightest touch on their surroundings. These properties not only leave local ecosystems intact, but actually steward and nurture their vitality so that flora and fauna can thrive.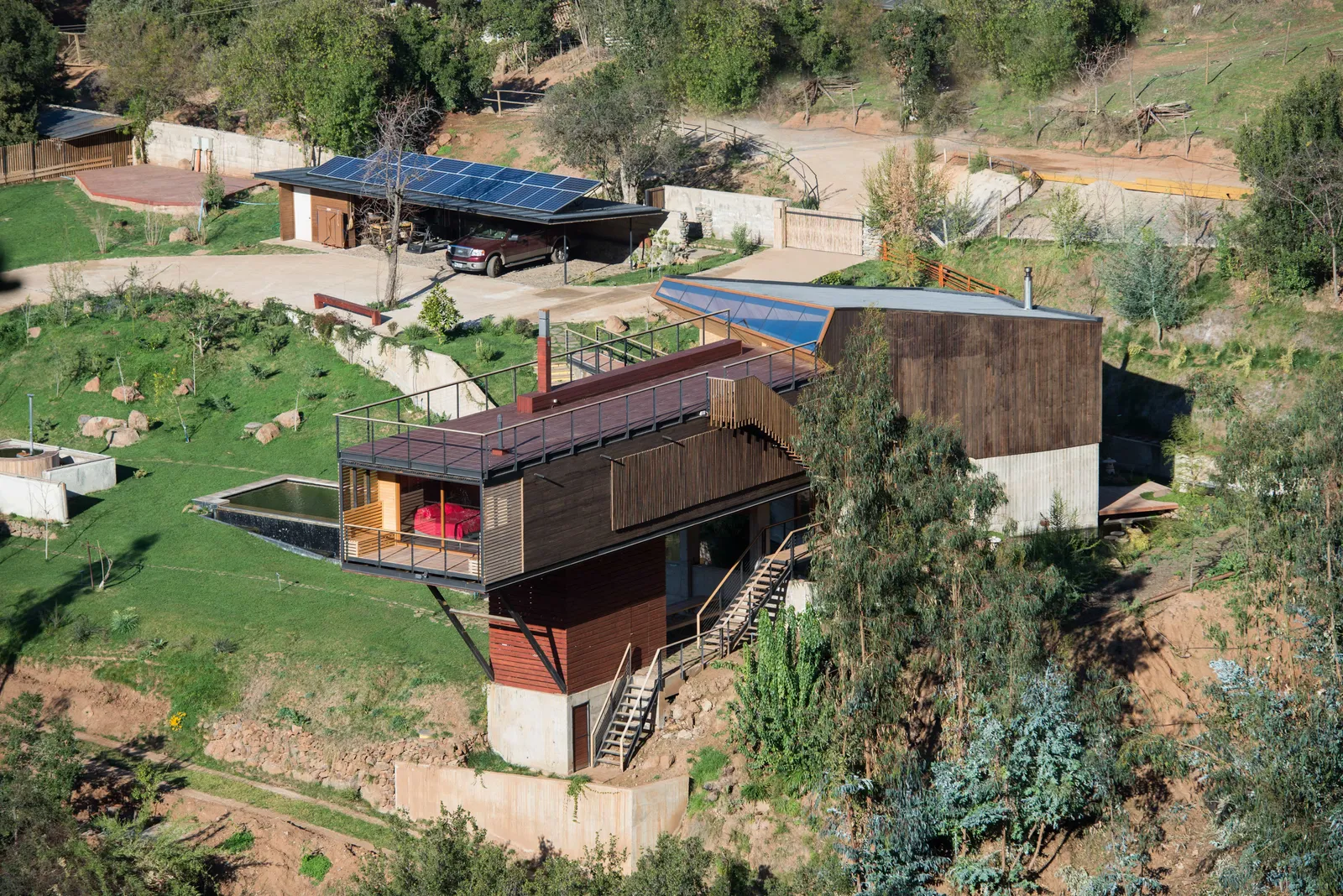 Folke H. Bergstrom – Chile Sotheby's International Realty 
Built from organic materials endemic to the region and ensconced in a custom-made meadow of native vegetation, this architectural masterpiece near the town of Quebrada El Maqui elevates sustainability to a whole new level. The property is entirely regenerative—it was constructed on a previously eroded hillside and has helped bring the verdant scenery back to life—and it ensures the site remains pristine. Thanks to its onsite water treatment plant, even the swimming pool is chemical-free.
The Brilliance of Passive Design
Gary de Valle and Bev Malan – Lew Geffen Sotheby's International Realty
While sustainable design features such as solar panels and water purification systems play an active role in enhancing the resilience of a property, there are also ways to ensure a residence remains comfortable in all seasons without consuming a single joule of power. This is known as passive design, and at a time when homeowners are seeking strategies to reduce their use of energy and resources while adapting to a changing climate, it can be a game-changer for sustainability.
Gary de Valle and Bev Malan – Lew Geffen Sotheby's International Realty
Just look at the layout of this grand light-filled sanctuary set in the foothills between the Hawequa and Jonkershoek Nature Reserves. The primary living space opens to a north-facing patio and garden—a strategic orientation, since that provides the greatest direct sunlight. Of course, the breathtaking mountain vistas that sweep across the backyard make for an exceptional bonus.
Renewable, resilient, and self-reliant homes are the evolving frontier of luxury real estate, and are setting the sustainable design trends that the rest of the world will follow.