What happens when some of the most ambitious restaurant owners in town team up with one of the most ambitious projects slated for the St. Louis area? We'll find out this weekend when Sugarfire Smoke House and Hi-Pointe Drive-In co-owners Mike Johnson and Charlie Downs, along with Chicken Out business partner Ben Hillman, partner with City Foundry STL to host the next Restaurant Rally fundraiser to benefit two worthy causes.
The third installment in the pay-what-you-can event series is happening this Sunday, April 26, with food prepared by a bevy of area restaurants. New menu items this weekend include pulled pork sandwiches from Sugarfire and BrassWELL burgers, plus eats from Hi-Pointe Drive-In, Mission Taco Joint, Russell's on Macklind, Crazy Bowls & Wraps, Hot Box Cookies, and Kaleidoscope Craft Brew Coffee. 
The first event was hosted in the parking lot at Sugarfire's Olivette location several weeks ago, and the second was moved to The Boathouse in Forest Park before vehicular traffic was restricted in the park in late March. Johnson says having adequate space for the drive-thru is key to maintain safe social-distancing practices, so having a large footprint is essential.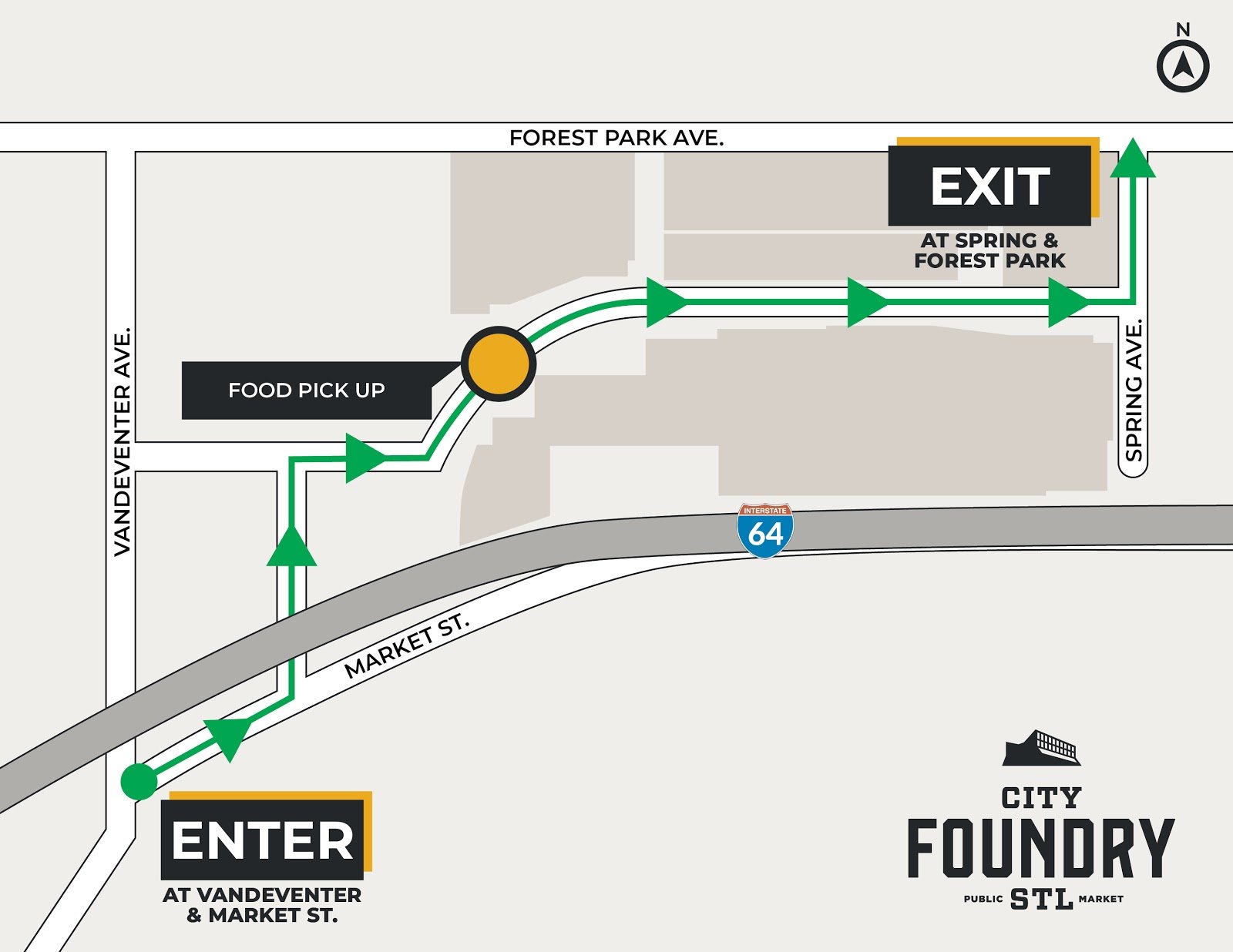 Located at 3700 Forest Park Avenue and occupying some 237,000 square feet of eventual retail, dining, and entertainment space, City Foundry provides a large footprint. Guests will queue up to enter the drive-thru line from Vandeventer Avenue, just under Highway 40, and then follow signage to order pick-up eats and drinks before exiting off Spring Avenue onto Forest Park Avenue. Arrive early to ensure the best selection of eats, as food will be available on a first-come, first-served basis from 9 a.m. until sold out. All event staff will wear face masks and gloves, and orders will be taken through car windows to promote responsible social distancing.
In addition to City Foundry hosting the event, the development's principal owner, Steve Smith, has upped the ante by committing to match donations for the fundraiser up to $25,000, in partnership with 1Stone Foundation, Lewis and Clark Ventures, and Advantage Capital. (That isn't a far-fetched goal, either as the first two events raised a combined $25,000 and featured fewer food and drink vendors.)
"City Foundry STL will be a place for the community, so it's important that we show our support now, even before we open," Smith said in a release. "Food brings people together, and this is a small way that we can support our community safely and celebrate our amazing city."
All donations raised at the rally will be divided evenly between two worthy causes: The Gateway Resilience Fund, which seeks to support local restaurant workers through short-term monetary relief during the COVID-19 crisis, and The Little Bit Foundation, which supports students living in poverty with programs and services.
"We want to be part of the food and beverage community in St. Louis," Smith says. "At the [City Foundry] food hall, we want to focus on St. Louis' culinary talent, and so, gosh, why don't we let the culinary talent use City Foundry and open it up to the public for the first time ever, and hopefully that'll help raise more money to help our restaurant partners in this region? And that's what we're trying to do right now: help out restaurant partners."
The rally's pay-what-you-can model means that food is available at no cost for those in need, although donations are encouraged for those who can contribute funds. Cash donations will be accepted via no-contact reception in plastic trays on-site, while off-site donations can be made through Give Butter online here. To donate through Apple pay, Venmo, etc., text CFSTL to 202-858-1233.
Smith says it's possible that City Foundry will host future fundraising events in partnership with Johnson, Downs, and Hillman to give back to the community. "I'm in the restaurant business, I'm in the hotel business, so I understand—all of my colleagues, we feel the pain," Smith says. "We've got some resources here that we can, quite frankly, share. And so the idea is let's be able to take some of the resources we have in our larger organization and pass those through to the St. Louis community."
City Foundry is slated to open later this year, and its food hall will include a burger concept developed by Johnson and in partnership with Downs. Smith has known Hillman and his family for years, so partnering with the three business owners on the fundraising event was a natural fit, Smith adds.
Although the event this weekend wasn't how Smith envisioned City Foundry's initial unveiling to the public, he's happy that this sneak peek can serve another, larger purpose: to help aid workers and children in the community.
"It's under different circumstances than I thought, but I'm thrilled to do so," Smith says. "It looks terrific; we're not quite done, but people are going to see what the basic buildings really look like. It's really exciting to unveil it, and I'm thrilled that we can unveil it with a good cause to boot. Hopefully people will be eager to see it, and it will help us raise more money."
Restaurant owners who are interested in participating can email Hillman at [email protected].
Article originally posted by STLMag