Article originally posted by Eater
Residents of the Lou have long had an inordinate preoccupation with food and drink — and they take pride in being equal-opportunity consumers. In a restaurant scene that's not only impressive but expansive, diners spread the love, never reserving enthusiasm exclusively for James Beard winners and Michelin stars. If something delicious exists anywhere in the 314, St. Louisans with voracious appetites will come.
A hawker-style stall planted in the middle of a pan-Asian superstore — serving melamine bowls brimming with lip-numbing mapo tofu — earns the same fervor and local pride as the hyper-disciplined fine dining debut of a veteran competitor of the Bocuse d'Or. An Italian deli on the Hill, famous for serving the same pig's head salami sandwiches since opening a hundred years ago, is not just a beloved institution but an enduringly popular one. Outside a Korean window-service restaurant, long lines are standard as it serves up snow crabs smothered in gochujang butter from a tiny kitchen in the back of a pinball bar. And then there's the happy little red Japanese firetruck that zips around the city, where preorders are requisite to score a coveted konbini-style strawberry and cream sando on downy milk bread.
St. Louis isn't a flyover city. It's a get-on-a-plane-and-fly-there-right-now city. Just look for the beautiful, midcentury monument by Eero Saarinen and you'll know you're in the right place. You can't miss it.
1.

China Bistro at Pan-Asian Supermarket
14246 Manchester Rd
Manchester, MO 63011
The big box store-sized Pan-Asian Supermarket, right next to the Bob's Discount Furniture, is the largest international grocery store in Missouri. You might assume the crown jewel of the market is the impressive fish department or the shiny new bubble tea bar, but it's actually the small dining area labeled China Bistro. The business looks similar to a Singaporean hawker stall, but the utilitarian kitchen cranks out an astounding amount of regional Chinese dishes, as well as Vietnamese pho. The smoky, charred edges of chow fun noodles indicate a masterful control of the blistering hot wok. You can smell the crimson-hued mapo tofu two tables away, its sauce aromatic with floral and citrus notes. And the tender dan dan egg noodles satisfy with a low, humming heat and perfect springy texture.
2.

El Toluco Taqueria & Grocery
14234 Manchester Rd
Manchester, MO 63011
St. Louis is home to a multitude of stellar Mexican restaurants serving tacos and freshly fried chicharrones, but for truly beautiful and monstrous tortas, head to El Toluco. Situated in a nondescript strip mall in the West County suburb of Manchester, facing away from the street and attached to a small tienda, the restaurant has become a destination dining spot. Tortas are made with football-sized freshly baked loaves of bread and filled with meat, queso fresco, Oaxacan cheese, lettuce, tomatoes, onions, and jalapeños, all punctuated by a smoky chipotle sauce. If that's not enough justification to make the lengthy drive to West County, the pollo con nopales and lengua tacos are also exceptional.
11423 Olive Blvd
St. Louis, MO 63141
At Mai Lee, the beloved Vietnamese institution, Qui Tran makes pho so stunning it landed on the cover of Food and Wine. So what happens when a master of pho wants to open a ramen restaurant to rival the best in the world? He gets help. Tran and executive chef/partner Marie-Anne Velasco hired Shigetoshi Nakamura, one of the world's four "ramen gods," as a consultant and worked with the legendary Sun Noodle to develop their noodle recipe. After years of R&D and planning, Nudo opened its doors in Creve Coeur in 2017 with a menu of seven different ramen styles, along with a small sampling of pho. Start with the Classic Nudo, a traditional tonkotsu ramen. The broth is clabbered and rich, the color of the inside of a cloud, while the noodles are cooked to retain their firm center, a key to traditional tonkotsu. Beyond ramen, the diverse menu includes a selection of cold Asian salads, including a lotus root and shrimp salad, and a Vietnamese shredded chicken number. Fresh spring rolls and the city's most delicious crab rangoon are made daily, and there are four different banh mis that are great for dunking into Nudo's broths — as long as you don't mind stinkeye from fussbudget foodies. Like elements coming together in a good bowl of soup, the immense work, collaboration, and study that went into opening Nudo make it all that more delicious.
11424 Dorsett Rd
Maryland Heights, MO 63043
Ray Yeh moved from the Bay Area to St. Louis to study molecular genetics at Washington University, but he developed a hobby exploring the science of baking. That interest evolved into a passionate obsession that led Yeh in 2017 to abandon academia and open the Foundry Bakery, where he offers breads with distinct, bouncy chew and utilizes old-world techniques. For his remarkable longan walnut bread, Yeh smokes Taiwanese longan fruit and incorporates them into the dough along with meaty English walnuts, resulting in an aromatic loaf with mellow notes of currants and molasses. He offers pastries as well, like pineapple gems, a rich shortbread stuffed with sticky fruit that is a popular treat in Taiwan and very rarely found in the United States. Or get to the bakery early to snag one of the egg custard tarts, its belly wobbly and still warm from the oven. One bite shatters the layered pastry crust, sending crumbs everywhere, but you'll be too delighted to care.
216 W Lockwood Ave
Webster Groves, MO 63119
If you drive by Olive & Oak at night, the first thing you'll see is the amber glow emanating from the windows. And then you'll see the people. People laughing, eating, sharing bottles of wine, and having the loveliest night out. Odds are, if you are at Olive & Oak, you are having a splendid time too. Owners Mark Hinkle and Greg Ortyl created something special with their first restaurant, and chef Jesse Mendica packs the menu with so many dishes that shine and satisfy, you could eat there multiple times in a week and then return the next week to do it again. The charred octopus with smoked paprika aioli is a dish of opposite elements that improve each other, while an entree of pork cheeks with hominy, collards, rhubarb, and Dr. Pepper barbecue sauce leaves no space for timid flavors. Make sure to visit with someone you're happy to share your meal with, and order the massive cowboy ribeye with cracked pepper butter or the Dover sole with ramp vinaigrette and white bean puree. Only Mendica could make the old-school flatfish suddenly seem novel, exciting, and delicious.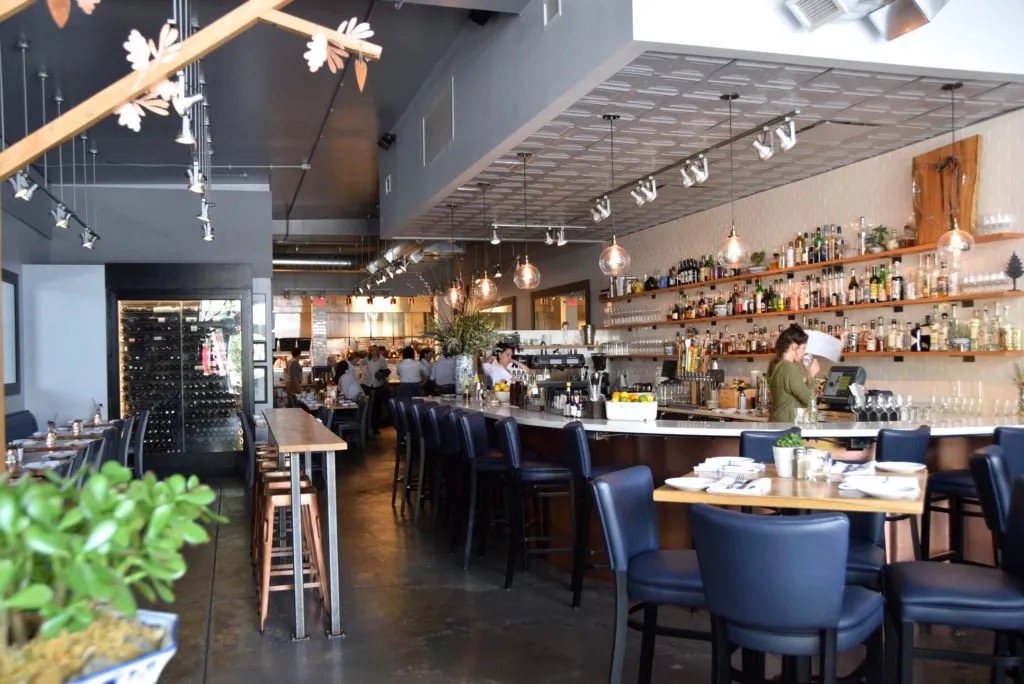 8158 Big Bend Blvd
Webster Groves, MO 63119
St. Louis has enjoyed a long love affair with Thai cooking, but most local Thai restaurants focus on dishes common to central Thailand. At Chiang Mai, one of a number of new restaurants to hone in on a specific geographical region, chef Su Hill shares the culinary traditions and techniques distinctive to Northern Thailand, especially the city of Chiang Mai, known for specialties like khao munn gai. Diners will also find dishes familiar across Thailand, like som tum (green papaya salad) and sai qua, glorious bronzed pork sausages. Observing the three aunties in the open kitchen, deftly preparing dishes with a cool ease only feasible through years of experience and mastery, it is easy to understand why the restaurant has quickly gained a devoted following.
8103 Big Bend Blvd
Webster Groves, MO 63119
The smells coming out of Balkan Treat Box — from bread baking in a wood-fired oven, and plump beef sausages sweating beads of glistening juice and fat on the grill — have the capacity to elicit deep, primal responses in a hungry diner. The restaurant, owned by Loryn and Edo Nalic, has garnered some impressive awards, and it has become an essential stop for locals eager to impress visitors. Hyper-fresh preparations of traditional dishes from the Balkan region, like wildly popular pide, plump ćevapi, and doner, are all served on somun, baked fresh in the wood-fueled oven. The lahmacun (Turkish rolled flatbread) alone is enough to justify the line that regularly stretches out the door and around the building.
7641 Wydown Blvd
Clayton, MO 63105
To garner some understanding of Akar, located at the end of a residential street flanked by large trees and impressive homes in the central suburb of Clayton, you need to garner some understanding of Bernie Lee. The winsome, cosmopolitan, always finely dressed chef and owner of the small restaurant enjoys little luxuries and fine details. At Akar he serves food firmly rooted in the tradition of Malaysian cuisine, combining flavors, ingredients, and culinary techniques to create dynamic dishes that conservative diners might find incoherent. Don't miss the soy-braised short rib with sambal demi-glace, Chilean sea bass bathed in a bonito curry shrimp bouillon, and vegan sweet potato gnocchi with Malaysian curry.
100 Carondelet Plaza
Clayton, MO 63105
For over 20 years, the Grill at the Ritz-Carlton St. Louis created a rather sober atmosphere with dark, walnut-paneled walls, austere oil paintings, and tuxedo-decked servers. After a massive renovation in 2021, the Grill was replaced by the new, light-filled restaurant, Casa Don Alfonso, the (highly anticipated) first U.S. restaurant from Italian Michelin-starred restaurateur Mario Iaccarino. The menu is a romantic homage to family and the culinary traditions of Italy's Campania region. The tagliatelle with shrimp is sauced in a creamless bisque made from slow-cooking the shells and heads, while zuppe is seasoned and served tableside. Entrees, like the cod with potatoes and fennel salad and the Berkshire pork braciola stuffed with raisins, pine nuts, and herbs, are uncluttered, highlighting the flavors coaxed from ingredients flown in from every corner of the globe. If you want to pair your dinner with the perfect wine, the sommelier will help you navigate the restaurant's curated list of 3,000 bottles. While the servers have retired their tuxedos, the Ritz-Carlton still shines when it comes to service, thanks to the attentive staff and the endearing general manager, Alen Tanovic, who quietly checks on every table.
706 De Mun Ave
Clayton, MO 63105
It's hard to overstate Matt McGuire's influence and impact on the St. Louis dining scene. He started with King Louie's, followed by some of the city's most celebrated establishments — Monarch, Brasserie, Herbie's, Niche. Like McGuire's previous restaurants, Louie is critically celebrated and wildly popular, highlighting the accumulated experience and collective wisdom of the chef's remarkable team. The decor feels both luxurious and comfortable, and that feeling is echoed in the relaxed but mindful service and even in the quiet confidence of the food coming out of the kitchen. No dish sums it up better than the wood-roasted chicken: It's simple, with no gimmicks to hide behind, and executed with mastery gained through repetition, refinement, and more repetition. Yeah, it's a good chicken.
6100 Idadale Ave
St. Louis, MO 63133
Nick Colombo, Sarah Miller, and Pat Grosch want to (and can) do it all. The founding members of Switchgrass Spirits almost exclusively use local ingredients at their distillery, including Missouri white oak barrels produced from a family-owned cooperage outside the city; Jonathan apples grown by St. Louis's favorite caramel apple producer; and locally harvested grain and corn. They also never compromise on flavor despite the laborious, expensive, precise process behind their whiskeys and fruit brandies. Oh, and they've built a company that respects labor and distributes wealth to its workers. This might overextend any other group, but at Switchgrass, these principles result in delicious spirits that taste of the place and the people who crafted them.
1934 Macklind Ave
St. Louis, MO 63110
In 2017, Gioia's Deli, an unassuming sandwich shop in St. Louis' historic Italian-American neighborhood, was honored by James Beard with the foundation's esteemed America's Classics award. While the dining community was thrilled, locals tended to smile and shake their heads at the fanfare suddenly heaped on the casual spot that had served their families for a hundred years. Gioia's serves exceptional deli sandwiches, but it's most famous for the iconic hot salami sandwich, known to everyone in St. Louis simply as "the hot salami," which is still made with a recipe crafted by founder Charlie Gioia. You can order the hot salami on any type of bread and dress it with any of Gioia's cheeses and condiments, but the star is the sausage (beef, pig's head, spices) sliced in front of you. The sandwich has a transformative wizardry that can heal even the worst days, when the drizzle won't end and Mike Shannon calls a three-run homer by the Cubs on KMOX with news that Yadi is on the IL. When you unwrap that parcel of hot salami and cheese on fresh bread daubed with mustard, all you feel is deep satisfaction, from your first bite to your last.
13.

Tiny Chef at The Silver Ballroom
4701 Morgan Ford Rd
St. Louis, MO 63116
A punk rock pinball bar located in a historically Bosnian neighborhood may not seem a likely place for a great bowl of bibimbap, but that's exactly what you'll find at Tiny Chef, the small, window-service restaurant established, owned, and operated by chef Melanie Meyer in the back of the Silver Ballroom. Friday to Sunday evenings, Meyer offers Korean food that pops with the vibrant flavors of gochujang, gochugaru, and fermented soy, all rooted in tradition without being bound by it. There's a regular menu of bibimbap, tacos, kimchi fried rice, and jjigae, along with specials like homemade tteokbokki, nuclear fire noodles, and a popular Korean crab boil, all available for pickup and takeout. Or you can drop a couple quarters into the Ballroom's juke box and play a few Devo tunes while you dine in the bar area. While some chefs draw inspiration from cookbooks or Instagram, Meyer produces food that feels sincere, deeply personal, and flavored with great care.
4580 Laclede Ave
St. Louis, MO 63108
In 2015, Gerard Craft received the James Beard Best Chef Midwest award in recognition of his debut St. Louis restaurant, Niche. Food and Wine named him "Best New Chef" as well as "Innovator of the Year," recognizing the tidal change that Niche brought to the local restaurant scene. Though Niche has since closed (you could hear the sound of hearts breaking across St. Louis that day), Craft has opened a handful of diverse new restaurants, all forward-thinking, all reflective of the quality staff that his establishments attract and employ. His third restaurant, Brasserie by Niche, a French bistro in the Central West End, has maintained its shine and devotion from diners since it first opened in 2009. It is always buzzing with hungry guests enjoying flawless, pillowy gougères, garlicky wild Burgundy escargot, a deeply satisfying, slow-cooked cassoulet, or duck confit with tender green lentils. It continues to be one of the city's most highly regarded restaurants, capturing an elusive and seemingly immutable appeal.
4370 Manchester Ave
St. Louis, MO 63110
When you dine at Tempus, you place yourself fully in the hands of chef Ben Grupe, a James Beard semifinalist who competed in the Bocuse d'Or. Trust that the three-course prix fixe dinner with wine and cocktail pairings will be dynamic, flawlessly executed, and delicious. Believe that the percipient staff will seem to know just what you need — especially if that's maitake mushrooms with caramelized onion, horseradish, and whey soubise. And if you can't muster faith, just try Grupe's focaccia with sourdough miso butter and sea salt; it's transcendent.
4605 Olive St
St. Louis, MO 63108
St. Louis kitchens are populated with dozens of competent young chefs who have graduated from restaurants in the Niche Food Group, owned by James Beard winner Gerard Craft. When the beloved Cafe Osage and its bountiful quarter-acre farm closed in 2020, the city let out a collective wail of lament. But Craft stepped in and in 2021 reopened the restaurant as Bowood by Niche, naming Dakota Williams as chef. The walls of the dining room are covered in windows that let in tons of natural light, which enhances the feeling of renewal in Williams's flavorful, plant-forward breakfast and lunch menu. Some of the restorative dishes include the chili fried tofu sandwich with pickled cucumbers and green goddess dressing and a butter lettuce salad composed of trout, lemon vinaigrette, and herbs. In keeping with the Osage tradition, Bowood sells a gorgeous selection of houseplants on the nursery side of the space.
1641D Tower Grove Ave
St. Louis, MO 63110
When chef Nick Bognar opened his 40-seat restaurant, Indo, in Botanical Heights in 2019, first the local, then the national food media absolutely lost their minds. Bognar soon received a lifetime's worth of accolades and critical praise for the profoundly flavorful Southeast Asian dishes he offered, but it was his masterful and deft sashimi preparations that initiated the tidal wave of national attention, making it nearly impossible to snag a reservation. Those who did get in watched Bognar slice and torch rare fish like striped horse mackerel, young sea bream, and fatty tuna belly, all served with nikiri rather than soy, and fresh-ground wasabi root. During the pandemic, Indo pivoted to a more casual Thai street food takeout menu, but the reopened dining room provides Bognar a chance to flex a little of his culinary muscle again.
18.

Union Loafers Café and Bread Bakery
1629 Tower Grove Ave
St. Louis, MO 63110
With its cracker crust and provel topping, St. Louis-style pizza is an essential part of the diet of anyone born in the 314. But some of the best slices in town don't adhere to the local style. Union Loafers in Botanical Heights is a bakery at heart, crafting old-world, naturally leavened loaves, but they are also a full-service restaurant making pizzas in a sort of gray area between the chew and pull of New York and the bubbly, blistered char of a Neapolitan. The pepperoni with Calabrian chilis features perfect little cups of pepperoni, and the mushroom pizza with pickled shallots and foxglove will convert mushroom haters. During the day, a selection of sandwiches on Loafers' bread are available along with soups and salads, including the little gem with fine herbs and shallots, which could smack down every other salad you've eaten in the past.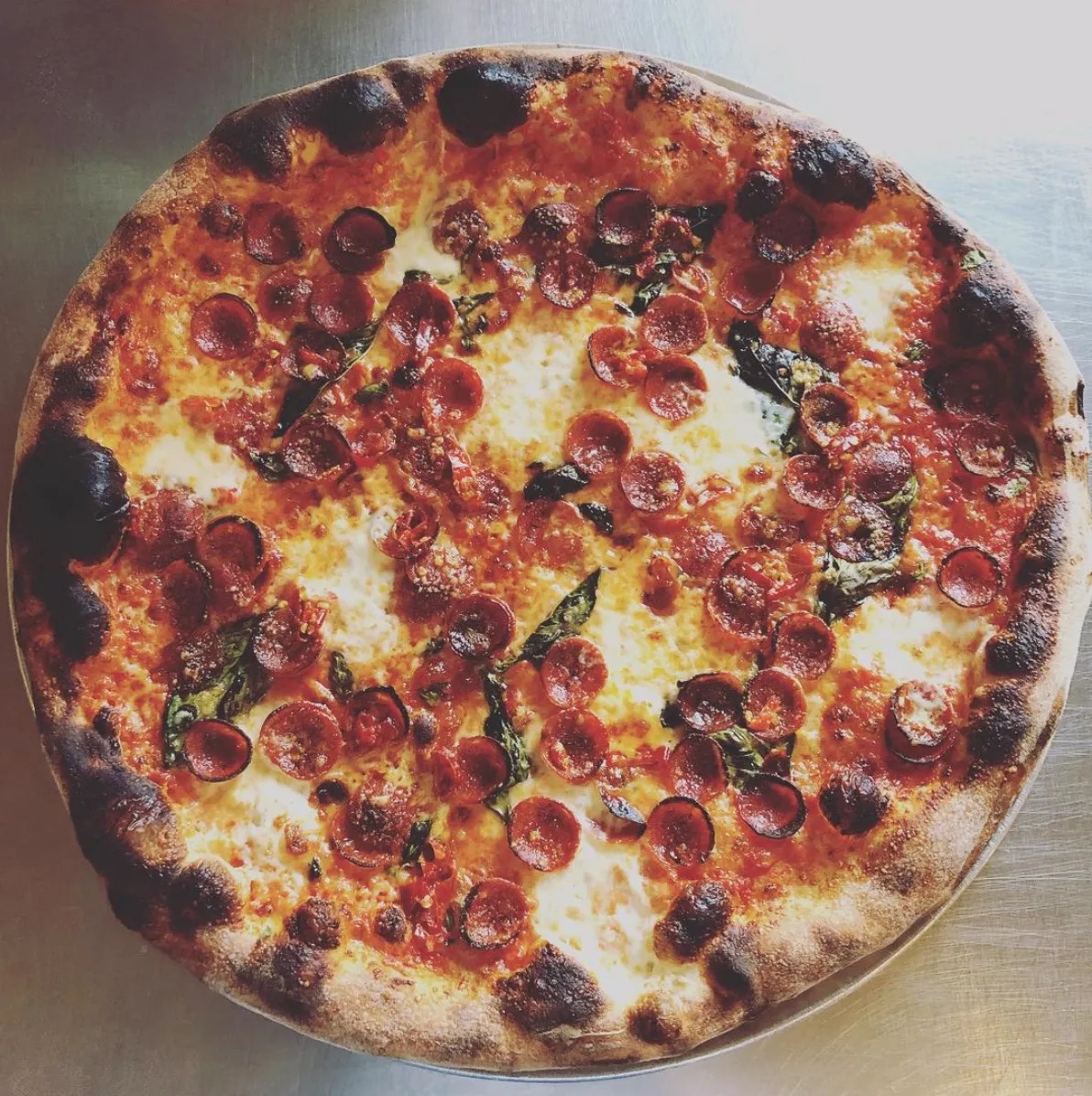 4260 Forest Park Avenue Entrance On Boyle, At Corner Of, Duncan Ave
St. Louis, MO 63108
Tara and Michael Gallina, veterans of Dan Barber's Blue Hill at Stone Barns, came to St. Louis with a staggering amount of dining and hospitality experience. At its most basic, their restaurant Vicia celebrates vegetables, the land they're grown in, and the farmers who grow them, in a space that's like a freshly pressed white linen shirt — cool, timeless, clean, and welcoming. Pre-COVID, the restaurant was known for casual lunches (tartines, soups, charcuterie, and salads with midday wine), but the restaurant truly bloomed in the evening, with 15-course tasting menus that astounded diners. The Gallinas are willing to put avant-garde preparations of vegetables center stage, like carrots cooked in beef fat, while using meat dishes cooked on the open wood-fired grill as supporting acts. The restaurant currently invites guests to celebrate the bounty of the Midwest through the humbler three-course farmer's feast, a chef's selection of dishes served family style. The menu changes daily, but previous offerings have included starter snacks like turnip-shell tacos with black beans, shiitakes, kale, yogurt, and carrot hot sauce, or a delicate dish of juniper-cured scallop with sorrel. A main might feature Berkshire pig with grilled strawberry mostarda or barbequed hen-of-the-woods mushrooms, served with sweet potato with fresh cream, preserved citrus, and toasted seed cracklings. Whether the menu is long or short, Vicia serves food that is more precise than seasonal, anchoring each meal to a specific time and place.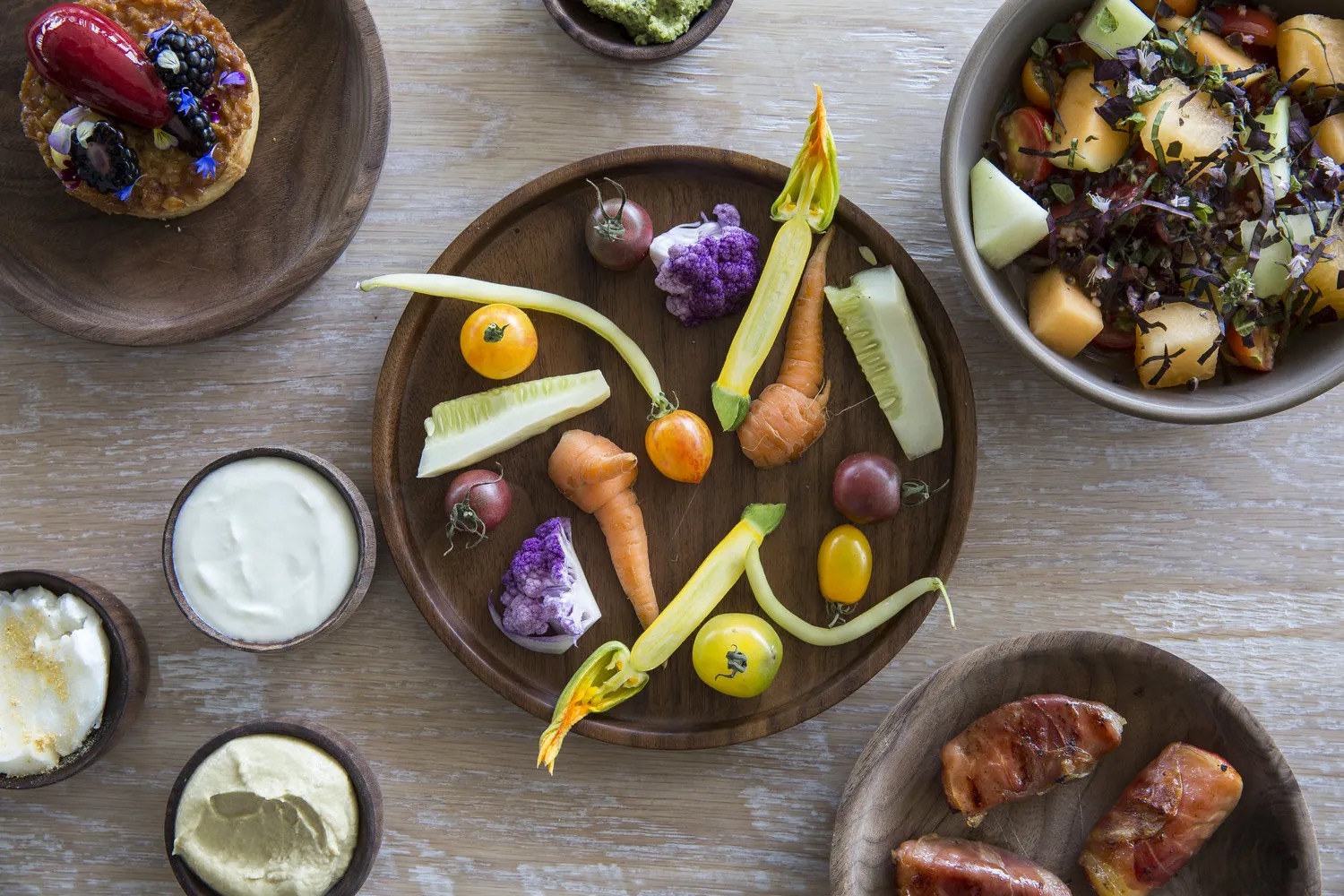 4101 Laclede Ave
St. Louis, MO 63108
For eight years, Juniper has been filling an empty space in the hearts and bellies of Southerners missing home. Dining at John Perkins's Central West End restaurant has always been a satisfying experience, but the recent addition of chef Matt Daughaday has somehow improved the superlative low country dining destination. Yes, Juniper's legendary fried chicken is still on the menu, alongside Daughaday's own additions, including the city's best raw oyster presentation. The space, service, and food all celebrate the depth of Southern culinary traditions in a way that feels more substantive than spoon-fed.
21.

The Gin Room/Cafe Natasha
3200 S Grand Blvd
St. Louis, MO 63118
If you want to learn about, discuss, and enjoy world-class gins, you need to make your way to the Persian restaurant Cafe Natasha on South Grand. Inside you'll find the Gin Room, owned and operated by Natasha Bahrami, aka "the gin girl." Bahrami has collected and curated the most comprehensive collection of the spirit in the country, becoming one of the world's most influential experts on gin in the process. Try one of the customized gin flights, a selection of five curated gins tailored to your particular palate. If you're more of a martini type, one of the Gin Room's 10 variations is sure to speak to your taste. And nothing is better after a few libations than an order of Natasha's lamb skewers with rice and tomato.
2843 Cherokee St
St. Louis, MO 63118
Pushing through the glass doors into Diana's Bakery feels like entering a magical corner of the world that smells of sugary glaze, vanilla cake, thick condensed milk, smoky mole, and steamed masa. The walls of the Mexican bakery are lined with large glass cases filled with pleasantly overwhelming rows upon rows of panes dulces. Iced cookies, lengths of churros with ruffled edges, sweet and savory empanadas, and filled donuts are stacked on trays in neat rows. Diana's also always offers a variety of whole and sliced cakes, some iced, some layered with fruit, and some left unadorned. There are also flaky laminated pastries whose buttery layers fall like flower petals as you bite into them, clunky coconut macaroons, and custards that wobble when you lift them into your bakery box. No one visits Diana's Bakery only once. After stepping into that pastry wonderland, there is no forgetting it.
2800 Shenandoah Ave
St. Louis, MO 63104
You know you're getting close to Little Fox when you see a fire hydrant painted with a cheeky, little orange fox. The restaurant comes from Craig and Mowgli Rivard, two of a growing number of chefs and restaurateurs leaving jobs at esteemed restaurants in cities like New York and LA to open their own places in smaller, mid-sized cities. Early on, Little Fox established itself as a neighborhood restaurant providing easy, gracious service and offering deceptively simple dishes. Delicata squash is gently wrapped in a pale golden batter, reminiscent of traditional South Korean crispy fried sweet potatoes. Tender short ribs, barely clinging to the bone, get a luxurious treatment with Calabrian chili, Italian fish sauce, and grilled leeks and celery root. Little Fox is also the only restaurant in St. Louis currently offering an exclusively natural wine list.
2501 S Jefferson Ave
St. Louis, MO 63104
Luckily for the rest of the city, residents of the Fox Park neighborhood could not keep one of their very best restaurants a secret to hoard for themselves. Shortly after business partners Brian Schuman and chef Logan Ely opened the Lucky Accomplice, word began to spread that diners should seek out the warehouse storefront with a neon sign of a bounding rabbit glowing in the front window. Ely's first restaurant, Shift, established him as an adroit and sometimes cerebral chef. For his sophomore outing, he's serving dishes that are beautiful, dynamic, and a bit sly. Take the everything tater tot, an aesthetic combination of cured salmon, cream cheese, fresh dill, and assorted seeds sitting on a little stage of shredded potatoes that's tender on the inside and unduly crunchy on the outside. The playful feeling is echoed in the clever, eclectic space and the relaxed, gracious service. Lucky recently began offering a wildly popular weekend brunch which, like their dinner service, is not to be missed.
25.

Planter's House/The Bullock Room
1000 Mississippi Ave
St. Louis, MO 63104
If you want to enjoy truly great cocktails, ones you think about days or even years later, head to Planter's House in Lafayette Square. The restaurant and bar, owned by Ted and Jamie Kilgore and Ted Charak, is a true celebration of the storied art of bartending (and a 2019 James Beard semi-finalist for best bar program). At the main bar downstairs, pair the Planter's House burger, topped with manchego, pickled serrano relish, and spreadable chorizo with the Taco Cat: Milagro blanco tequila, Old El Paso taco seasoning-infused agave syrup, lime, and cilantro. Upstairs you'll find the intimate Bullock Room, named for historic St. Louis bartender Tom Bullock, the first African American to publish a cocktail recipe book in America. Settle into the velvet-lined hideaway for a Down for the Count #2, a combination of Citadelle gin, Salers, Gran Classico, Cocchi Americano, celery bitters, and grapefruit tincture. Despite the exceptional cocktails, delicious food, and gorgeous decor, both bars radiate with warmth and laughter, and the mood is never dampened by elitist snots throwing around the term "mixologist." Don't miss the seasonal thematic cocktail menus, which have previously drawn inspiration from a local women's roller derby team and Ms. Dolly Parton.
Affable chef/owner Kurt Bellon putters about town in a little Japanese firetruck, inspiring smiles and rumbling tummies wherever he goes. The truck introduced St. Louis to the culture of konbini (abbreviated from konbiniensu sutoru), Japan's ubiquitous convenience stores that sell prepared and packaged food. Bellon crafts sweet sandos of fruit and cream along with savory katsu options — all served on ethereal slices of milk bread — and his mobile shop also carries other popular Japanese snacks and drinks. Bellon has had the dream for his business since childhood, but it wasn't until 2020, when ready access to financing in St. Louis made it possible, that he was able to get Izumi up and running. "I just wouldn't have the same opportunity to open my business in a city like San Francisco, where you have to know a highborn or kill a duke or something to open a restaurant," he says. Izumi is at its best in spring, when the peach blossoms bloom and a perpetual rainbow seems to follow the truck.