Check out this stunning architectural gem that has just hit the market! A magnificent home designed by the legendary Frank Lloyd Wright, and even briefly inhabited by the renowned architect himself, is now available for purchase at $8 million. Originally known as Tirranna or the Rayward-Sheperd House, this exceptional residence is currently listed through Marsha Charles and Albert Safdie of Coldwell Banker Realty. The property is located in the picturesque town of New Canaan, Connecticut, and boasts an expansive 7,000-square-foot living space, making it one of Wright's largest residential projects.
Constructed in 1955, Tirranna derives its name from an Australian aboriginal term meaning "running waters," which pays homage to its close proximity to the Noroton River that gracefully meanders alongside the estate. Set on a generous 15-acre plot of lush forested land, the grounds of the property were masterfully designed by Frank Okamura and Charles Middeleer. This enchanting oasis is a testament to Wright's ingenuity and features an array of amenities, including a greenhouse, tennis court, barn, playhouse, circular pool, and a charming one-room guest house. It is undoubtedly one of the most extensive Wright properties, offering an unparalleled living experience.
The main residence, designed in Wright's distinctive hemicycle style, exudes elegance and tranquility. With seven bedrooms, eight bathrooms, a rooftop observatory, and a wine cellar that has been transformed into a bomb shelter, this home seamlessly blends functionality and artistry. Stepping inside, you'll be greeted by a classic Wright material palette. The walls are adorned with Philippine mahogany, beautifully complementing the Cherokee red concrete floors. Built-in bookshelves and furniture add a touch of sophistication to the living spaces, while expansive windows invite the natural surroundings indoors. Every detail, from the lighting fixtures to the cabinetry and furniture, remains true to Wright's original vision, preserving the authenticity of this architectural masterpiece.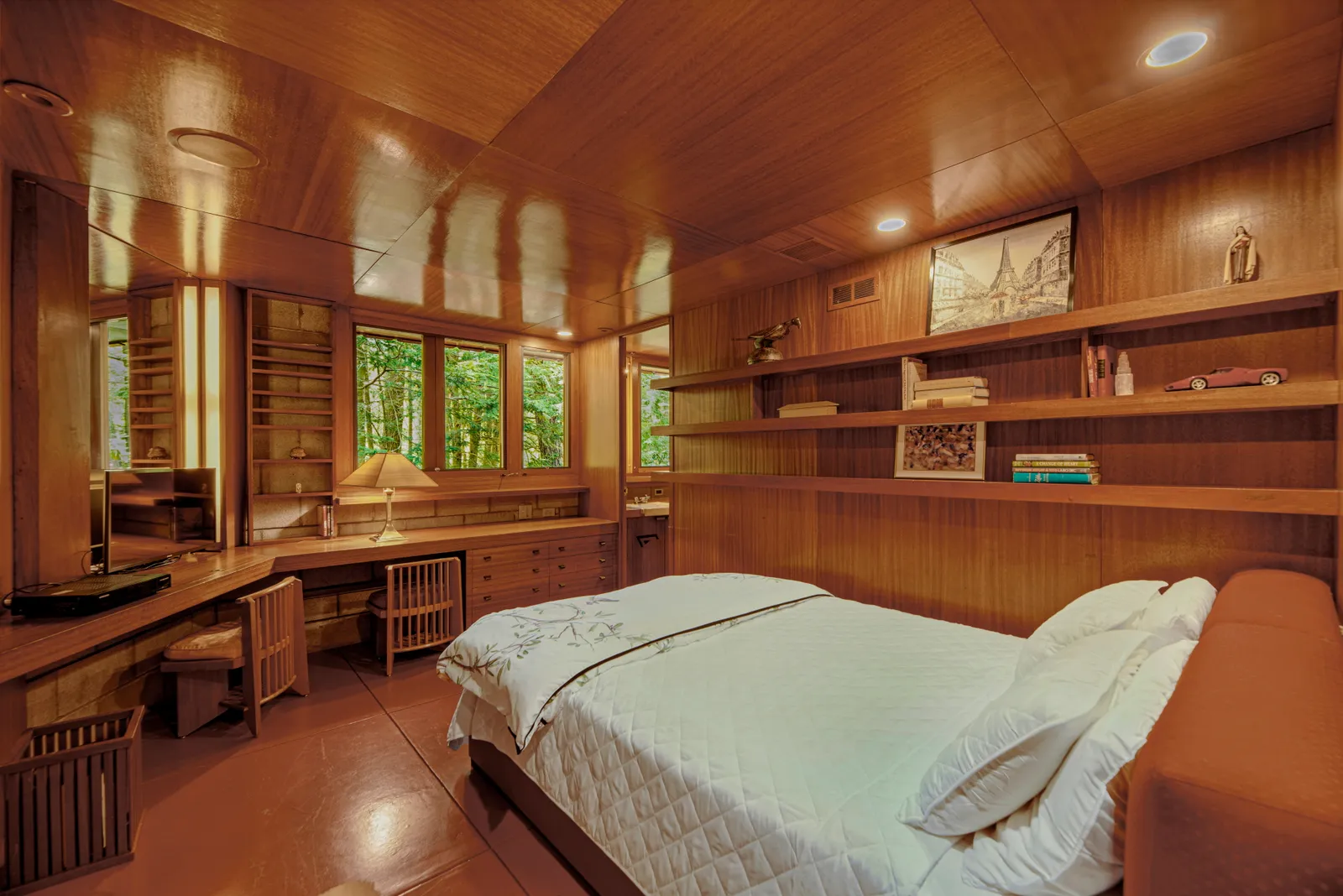 The home was initially commissioned by John L. Rayward, but it was Herman R. Shepherd who brought Wright's vision to life after acquiring the property in 1964. According to Wright researcher and lecturer William Allin Storrer, Rayward sought the lowest construction bids, resulting in economic compromises during the building process. It was Shepherd who stepped in to salvage and restore the home to its former glory. Frank Lloyd Wright stayed briefly in Tirranna while working on one of his most iconic projects, the Solomon R. Guggenheim Museum in New York City. Notably, the greenhouse at Tirranna incorporates some of the scalloped glass windows left over from the Guggenheim project, adding another layer of historical significance to this already remarkable property.
New Canaan, situated just 40 miles north of the bustling metropolis of New York City, has long been a haven for modernist architectural marvels. In close proximity to Tirranna, you'll find the renowned Glass House designed by Philip Johnson and works by Marcel Breuer and Eliot Noyes. In 2018, Tirranna was reported to have been sold for $4.8 million after its listing in 2017. This year, several Wright properties, including Westhope in Tulsa and the George W. Smith House in Illinois, have also become available, providing rare opportunities to own a piece of architectural history.
Source: This post is based on an article by Architectural Digest.