New Hampshire may not be a hotbed of modern architecture, but in the quiet North End neighborhood in Manchester, there are not one, but two Frank Lloyd Wright houses on the same street. That's the result of one family, the Kalils, being inspired by another family, the Zimmermans.
"When my Uncle Toufiq saw what Zimmy was doing with his new house, he was intrigued and got excited about it, and several years later approached…Wright himself," explains Steven Kalil. His Uncle Toufiq and Aunt Mildred commissioned their own Frank Lloyd Wright house in 1955. They wanted something like the Zimmerman House just up the street: low slung, with exposed brick and wood.
"And I think they were surprised when they saw it because they were expecting that and saw this and were like, 'Woah,'" says Steve Kalil.
What Frank Lloyd Wright drew up for the family is known as a Usonian Automatic house, one of just seven in the United States. The Usonian Automatics are constructed out of stacked concrete blocks. The Kalil House is made out of an estimated 4,800 individually cast rectangles, reinforced with rebar. They make up the walls and ceiling of the 1,480 square foot main home, as well as the small outbuilding on the .78 acre property. "If you look at this, each one of these is about 220 pounds," says a smiling Kalil, gesturing to the ceiling. "Like, I'm not sure I want to be standing in here, but it's been here 65 years, so something is working."
The concrete gives Usonian Automatics a solid, monumental feel, but that's offset in the interior by walls lined with custom Phillipine mahogany. The living room of the Kalil House is composed of concrete and glass squares; 350 individual windows allow light to pour in.
Though they budgeted just $30,000, it would eventually cost the Kalils closer to $70,000 – not a small sum in 1955 – to finish their house. Wright's vision with the Automatics, though, was that the buyer could perhaps save money by constructing the home themselves. Rather than hire a professional builder, interested homeowners should pour and stack their own concrete blocks.
"It wasn't an outlandish idea. Wright's clients tended to be very enthusiastic," explains John Waters with the Frank Lloyd Wright Building Conservancy in Chicago.
He says Wright, throughout his career, was interested in well-designed middle-class homes. But that doesn't mean he was willing to cut corners. "If he had to choose between having a good looking house, and housing the masses, he'd choose a good looking house," says Waters. Wright himself made that preference clear. "And I believe there is no more rewarding effort in life than just that: trying to make what you do, how you do it, beautiful," he told a gathering of students at an American Institute of Architects event in 1952.
It appears that the build-it-yourself model was harder to pull of than Wright may have forecast, as evidenced by how few Automatics were actually constructed. The Kalils were happy to pay a professional to build their home. Today, it still has its original stove and oven, as well as Wright-designed furniture and upholstery. "Really what's special about this is it's a time capsule," says Kalil.
Steve's Uncle Toufiq lived in the house until his death in 1990. Then Toufiq's younger brother John moved in, residing in the Automatic until last year, when he died at the age of 101. With no other relatives interested in moving in, the house is going up for sale next month. "It was a hard decision. Very hard," says Kalil.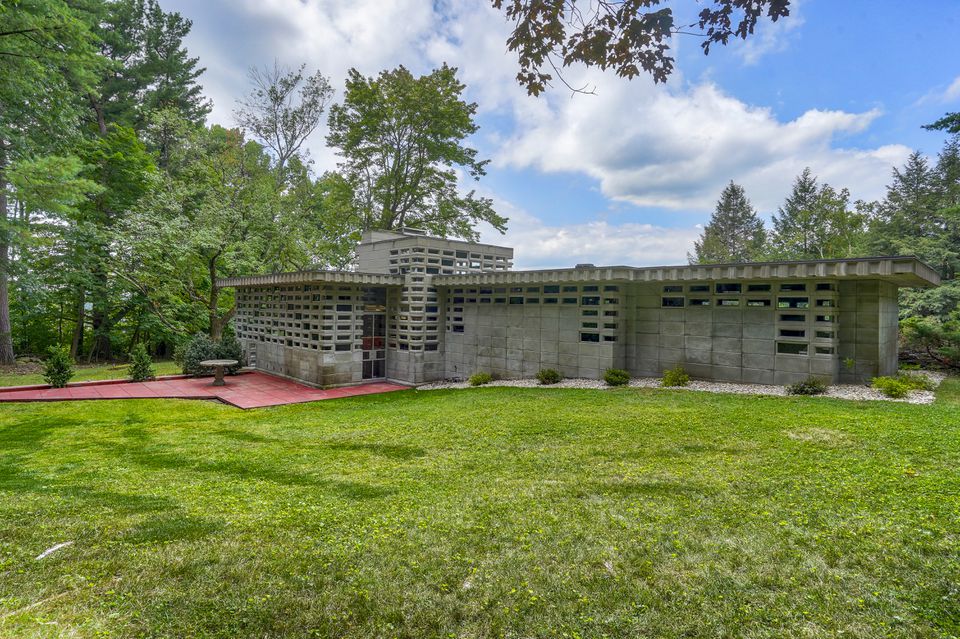 With an asking price of $850,000, this Usonian Automatic isn't exactly in reach for the masses. But at least you won't have to build it yourself.
See how similar it is to the Pappas House (865 Masonridge Road) currently listed.

Article originally posted by New Hampshire Public Radio