A preservationist has bought a Frank Lloyd Wright-designed house in Town and Country with plans to restore it and turn it into a museum and multi-use facility.
Michael Miner, who has a nonprofit called the Frank Lloyd Wright Revival Initiative based in Palm City, Florida, announced this week he had bought the house. The selling price was not immediately available.
Family members and Miner said they planned to close on the deal Thursday.
The house had been put up for sale in spring 2018 after owner Bette Pappas died at age 91. It had an asking price of $1,950,000 and was later formally listed at $1.2 million. Pappas and her husband, Ted, had the house designed by Wright and built most of it themselves, completing it in 1964. They were the only owners.
The couple's three grown daughters had wanted someone to preserve the house but struggled to find a buyer. A different local group formed a nonprofit foundation with the intent to raise about $2 million to buy and refurbish it.
Miner, a Wright documentary filmmaker, said in a statement that in the long term his group wants the house to become an overnight and event rental venue, corporate retreat, education center and house museum. "We plan to keep it a very busy place, with access for everyone," he said.
The house sits on more than three acres of rolling, wooded land at Mason Road and Interstate 64 (Highway 40). The Usonian Automatic home has four bedrooms and is 3,000 square feet.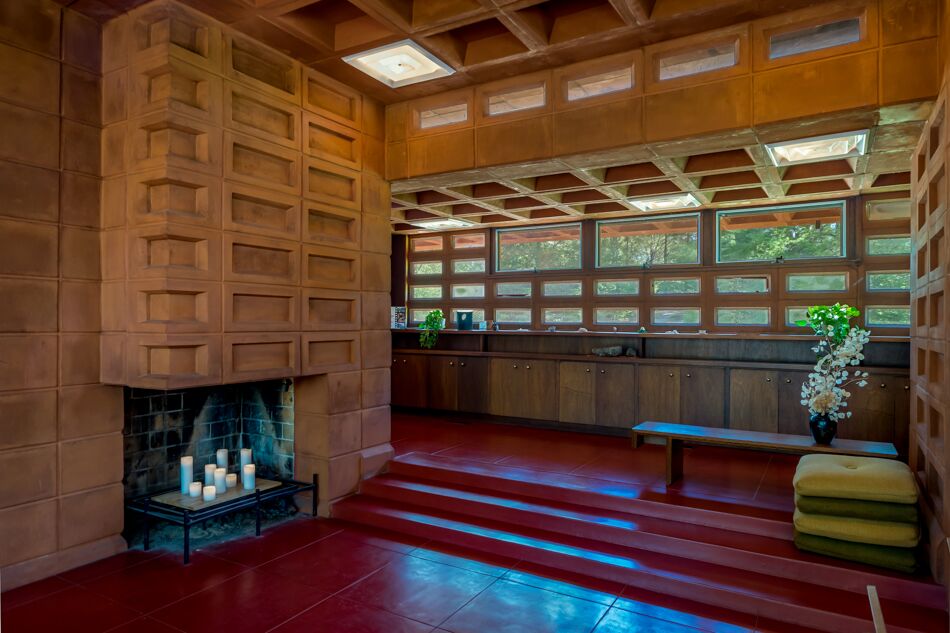 St. Louis has one other Wright-designed building, the Frank Lloyd Wright House in Ebsworth Park in Kirkwood.
Miner said the group plans to start restoration work, beginning with adding a new septic system and replacing the roof, in the spring. He said during a phone interview Thursday that he planned to have workers in Friday.
Miner said that his group committed some money to the local house foundation but eventually began talking with the Pappas sisters about their plans.
Like the sisters, he didn't want the house to get lost to a developer.
"In this day and age, we feel that this kind of thing should not happen anymore," he said. "We want to try and set an example for others that buying a Frank Lloyd Wright house is a good investment, not only because it's the right thing to do to benefit the community, but it can also be a profitable venture."
He said he hoped the house would be open to the public in some capacity by late June or early July. He was firming up details for a fundraiser kickoff in St. Louis in April along with a screening of his Frank Lloyd Wright film "Masterpieces."
Kathryn Feldt, executive director of the Wright home in Kirkwood, pointed out that Ted and Bette Pappas knew Russell and Ruth Kraus, the original owners of the Kirkwood home, and often consulted one another about the buildings.
"No doubt they would be thrilled at the dedication of those who saved their beloved homes," she wrote in an email.
"We are pleased that it appears the Pappas House will be saved, restored and open to the public," she continued. "At a time there are so many Frank Lloyd Wright-designed properties being razed or otherwise compromised, it's a great thing that a remarkable Usonian Automatic will be protected."
Article originally posted by St. Louis Post Dispatch