This summer, Citygarden—the downtown park chock-full of sculpture, green life, and fountains—celebrates its 10th anniversary, and marking the occasion are three new sculptures. The only catch: You'll have to swing by before fall to get a peek at two of them. First up is Unzip the Earth, by Canadian artist Floyd Elzinga, a here-until-autumn large-scale model of a zipper. Next is the permanent addition (the first in eight years) of Love vs Money, by Los Angeles artist Kaï, and finally there's another temporary sculpture, moonrise. east. may, by New York's Ugo Rondinone, that will depart in the fall. Below, see exactly where to find each, plus more about the new works of art (denoted by the black circles).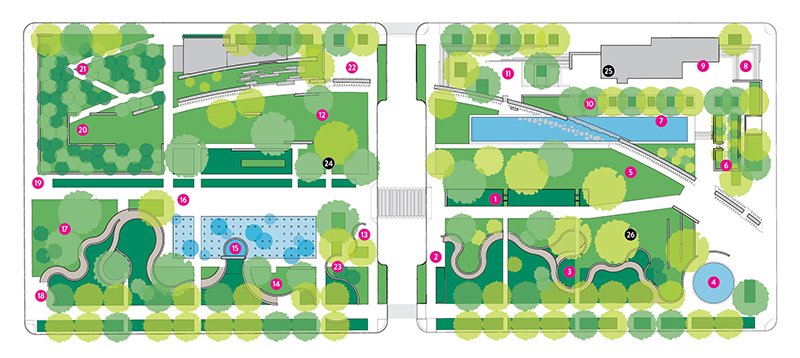 1. Four Rectangles Oblique 2. Kiera and Julian Walking 3. Tai Chi Single Whip 4. Eros Bendato 5. 2 Arcs x 4 6. Samarkand 7. La Rivière 8. Kindly Geppetto 9. Femmesau Perroquet 10. Bird 11. Night 12. Aesop's Fables 13. Big White Gloves, Big Four Wheels 14. Lifestyle 15. Voyage 16. The Door of Return 17. Untitled (Two Rabbits) 18. Untitled (Ringed Figure) 19. Bruce and Sara Walking 20. Zenit 21. Scarecrow 22. Big Suit 23. Dance Chimes
24. moonrise. east. may
There are 12 figures in the moonrise. east. series, which depicts a masked goofball whose varying expressions are each meant to symbolize a different month. St. Louis will receive moonrise. east. may, one of three editions, made of cast aluminum and brown enamel. Just try not to smile at this one.
25. Love vs Money
Meet IF—short for Imaginary Friend—a 15-foot-tall fiberglass-and-metal cartoon-like figure seemingly being pulled in two directions by a heart-shaped balloon and a bag of money. Fittingly, Love vs Money will lift off from the roof of the Kaldi's in Citygarden. It's the first permanent piece to be installed in the garden since 2011, when Big Suit went in.
26. Unzip the Earth
If you were to peel away the top layer of Citygarden, what would you find? This playful installation mimics a giant zipper, its stainless steel body frozen among two rows of brick teeth, revealing the dirt below.
Article originally posted by STLMag