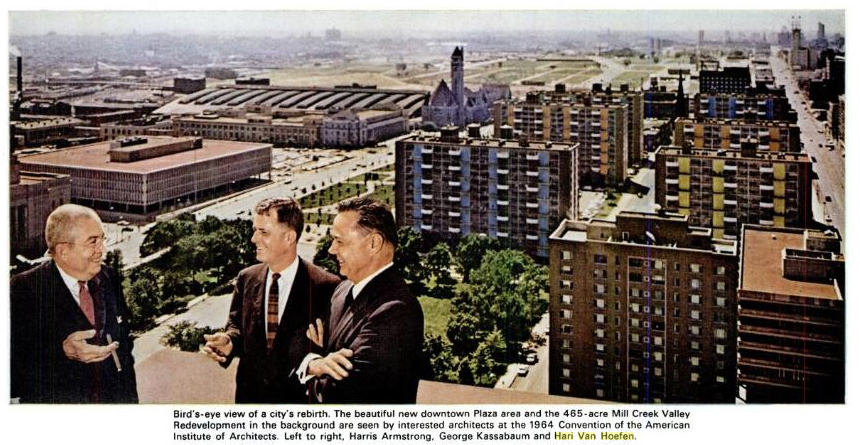 Harris Armstrong – Architect
Harris Armstrong was born in Edwardsville, Illinois in April 1899, the eldest son of a tobacco salesman. The family moved often including periods in Florida, Ohio, New York, Illinois, and Missouri. He exhibited artistic and creative tendencies, but performed poorly in school due to dyslexia. He attended high school in Webster Groves, Missouri, but never graduated. He joined the army during WWI in 1917.
In the 1920s he apprenticed with respected St. Louis architects George Brueggeman, LaBeaume & Klein and Maritz & Young. Formal studies were limited to night school courses at Washington University and a year at Ohio State as a "special student" where he received a Beaux Arts award for a classical bank lobby.
During the Depression, Armstrong worked for Raymond Hood, architect of Rockefeller Center and Radio City Music Hall. His employment lasted less than a year.
Armstrong's work made significant advances in 1935 with his Cori Residence and Shanley Building, both of which exhibit the geometrical abstraction and white coloration of the International Style. The Shanley Building was published by Architectural Review and Architectural Record and was awarded a silver medal at the International Exposition of the Technical Arts in France in 1937.
In the following decade, his palette of building materials expanded to include natural building materials such as brick, stone, and wood. His formal interests developed rapidly in several directions; some of his works paid homage to the explorations of Frank Lloyd Wright; his personal design methodology pushed some of his more inventive projects beyond his contemporaries. His Grant Medical Clinic and Armstrong Residence of 1938 reveal his interests in natural materials and formal experimentation. The Evarts Graham House (1941) demonstrates his ability to unify a modern approach to form with a traditional feeling for construction and materials.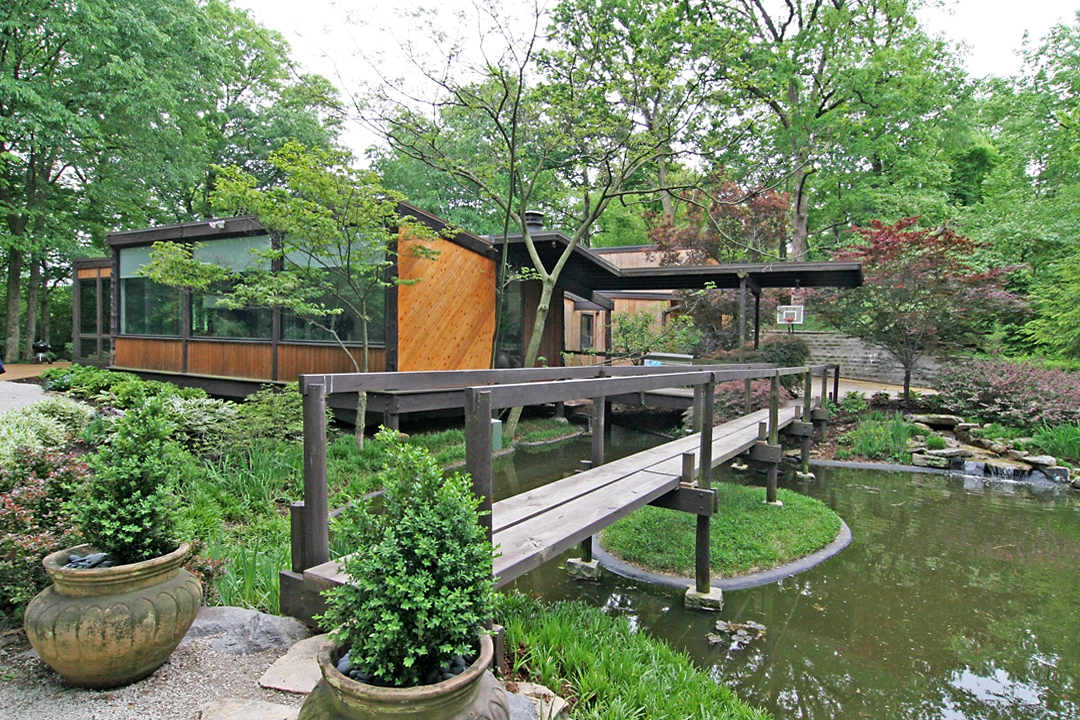 Armstrong was the acknowledged leader of modern architecture in St. Louis prior to WWII. In 1945, Harris designed and built "The Rockpile": a rustic summer cabin in the rural Missouri. The Rockpile featured a cantilevered south-facing upper story, facing a stone cliff and a creek, with large operable shutters that opened to provide shade from the summer sun.
In 1946, he designed a high-rise office building for theAmerican Stove Company as their national headquarters resulting in the Magic Chef Building. The design incorporated innovative natural lighting techniques, broke with the monolithic aesthetic of earlier modernist office buildings, and included a ceiling sculpture by Isamu Noguchi as an integral part of the lobby design.
In 1948, Armstrong's submission for the Jefferson National Memorial Expansion Competition, which resulted in the construction of Eero Saarinen's Gateway Arch, was awarded fourth place, the only St. Louis finalist.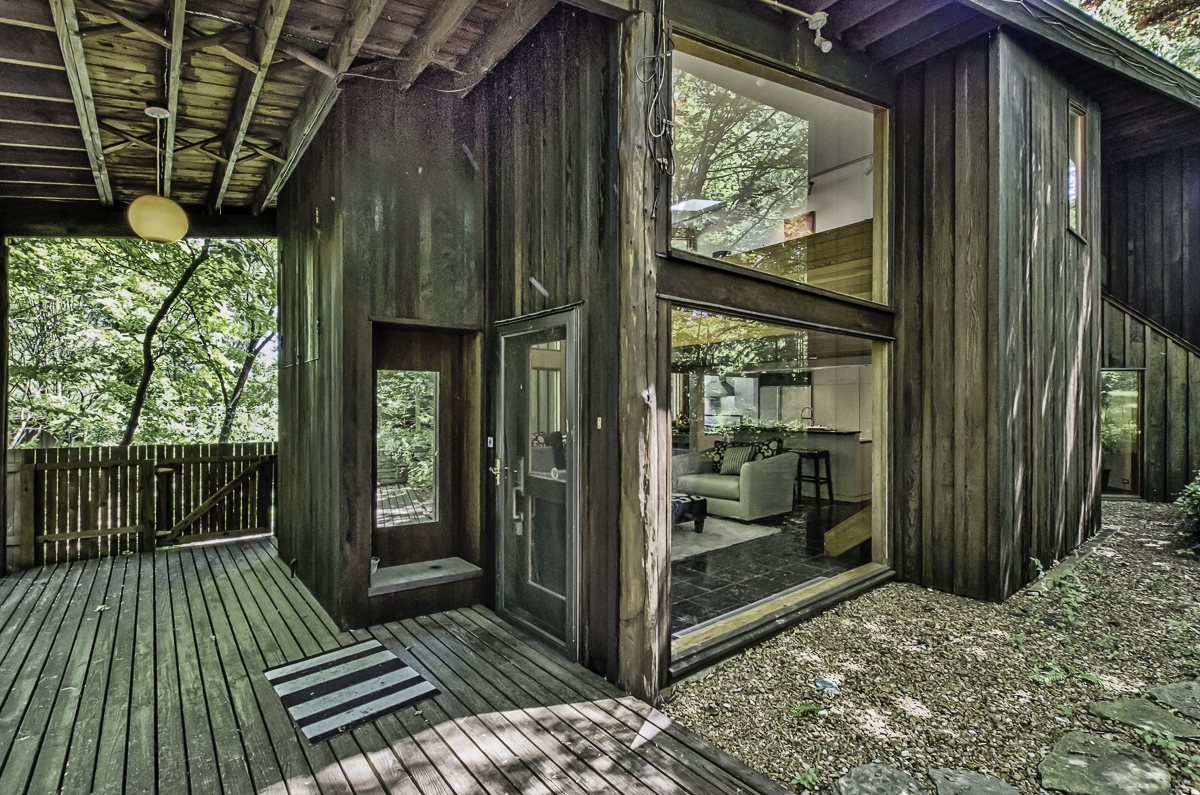 The Cancer Research Building at Washington University was the culmination of his specialization in medical buildings, which began with the Shanley Building and continued throughout his career. Many of his clients for offices and residences were among prominent members of the Saint Louis medical community and at the School of Medicine in particular.
In the 1950's Harris designed larger scale projects nationally and internationally. Federal projects included the US Consulate in Basra, Iraq and GSA Building in Kansas City, Missouri. He collaborated with Minoru Yamasaki and Hellmuth, Obata, & Kassabaum on the Plaza Square Apartment Complex in downtown St. Louis. He designed research residences for US Gypsum, PPG Industries, and University of Michigan in the mid-50s.
Armstrong was named a fellow of the AIA in 1955 after earning several Gold and Silver Medal Honor Awards from the American Institute of Architects. He also began a major project for the McDonnell Aircraft Corporation at this time. The Engineering Campus encompassed a large-scale master plan, multiple buildings, and landscaping. One of its many innovations was the use of the spray ponds as cooling towers for the air handling units. Ethical Society in Ladue
Armstrong's writings composed over the course of his lifetime represent his clarity of thought and straight forward, no-nonsense ability to communicate ideas. He published many essays in local newspapers and magazines concerning architecture, landscape, and urban design, as well as politics, science, and automotive design. His last published essay, "Detailing the Final Finish of Architectural Design," stressed the importance that detailing held for him both functionally and formally throughout his long and successful career.
He was named an honorary member of the National Academy of Design in 1972 and died December, 1973.
3 Sappington Spur in Kirkwood, A home I listed and sold in 2013.