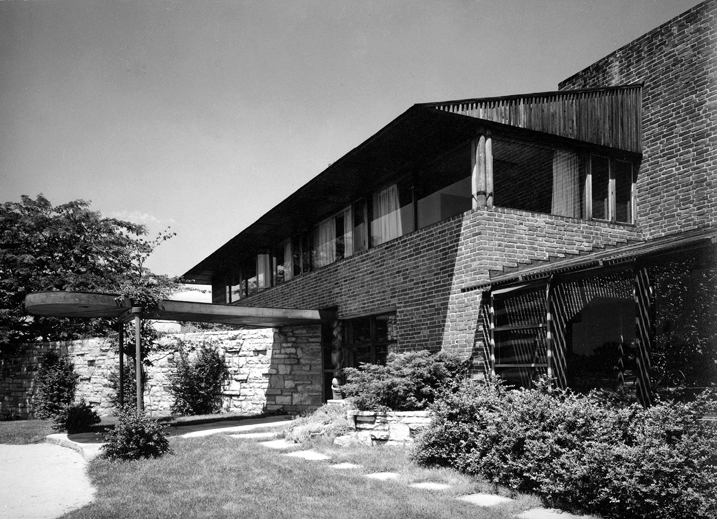 This mid-century modern home designed by Harris Armstrong for Dr. and Mrs. Evarts Graham in 1941. This is a strong example of Armstrong's maturing style combining stone, brick, wood and glass creates a modern vernacular in consonance with the natural Missouri landscape.
It is so interesting how different the home looks because of the photos being in black and white compared to the photos we had taken of it recently. A post was written about the home last year on Architectural Ruminations that goes into great detail about the history of the home and it's design. I have included an excerpt below, you can read the entire post here.
"Armstrong's 1941 design for the Graham Residence is architecturally striking in its variety of formal references, contrasting materials and attention to craftsmanship. The home's overall simplicity in form and massing, especially when viewed from a distance, contrasts with a masterful attention to detail, manipulation of shade & shadow and use of natural materials. Textures, colors and forms interweave creating a natural palette with the intricacies of an ancient masonry structure almost on the verge of being overtaken by vegetation. The house is an Armstrong masterpiece epitomizing his ideas on creating a modern vernacular appropriate to Missouri's climate and culture."
"From afar, the house is minimal to the extreme, but as one approaches, its richness gradually reveals itself. The choreographed circulation sequence offers layers of anticipation, wonder and surprise as one enters and passes through its variety of spaces.
The main body of the house is regular and rectangular with shallowly pitched overhanging roofs. The lines emphasize the horizontal reflecting and reinforcing the dominance of the surrounding prairie. The structure extends to the east and west with its main elevations facing toward the south (addressing the road) and the north (overlooking the Missouri River). The composition is strongly horizontal and solidly anchored in the landscape. The site offers the benefits of bluffs high above the river which overlook the low-lying areas of the confluence of the Mississippi and Missouri in the distance."
"The primary exception to the home's rectilinear form is the large angled stone wall leading to the main entrance and screening the garage and service yard. This heavily rusticated limestone wall screens the "service" areas of the house from view as one experiences the house from the standpoint of its long driveway. This solid mass is relieved only by the introduction of climbing plants and vegetation. A narrow vertical slot offers access to the linear service yard situated between the hidden five car garage and the massive limestone masonry wall. While the wall offers monumental facade, it is no veneer of stone set out just to impress the public; it is a full thickness stone masonry exposed on both faces." Click here to read the rest.
This property is currently under contract.