Harris Armstrong (April 6, 1899 – December 15, 1973) was a well-read and largely self-taught modern architect revered for his masterful application of strikingly colorful, innovative and spacious structures for every use conceivable. Especially popular in America's Middle West from the 1930's to 1960's. Armstrong's favored designs quietly echoed the Scandinavian and Asian tendency of observing economic resourcefulness of material and elegant simplicity of form, coupled with his self-defined brash interpretation of Frank Lloyd Wright's work.
After serving in the United States Army Air Corps as a private during the First World War, Armstrong studied architecture at both Ohio State University and Washington University, though he never graduated from either institution. From 1924 to early 1930's Armstrong served as a draftsman in several firms in New York and St. Louis. It was when Armstrong worked as a landscape gardener during the Depression that his novel architectural vision of combining flavorful interior and exterior design elements began to mature. In the mid 1930's, Armstrong formally started his own practice in Kirkwood, Missouri.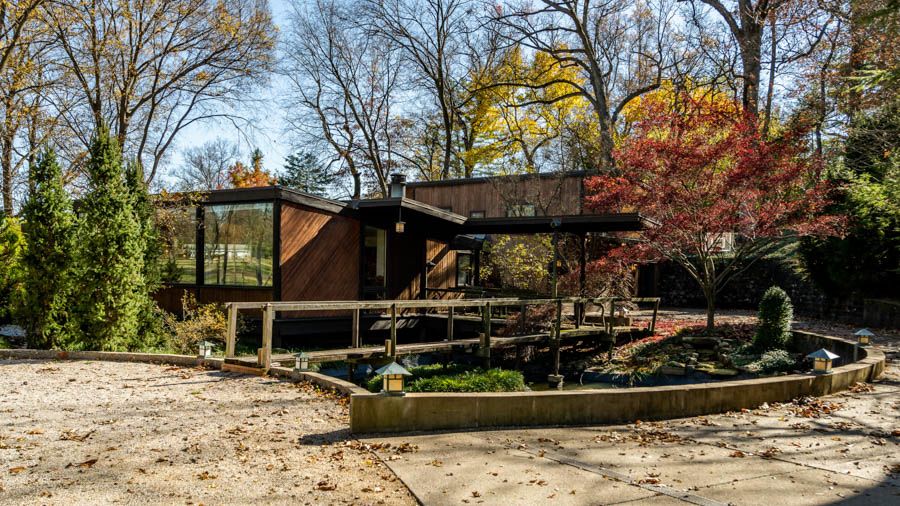 Highly sought after for his daring designs and known for his flamboyant and engaging disposition, Armstrong was equally successful in procuring scores of residential and commercial contracts. In St. Louis, some of his residential clients included Doctors Carl and Gerty Cori (Novel Peace Prize recipients) and Dr. Henry Hampton. His notable commercial projects and clients in St. Louis included Washington University, McDonnell Aircraft Corporation, American Stove Company, Scruggs-Vandervoort-Barney, the St. Louis Ethical Society, the Kirkwood Community Center, the Lutheran Church of Atonement and various Y.W.C.A branches. Additionally Armstrong was the only solo-finality in the design competition for the Jefferson National Expansion Memorial in St. Louis.
This biography is Courtesy of University Archives, Department of Special Collections, Washington University Libraries.