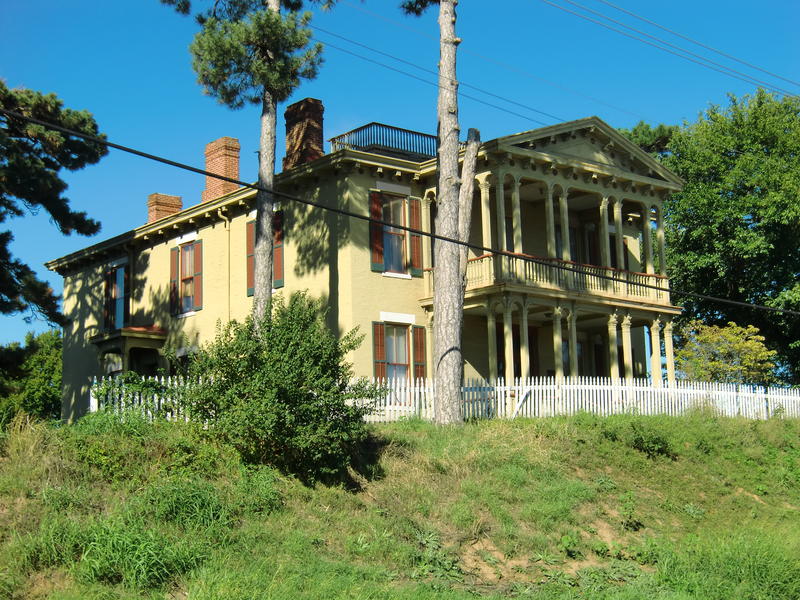 In Peril No More
According to a document filed with the United States Department of the Interior National Park Service (filed all the way back in July 1969 document here), the historic home was slated to be demolished for the construction of the innerbelt Highway 725 that would connect I-270 and I-170. This plan was strongly opposed by many proponents of the preservation of the home. Because of this, the Missouri State Highway Department redesigned the plan to avoid this home. When this document was filed, Historic Florissant Inc. was the owner of the property. Later the home was purchased by a man named Terry Turner, who has great vision for the property.
History of the Home
The John B. Myers House (180 Dunn Road, Florissant, Missouri) demonstrates the remarkable persistence of the Classical Revival style of architecture into the Victorian era.' Noteworthy for its elaborate detailing (ornate, two-story portico and extensive interior wall treatments), the house has survived in a relatively unaltered condition.
In 1867 Myers purchased fifty acres of land less than a mile south of the old French town of St. Ferdinand (now Florissant). He had come to Missouri from Pottstown, Pennsylvania, and according to probate records had substantial land holdings in Calhoun County, Illinois. Myers was married to Adelaide Motten, a native of Alsace-Lorraine. They had three children: John, Jr.; Salena; and Zelda (born 16 days after her father's death in 1869).2
At John B. Myers' death, only the foundations and framework for the upper stories of the house were finished; Mrs. Myers is credited with completing the construction following her husband's plans. The survey of Missouri's historic sites is based on the selection of sites as they relate to theme studies in Missouri history as outlined in the "Missouri State Historic Preservation Plan." The John B. Myers House was nominated to the National Register of Historic Places as an example of the "Architecture" theme.
The home was certified and was added to the National Register on August 25, 1977.
This blog post was inspired by this article, linked here.