The Joseph Sappington House is one of a group of five pioneer houses in Crestwood and its vicinity that are related by their early date, 1820 or earlier, and the kinship of their builders. As a group they are notable, if not unique in this part of the state, not only for these reasons but because of their exceptional state of preservation. The Joseph Sappington House is the last of these houses to be nominated to the National Register of Historic Places.
Like most early log houses, the Joseph Sappington House underwent a series of additions and "improvements" as tastes changed and its owners became more affluent. It was expanded from its original center section first by a two-story addition to the north, then by a one-story addition to the south and last by partially enclosed porches along the east and west fronts. Its logs were covered outside by weatherboarding. After many coats of whitewash had been applied over the years, the visible logs were covered by plaster and paneling.
Fireplaces were replaced by stoves and later covered over altogether, Over the past thirty years, the fireplaces and log walls have again been revealed inside, but outside the weatherboarding has been retained. 1bis contrasts with most twentieth-century restorations, such as the nearby John Lindsay Long House, in which the logs have been exposed inside and out. In this respect the Joseph Sappington is probably a more accurate representation than is usually seen of a pioneer log house at a certain point in its development.
The Sappington family was one of the largest in early St. Louis, as John Sappington (1753-1815) had seventeen children. The homes of his sons Thomas at 1015 South Sappington Road and Zephaniah at 11145 Gravois Road are already on the National Register of Historic Places, as are two homes of his daughter Elizabeth (Mrs. William Lindsay Long) at 9385 Pardee Lane and 9060 Whitehaven Driye ("White Haven"). Joseph Sappington was, not one of these children but he may have been a cousin or a nephew of John Sappington; he was definitely a friend, because he was one of the witnesses to John's will of May 1, 1815. His name appears in other documents of the period, and he was probably the father of Sebastian Sappington; whose stone house of about. 1842 at 10740 Gravois Road was recently demolished.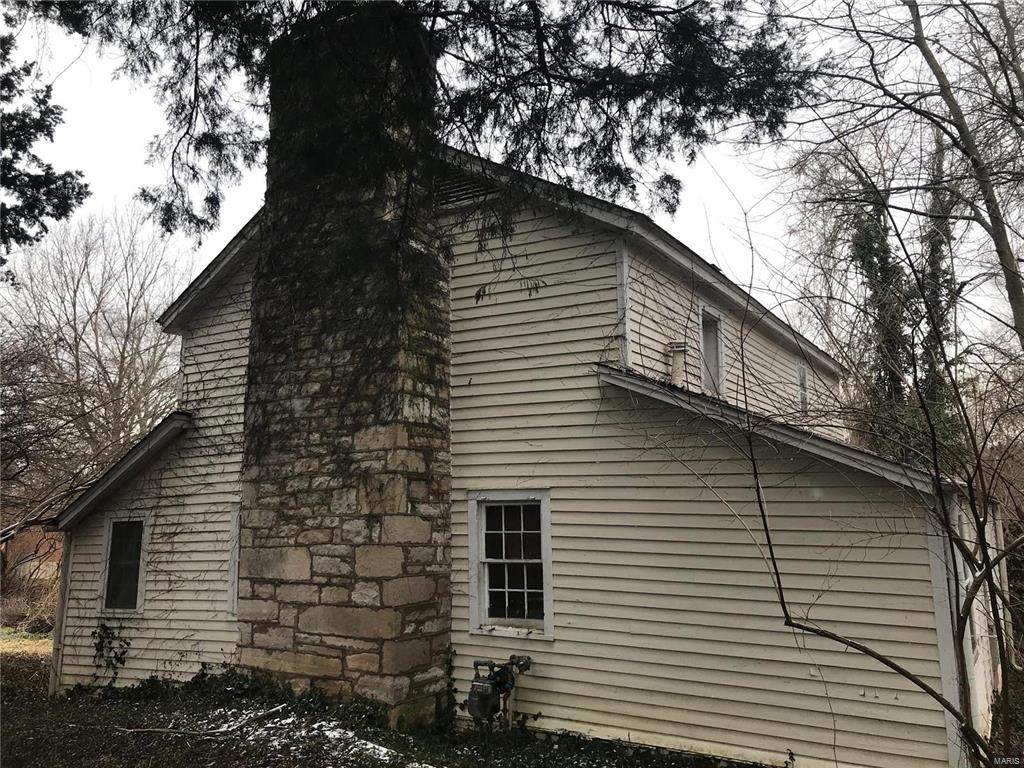 Joseph Sappington acquired 312.75 acres including the present property on May 9, 1821, under Certificate of Entry 259, at the homestead price of $1.25 per acre. Under the Homestead Act, he had to have cleared the land, built a dwelling and occupied it for at least five years before becoming eligible to purchase it. Thus the house must date at the latest from 1816. Other Sappingtons are known to have come into this area by about 1804, which is the date that is purportedly carved into a base log at the south end of the house, now inaccessible because of later construction.
In the middle of the nineteenth century, the property passed to the Rott family, and then to the Hertel family in 1915.5 The present owners acquired the house in 1953 after the original farm had been subdivided for residential development, and they restored it, removing interior plaster, in three phases: 1953, 1958 and 1972. Listed by Bret Hilbert of Hilbert Nation Realty.