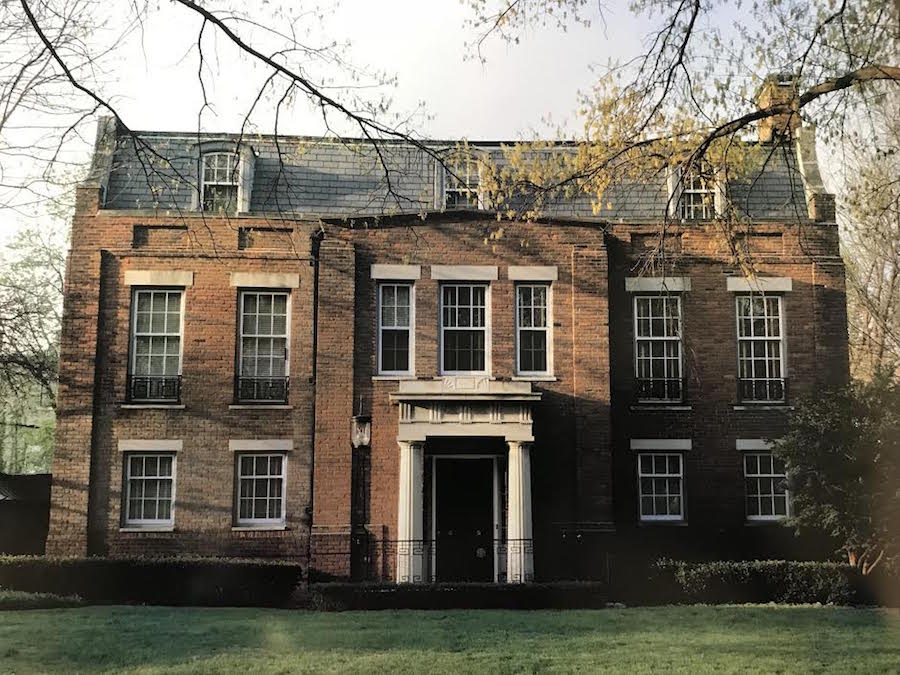 Here is a little history about a home I attended a party…this is one of my favorite homes on Westmoreland!
Dr. and Mrs. Arthur W. Proetz House, 1938-39; designed by Ralph Cole Hall, architect, St. Louis.
Interior decoration and furnishings by Victor Proetz, the lead designer for the decorating firm Cosden Inc., New York.
Victor Proetz (1897-1966) studied design at the school of the Art Institute of Chicago, and graduated in 1923 from Illinois Institute of Technology with a degree in architecture.
Proetz was in partnership with Ralph Cole Hall from 1924 to 1934, when he moved to New York. Hall and Proetz designed homes and often their furnishings resulting in a total work of art.
Dr. Arthur Proetz (1886-1966) and Erma Perham Proetz (1891-1944) commissioned the house. He was a professor of medicine at Washington University Medical School. she was an advertising executive at Gardner Advertising Co. They married in 1918. Erma Proetz died in 1944. Arthur Proetz married Esther Schoepfer in 1947. Esther S. Proetz continued to live in the house until her death in 1987.
The house was built between July 1938 and October 1939, at a cost of $82,500 ($1,414,101 today). Interior decoration (including light fixtures, furniture, curtains and carpets, etc.) cost about $19,000 ($327,657 today). Furniture continued to be supplied through December 1942.
Notable Features:
Tent Room (1st Floor): was executed by an upholsterer named Mr. Schneller, at a cost of $400.
Library (1st Floor): Originally the library bookcases were lined with marbled paper in purple and cream, custom-made to coordinate with the wood, leather, and upholstery and curtain fabrics woven in Sweden by Elsa Gulberg. Wire mesh grilles for the bookcases were imported from France.
The Drawing Room (2nd Floor): The fireplace is in the Greek Revival style inspired by the early 19th century English architect Thomas Hope. The cast lion masks that ornament the mantel were selected by Proetz and cast; the backing is lapis lazuli. The door hardware was patinated to match the cast lion masks on the fireplace.
Many original light fixtures remain, such as the hanging lantern and wall sconces in the circular stair hall (1st floor).