Article originally posted by Architectural Digest
For many people, Christmas just wouldn't be the same without a screening of a few beloved holiday movies. No matter how many times you watch them, these classics still warm the heart and bring back memories of years past. Besides the season (and perhaps a cameo by Santa Claus), these movies also have one particularly important thing in common: beautiful, cozy houses. From treasured movies such as It's a Wonderful Life to new favorites including Elf, these films prove that there's no place like home for the holidays—and perhaps that there's no place quite as charming as a holiday home. We've gathered some of the beautiful houses from holiday movies to inspire your holiday Netflix queue—and maybe even your decorating.
A Christmas Story
Fans of Ralphie and the rest of the Parker clan can visit the home that served as the exterior of their house in fictional Hohman, Indiana. The actual house, in Cleveland, has been renovated inside and out to capture the look of the movie and is now a museum.
Home Alone
The Georgian home Kevin McCallister protects from a pair of burglars is not actually in Chicago. Situated in nearby Winnetka, Illinois, the property was sold for $1.585 million in 2012.
Elf
Buddy tracks down his real father, Walter Hobbs, who reluctantly allows him to come stay in his Manhattan apartment. The exterior of the Hobbs's apartment building was shot at 55 Central Park West, a 1929 Art Deco building that also served as the location of Dana Barrett's apartment in Ghostbusters.
Miracle on 34th Street
In the 1947 film, young Susan Walker asks Kris Kringle for a house with a backyard and a swing. Her wish comes true in the final moments of the film, when she, her mother, and their neighbor drive up to a house with a "For Sale" sign. Susan's dream house still exists in Port Washington, New York.
Eloise at Christmastime
Set at Eloise's beloved home, The Plaza Hotel, the film reminds us that even a large complex can feel cozy and intimate during the holiday season. The hotel's Christmas allure can be seen in other films too, like Home Alone 2 or Hallmark film Christmas at the Plaza. Of course, even for those who aren't crazy about the big screen, the iconic New York hotel is nothing short of magical in the winter, and it's often decked out with lights, trees, and even the occasional visit from Santa Claus.
Love Actually
Mark (Andrew Lincoln) confessing his love to Juliet (Kiera Knightley) through cue cards is arguably the most iconic moment from the star-studded Love Actually. In the film, Knightley's character lives in a now infamous pink house that is actually located on a street named St. Lukes Mews in Notting Hill. Besides the rosy abode, the road is also lined with other charming row houses.
The Family Stone
A colonial residence in Riverside, Connecticut, served as the Stone family's home in fictional Thayer, Massachusetts, for the 2005 movie. The house was sold in 2008 for $4.1 million.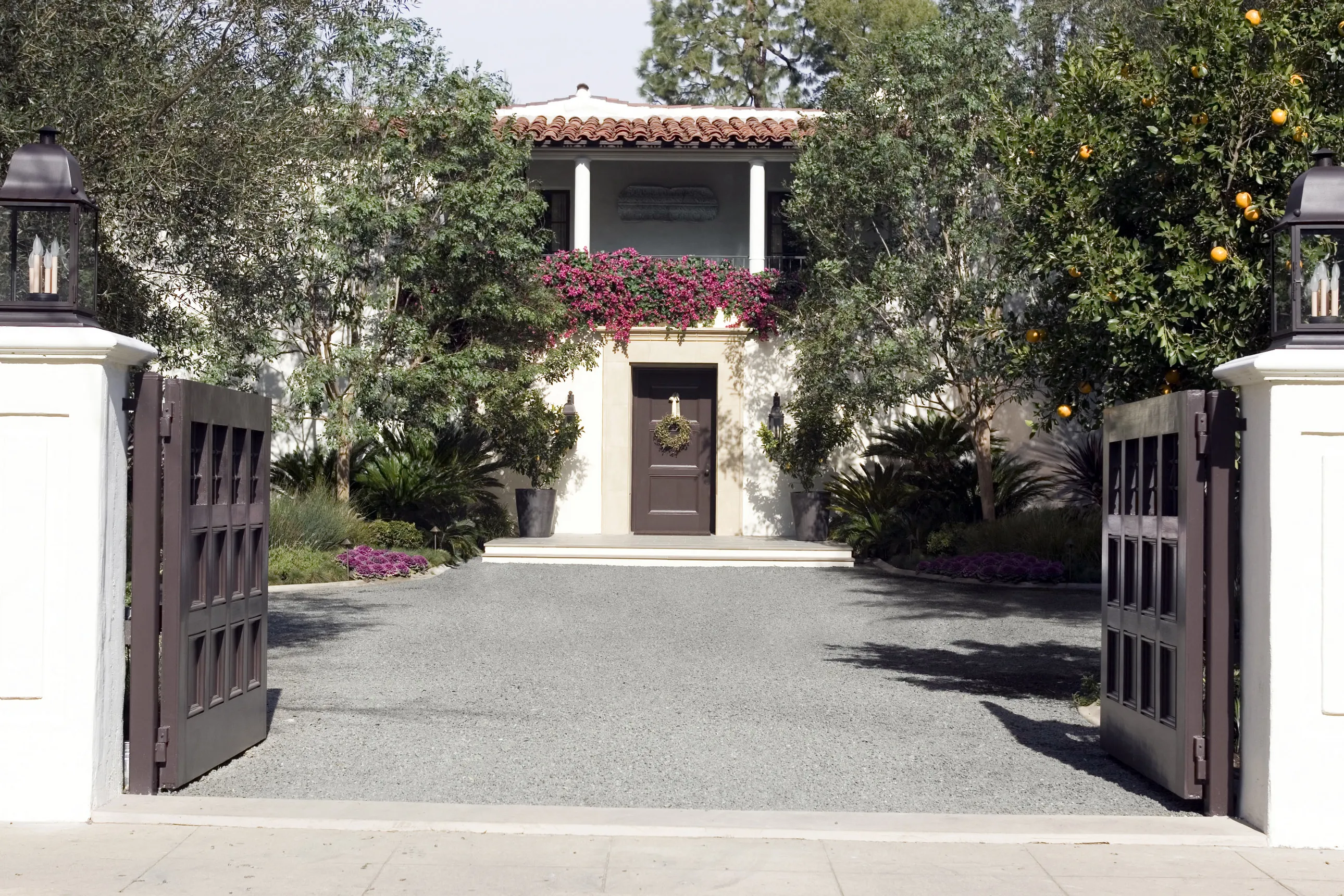 The Holiday
Nancy Meyers's 2006 movie stars two gorgeous homes. Though Iris's English cottage was built for the shoot, Amanda's Los Angeles home is actually a 1928 house in San Marino, California. The property was designed by acclaimed West Coast architect Wallace Neff.