Article originally posted by Mid Century Furniture
Even the traditional Christmas tree can have a modern makeover. Modern Christmas Trees is a US-based company specialized in exactly that – a mid-century Christmas tree, inspired by the shape of A-frame cabins. We spoke to its founder, Matt Bliss, to find out more.
Could you tell us more about the mid-century Christmas tree that became the first "Modern Christmas Tree"?
My grandfather, Lawrence "Bud" Stoecker, was an engineer and had his own business building A-frame cabins throughout the Colorado Rockies. He liked to make things and the triangle shape of an A-frame cabin was familiar. This led him to create the first "Modern Christmas Tree" in 1965. This first tree was made out of cardboard. He then migrated to masonite board and finally Plexiglas.
What are some of your memories of your childhood Christmas?
We always spent Christmas Eve at our grandparents' house and the tree would always be up. My brothers and I would put our heads under the tree and look up and Grandpa would then slowly rotate the tree. What a sight! Although the tree was always made of concentric rings, it was decorated differently every year. My grandfather took notes on the pattern of ornaments so he wouldn't repeat himself.
What inspired you to make this mid-century Christmas tree available to the public?
When my grandfather was first diagnosed with Alzheimer's I decided to update his tree as a tribute to him – I wanted him to be recognized for what he did. I just simplified the ornaments and increased the distance between rings. People love the tree and the story behind them. I've sold them all over the world. For every large tree I sell, I donate $50 to the Alzheimer's Association. I've raised over $15,000 in the last few years.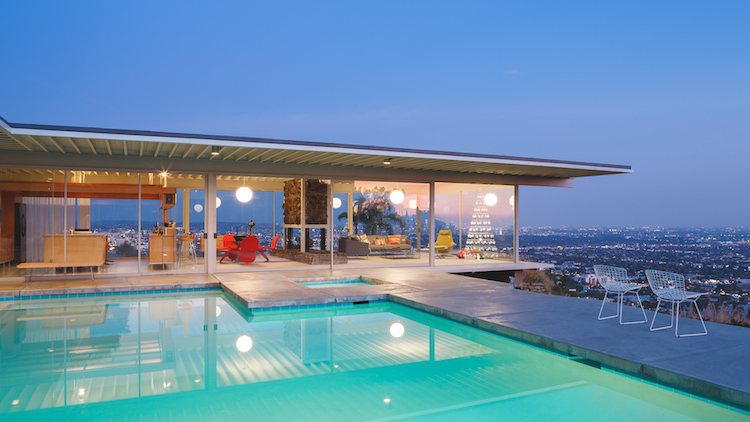 There are some fantastic photographs showing the tree in the Stahl House – could you tell us a bit more about how this happened?
This was a dream come true. I wanted to film the tree in the perfect venue (the Stahl House designed by Pierre Koenig in 1959 as part of the Case Study Houses program) and I reached out to the Stahl's and told them about my Grandpa and his trees. They had dealt with Alzheimer's in their family. I love how the tree holds its own in that amazing house! We were also lucky enough to be able to photograph the tree inside Charles Deaton's 1963 'Sleeper' House in Colorado.