Addition
SPACE Architects + Designers + Builders
The client purchased a 1,600-square-foot teardown in a historic neighborhood. Wishing to maintain the character of the street, he decided that rather than tear it down, he would build a contemporary addition, clad in ipe wood, on the back of the home, visible only from the driveway. The connection between the old and the new structures was straightforward on the first floor, but upstairs a bedroom was turned into a home office/passageway leading into the new wing, which holds a bathroom, two bedrooms, and a playroom. The large family room, on the first floor, holds a floating fireplace, custom shelves, and a coffee table designed for both work and entertaining. Though elegant, the furnishings are commercial grade for durability and comfort.
Commercial Retail Space
Arcturis 
This retail space is meant to provide an experience in a minimal yet dramatic environment where the client's distinctive jewelry line is the main attraction. The finishes, lighting, and casework details are informed by the look of modern Gothic luxury. Upon entering the showroom, guests are welcomed into a dimly lit black-painted room with a single display case that holds a handsome taxidermy peacock. Inside, the glow of natural light from a large skylight and glass exterior wall illuminates the spacious room. Fitted with a bar, dining table, indoor lounge, and outdoor patio, the showroom is designed to double as an event space.
Great Room
Emily Hall, Emily Hall Interiors
The designer was tasked with blending the husband's strong masculine style with the wife's chic feminine aesthetic. In the home's Tudor-inspired great room, its vaulted ceiling and expansive windows, contemporary artwork, vintage textiles, reupholstered furniture, and a splash of color meld to yield a stylish, intimate feel. Both husband and wife have an appreciation for antiques, and the designer called on her treasure-hunting skills to find objects and furnishings collected from various periods and styles.
Modern Kitchen (more than 300 sq. ft.)
Kim Taylor West, K Taylor Design Group
The inspiration for this modern kitchen, situated in a 1920s home, was discovered in a photo found by the client. To bring the owner's dream to life, the designer first had to tackle such challenges as the presence of several radiators, varying ceiling heights, a hard budget, and tall windows. Fabricating and installing the 10-by-12-foot book-matched marble backsplash was also a feat. A white tile floor and matte black cabinets add drama; brushed gold hardware and counter stools bring a touch of glam. Such natural materials as honed marble, walnut, and reclaimed wood combine beautifully with the room's modern lines.
Overall Home Design
Annie Brahler, Euro Trash
The designer undertook a complete renovation of and several additions to this home in the interest of serving the owners, a family with four young children, as well as their love for both casual and formal entertaining. These goals were met through the selection of modern and antique building materials, finishes, and furnishings. The use of vintage pieces, with their inherent patina, invites the wear and tear of life, making them more beautiful with time. In the rooms and gardens of this Mediterranean-style property, nods to Hollywood Regency, Art Nouveau, European antiques, and Midcentury Modern abound.
Traditional Bath (less than 150 sq. ft.)
Janelle Helms, Karr Bick Kitchen and Bath
This small bathroom was updated to reflect traditional charm. In choosing a stylish combination of design elements—clean-lined vanity mirrors, black matte fixtures, statement sconces—and pairing them with a rustic-leaning cabinet, gold hardware, and vintage penny tile, the designer fashioned a space that feels just right. The room's sage green paint color envelops the room in warmth.
Traditional Kitchen (less than 300 sq. ft.)
Kelly Johnson, Kelly Johnson Design & Jim Howard, Alspaugh Kitchen and Bath
The objective of this kitchen design was to keep the architecture front and center while addressing the client's need for function and storage. The designer chose materials that would complement the rest of the house. Soft white cabinets, capped with marble countertops and backsplash, blend into the walls; a simple exhaust hood is fashioned from antiqued zinc and brass; cerused rift-sawn white oak covers the farmhouse-style island and refrigeration wall. The diagonal orientation of the 4-inch V-groove oak door panel inserts mimic the vaulted shiplap-clad ceiling.
Traditional Kitchen (more than 300 sq. ft.)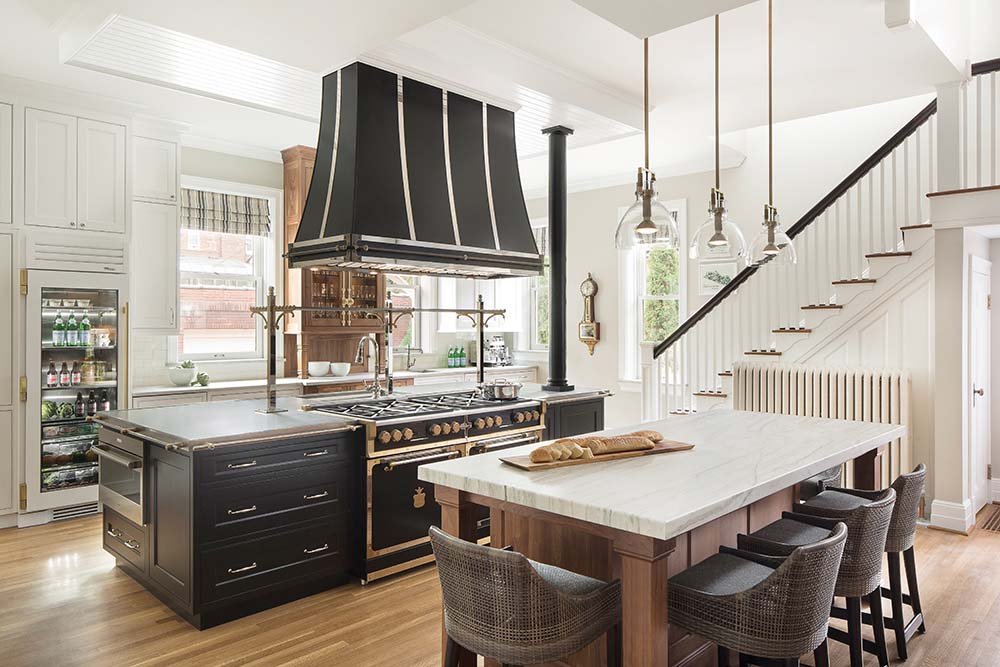 Brett Clark, Savvy Design Group & Chris Paul, Alspaugh Kitchen and Bath
The renovation of this turn-of-the-century home included a kitchen remodel designed to support the homeowner's passion for cooking. The team began by relocating a staircase to make room for a large cased opening into the living room and removing windows and doors to optimize an open layout. In so doing, they limited the availability of usable wall space: Their solution? Build the kitchen around a large island, offering both an aesthetic focal point and a functional cooking hub. A striking Italian range with brass and nickel hardware inspired design choices in the surrounding custom pot rack, countertop rail, and hood. A walnut hutch, fashioned with leaded antique glass doors and brass hardware, pays homage to the cabinetry in the home's original butler's pantry.
See all of the winning designs HERE