You know the designs, now get the stories about to how they came to be.
Of all of Arne Jacobsen's iconic designs, none is more famous, or covetable, than his 1958 Egg chair, which he conceived as part of his great opus, the SAS Royal Hotel complex. A chair "should not only work well as a work of sculpture," he once quipped, "but it should also be a flattering background when someone is in it, especially a female occupant." Jacobsen was a true master of design, but "woke" he was not.
In the past, and sometimes even now, women didn't always get the credit owed to them for their design chops. The Barcelona, chair which is attributed to the great modernist master Ludwig Mies van der Rohe, was designed not by him alone, but in association with his close collaborator Lilly Reich.
We don't know what Reich's contribution was or how much of the chair was her concept. But we can tell you the chair was originally designed for the German Pavilion at the International Exposition of 1929 in Barcelona. Mies van der Rohe used it to furnish his early modernist masterpiece Villa Tugendhat in Brno, Czech Republic.
Charles and Ray Eames were not just modernists, they were American modernists. They always found a way to inject a bit of folksy warmth into their sleek industrial designs. What was the inspiration for their classic, super sculptural and comfy lounge chair? A well-worn first baseman's mitt!
This fabled chair was designed in 1938 by a triumvirate of talented Argentine designers: Antonio Bonet, Juan Kurchan and Jorge Ferrari-Hardoy, who met when they were assistants in the Paris office of Le Corbusier. The Butterfly chair was a contemporary take on French campaign furniture, which they used to furnish an apartment building they designed in Buenos Aires. They showed the chair at the third Salon des Artistas Decoradores, which was held in the capital city two years later.
When New York's Museum of Modern Art discovered the chair through that exhibition, it requested three preproduction chairs: one for its permanent design collection, the other for the family home of MoMA's design director Edgar Kaufmann, which was, uh, the Frank Lloyd Wright masterpiece Fallingwater. And the third? No one knows what happened to that chair. But the Butterfly has since become a knock-off classic.
When the Finnish designer Eero Aarnio moved into his first house back in 1962, he had no proper armchair, so he decided to make one. While sketching possible designs, he noticed the simplest resembled a ball. So he sat in a chair and had his wife draw the course of his head on the wall, which is how he determined the height and width of the chair, as he was taller than his wife. A true DIYer, he fashioned the first prototype using the same molding technique used to create glider fuselages.
Hans Wegner was a Danish promulgator of the mid-century school of Organic Functionality. This seat, inspired by a portrait of a Danish merchant in a Chinese Ming chair, was one of three he designed for Carl Hansen & Søn in 1949, which combined the top rails and arms into one piece. Cutting-edge when it was first produced, the Wishbone chair has become an iconic design.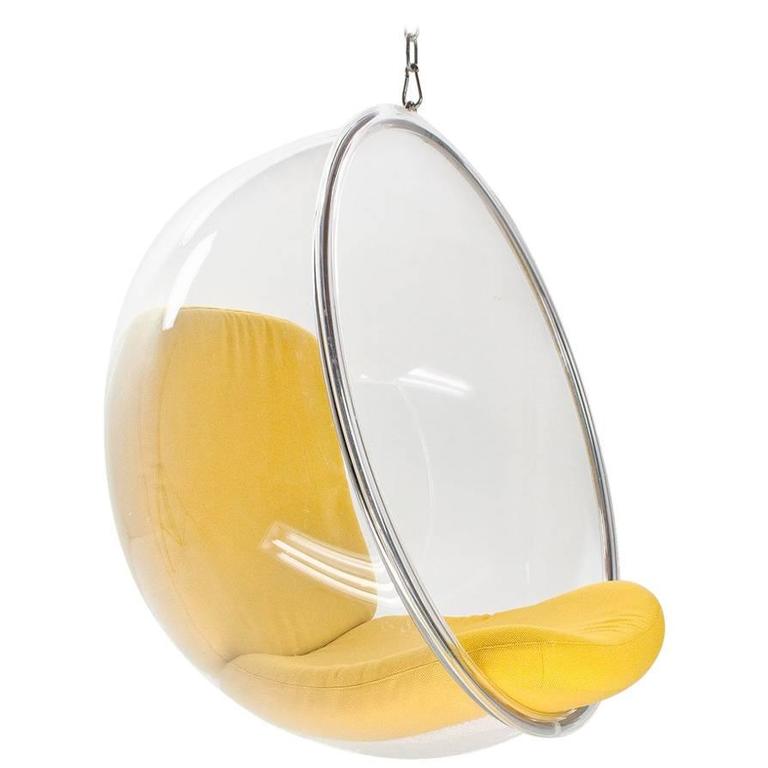 Bubble Chair by Eero Aarnio
After the success of his Ball chair, Aarnio took the notion of hemispheric seating once step further by designing a chair out of transparent molded acrylic, which was a high-tech material back in 1968. The result was a futuristic seat appropriate for swingers of all eras.
Hungarian-born modernist Marcel Breuer designed the Wassily chair in 1925 when he was just 23, and already an instructor at the Bauhaus, the ultra-progressive design school. He had been one of the school's earliest students and its youngest. Yet his gifts were so immense that after a year, Walter Gropius, the school's founder, put him in charge of the carpentry shop.
Inspired by the tubular steel used in bicycle handlebars, Breuer originally made the chair for himself. Wassily Kandinsky, one of his colleagues at the Bauhaus, greatly admired the chair, so Breuer made one for him. When the chair was rereleased in the 1960s, it was named after the famous abstract painter, who had been its earliest fan.
Many design aficionados will tell you that there is no more comfortable chair in the world. And that was Eerio Saarinen's intention when he designed it in 1948 at the request of the Florence Knoll, a formidable designer herself, who desired a modern armchair that one could curl up in like it was "a basket full of pillows."
Saarinen was among the mid-century modernists who thought the postwar world was ugly, confusing and unrestful. So he conceived the Pedestal Collection in 1957 as an elegant antidote. Is there anything more ideally serene than the Tulip chair?
Jacobsen designed the Swan chair, along with a Swan settee, as part of his 1958 commission for the SAS Royal Hotel complex in Copenhagen, which also produced the Egg and Drop chairs. It's hard to imagine a more sleek and regal chair, and it's also hard to believe that Jacobsen assembled its prototype in his garage!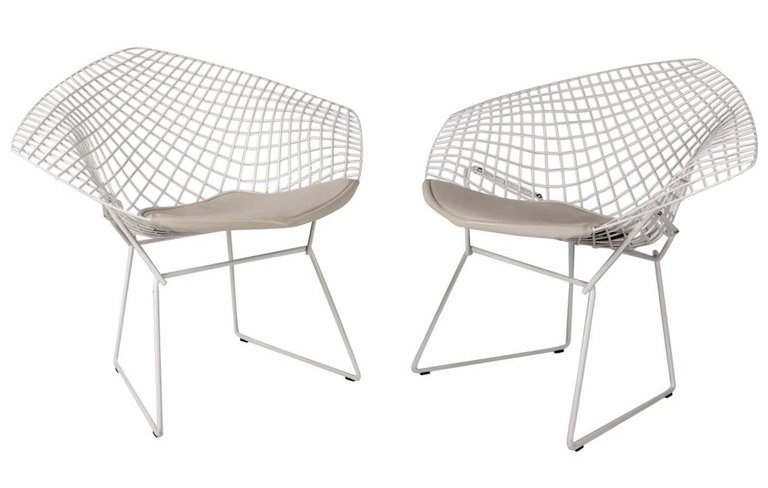 Looking at these chairs, it shouldn't come as a surprise that Harry Bertoia was a sculptor. In fact, the success of his wire furniture collection for Knoll, of which this chair is part, enabled him to pursue an art-making career. The Diamond chair is such an icon that it's easy to forget how avant-garde it was when it made its debut in 1952.
As Bertoia himself noted, "If you look at these chairs, they are mainly made of air, like sculpture. Space passes right through them." Remarkably, these lofty seats are also immensely comfortable!
While the LC4 lounge is usually associated with Le Corbusier, he did not design it alone. It was a team effort, produced with two other gifted furniture designers in his atelier, his cousin Pierre Jeanneret and Charlotte Perriand for the 1929 Salon d'Automne. One of the earliest examples of industrial-style furniture, it was originally known as the "resting machine." At the time, it was nothing short of revolutionary.
The LC3 was also designed for the 1929 Salon d'Automne and was an attempt by this trio of young modernists to interpret a richly cushioned sofa and armchair in an industrial vernacular. Considering the ubiquity of the seat, which they dubbed "Le Grand Comfort," their bold effort was nothing short of a resounding success. The LC2 is another variation on this set that is more compact and with a higher back.
In their attempt to reinvent the armchair, the designers stripped away all its cushioning and trim to get to the Platonic essence of what a seat is, while still providing a similar degree of comfort and support. One can only imagine how radical this assemblage of hide and steel must have seemed to those who still deeply ensconced in the padded splendor of the Belle Epoque!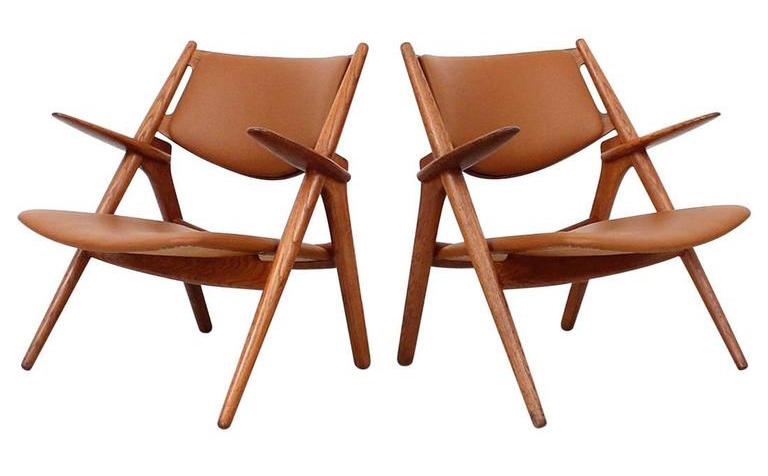 Hans Wegner was more than a brilliant designer, he possessed the kind of affinity for wood that only the greatest cabinetmakers possess. He thought about chair-making as if it were sculpture. "A chair is to have no backside," he once observed. "It should be beautiful from all sides and angles."
That's certainly the case with the simple Sawbuck chair, which he conceived in 1952. It's carved out of solid oak and walnut and finished with a clear lacquer to highlight the contrasting characteristics of the different woods.