Article originally posted by Realtor
Midcentury modern lovers, take note. At least 10 Eichler homes are on the market right this minute.
For those not in the know, Joseph Eichler was a remarkably influential post-World War II housing developer who built affordable subdivisions of tract homes, mainly in the San Francisco Bay Area and Southern California, although a handful show up in far-flung locations like New York.
From 1949 through the early 1970s, about 11,000 Eichler homes popped up in the Bay Area, in places like Palo Alto, Sunnyvale, and San Rafael. The now-notable designs by the architects Anshen & Allen, Claude Oakland, and A. Quincy Jones have come to be known as Eichlers.
Their signature elements, such as A-frame roofs, indoor atriums, walls of glass leading outside, and open floor plans, have developed a serious cult following.
The designs continue to resonate with home buyers—at least with those willing to spend millions on what are now decades-old homes. Some have been lovingly preserved by their original owners, and others have received a total makeover.
According to one Eichler specialist, Kevin Swartz, the founder of Atria Real Estate, the latest batch to land on the market in the South Bay are being sold by families looking for larger homes—or fleeing the Bay Area entirely.
"There have been more nicely and newly updated Eichler homes listed in 2021 compared to previous years," he says.
"With fewer retirees selling, we aren't seeing as many in original condition or with outdated remodels done in the '80s and '90s," he adds. "Instead, homeowners who are selling right now are ones that purchased their homes within the past five to 10 years that have undergone extensive remodeling in alignment with today's popular design trends, making them more desirable to buyers."
Swartz says these homes have often been featured in magazines and social media, which has increased their visibility. That visibility is readily apparent, according to another agent we spoke with.
"I just received four offers on my original Eichler listing on Kenneth [Drive]," says Monique Lombardelli, a broker and CEO of Modern Homes Realty.
The Palo Alto listing she's referring to is a $2.4 million, three-bedroom home that's been on the market for three days—and can be seen below.
"These original Eichlers are hidden gems," she adds, "and my absolute favorite to represent."
For those who want to take a peek inside these iconic homes, we've rounded them up below. Let's have a look.
Price: $1,998,000
Eichler upside: Built in 1959, this classic atrium model features a central courtyard and high-beamed ceilings. Its highlight is an updated kitchen with quartz counters and a breakfast bar.
With four bedrooms, the layout includes a primary suite with a walk-in closet. Walls of glass along the front and back bring the outdoors in.
Outside, the home has low-maintenance, mature planting in a garden and back patio. The location is close to Las Palmas Park, as well as downtown Sunnyvale, an easy commute to Apple, Google, and LinkedIn.
Price: $1,325,000
Eichler upside: This three-bedroom home from 1955 has been "beautifully updated" in the spirit of its original design. The remodeled galley kitchen includes custom cabinets and top-of-the-line appliances.
A light-filled, open living and dining area gives onto a landscaped patio, making the outdoor views feel like an integral part of the home.  The master suite also opens outside and has views of the surrounding hills.
Both bathrooms have been updated, and the outdoor space allows for both front, rear, and side yards, all of which offer multiple areas to entertain.
Price: $1,350,000
Eichler upside: The double-A design by the architect  A. Quincy Jones, built in 1963, is billed as one of the most popular of all Eichler models.
This five-bedroom example in the East Bay build comes with a versatile floor plan, situated around an open-air atrium and great room.
The bedrooms could be configured as office space, gym, or guest rooms. Amenities include double-pane windows, multiple skylights, and a wood-burning fireplace. The flooring's been updated, and there's fresh exterior and interior paint.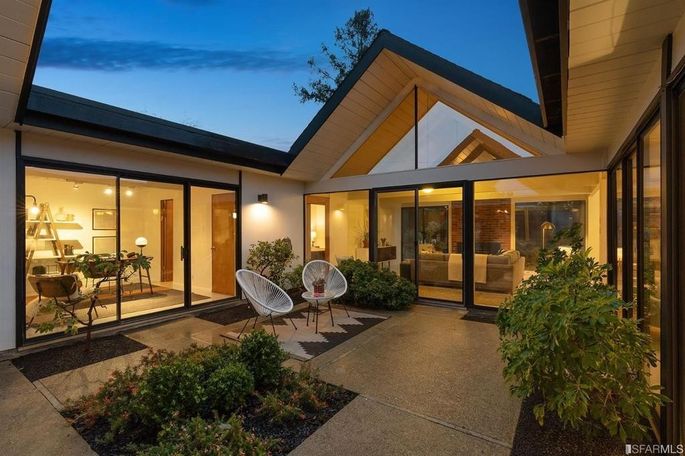 Price: $1,478,000
Eichler upside: This four-bedroom from 1957 has been completely redone inside, to reflect a more up-to-date look.
The kitchen boasts an oversized island with stone counters, an induction cooktop, stainless steel appliances, and recessed lighting. The bathrooms have been redone, but reflect the home's original aesthetic.
New finishes include Bali solar shades, luxury plank flooring in a light color, and recessed lighting. New paint, a new roof, and updated electrical help to make this old home feel new.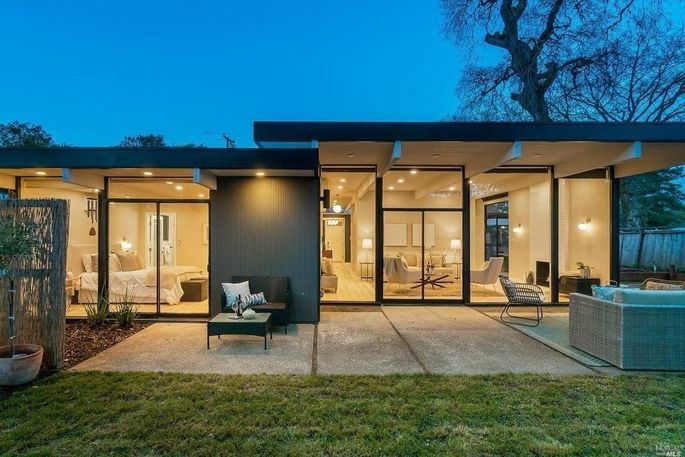 Price: $2,400,000 (pending sale)
Eichler upside: Original features of this three-bedroom Eichler include a beamed ceiling, floor-to-ceiling glass, and mahogany walls in the main living area and bedrooms. The open kitchen with white counters looks out to the family room, which includes original cabinetry.
The home accesses the wraparound yard and Zen garden from the living room, family room, and primary bedroom. All the elements added up to multiple offers, and the home is now in pending sale status, just days after hitting the market.
Price: $2,848,000
Eichler upside: Newly renovated, this three-bedroom home from 1954 comes with classic Eichler features beamed ceilings, globe pendants, and floor-to-ceiling windows.
The kitchen has been updated and now features top-quality appliances and quartz counters.
The bathroom has custom shower glass and LED lighting. Radiant heat warms the new, engineered wood and tile floors. The outdoor space includes a covered patio with space for dining, a large lawn, and a pool.
Price: $1,695,000
Eichler upside:Billed as turnkey, this four-bedroom atrium-style floor plan with an open-air courtyard opens onto a high-ceilinged living and dining room.
Walls of glass lookout to the private backyard with a large lawn. A chef's kitchen features an eat-in bar, walk-in pantry, and opens to the family room and breakfast nook. 
The primary bedroom comes with an en suite bath, walk-in closet, and large shower. Along with two more bedrooms that share a bathroom, a fourth opens to the atrium and could work as an office.
The attached two-car garage has room for storage and could also be used as a workshop. The serene outdoor space includes a built-in barbecue, fridge, fireplace, and lawn.
Price: $2,298,000
Eichler upside: This is an Eichler fixer-upper opportunity. This four-bedroom classic is in dire need of a renovation. For those who want a challenge, it offers a chance to restore this midcentury space to its original condition.
The elements are all there: floor-to-ceiling windows, open living spaces, and beamed ceilings. In addition, the kitchen features brightly colored cabinets, and the backyard includes a patio and lawn.
However, a buyer could tear it down and build anew the listing notes. Say it isn't so! We hope that this gem in need of some TLC is picked up by an Eichler fan willing to restore it. 
Price: $2,248,000
Eichler upside: This updated, 1,643-square-foot abode offers four bedrooms and an indoor-outdoor floor plan.
Original details include a pitched roofline, open beam ceilings, and floor-to-ceiling windows in the living room. The interior has been freshly painted, and a remodeled kitchen features quartz counters, new cabinets, and high-end appliances.
The large primary bedroom, with an updated bathroom, comes with a sliding glass door that opens outside. An inviting backyard features a pool, grassy area, covered patio, and mature fruit trees.
Price: $2,198,000
Eichler upside: This 1,739-square-foot, A-frame design from 1967 features open beam ceilings and floor-to-ceiling windows.
A remodel completed in 2017 by Flegel's Construction, local Eichler specialists, incorporated the needs of a modern family, with a nod to the original design.
The home now has three bedrooms and two bathrooms. It features a primary suite with a private office nook and an en suite bath with a shower.
A huge chef's kitchen has a large island with seating, quartz counters, and a built-in desk. An oversized backyard boasts a pool, large patios, and low-maintenance modern landscaping.