Article originally posted by Atomic Ranch
It's finally time to get into the Christmas spirit! Leave your stress at the door and spend some time creating a cheerful atmosphere with these retro holiday DIYs. Whether you have hours to dedicate to craft time with your family or just 10 minutes to unwind, we have a retro holiday DIY project for you.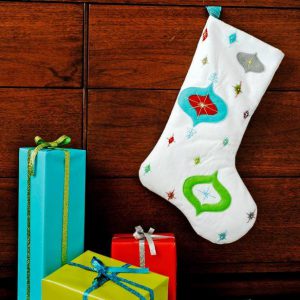 1. Atomic Stocking
If you can't find stockings to complement your mid century Christmas theme, learn how to make your own with this tutorial by DIY Network. All you need is some fabric, a sewing needle and a retro pattern, and Santa will know exactly which gifts to stuff into your masterpiece.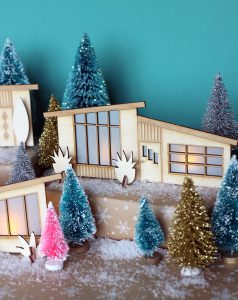 2. Retro Holiday Village
Recreate a Palm Springs Christmas in your living room with these wooden cutouts of Mid Century Modern homes. Melissa DiRenzo of  The Sweet Escape offers a tutorial on this retro-inspired village, detailing how you can create the look with your own spin.
3. Starburst Ornament
Showcase your retro holiday spirit with this starburst ornament by Krys Melo of Melodrama. It's the perfect reproduction project if you're struggling to find vintage ornaments, and it's just the thing to add a burst of mid mod cheer to your tree.
4. Christmas Tree Skirt
It's not just what's on your Christmas tree but also what's under it that counts. Ariel of PMQ for Two can walk you through the process of sewing your own tree skirt to showcase Santa's gifts. All you need to do is pick out your favorite retro holiday fabric.
5. Retro Gift Toppers
Step up your wrapping game with these gift topper DIYs by Lia Griffith. It's the simple touches that will set your packages apart from the rest.
6. MCM Christmas Card Holder
Don't throw your holiday cards into a drawer to be forgotten. Display them with this DIY starburst card holder by Tara Besore of Hammer & a Headband. Once the season has passed, it can be used to display birthday cards or any handwritten notes year round.