A brand-new home in the heart of University City's University Hills neighborhood does the opposite of stand out from its early 19th-century neighbors – in fact, it fits right in. And for home renovator and builder Period Restoration, this is praise of the highest form.
"People love the house," says firm founder and co-owner Randy Renner Jr. "Anytime you build a new house and people don't know it's new, that's a huge compliment."
Period Restoration uses authentic materials and resources to build, renovate or preserve historic homes throughout the metro area. In the University Hills case, the team decided to construct a spec house from the ground up in the style of the surrounding neighborhood. The company purchased a lot occupied by an infill house, demolished it and built an all-new property in its place.
The inspiration for the project? A historic Ladue home built by Maritz & Young!
Renner took his architect Dick Busch to a Ladue residence owned by a friend, where the two were instantly inspired by the prominent wooden beams that distinctively framed the living area and held up the staircase – so much so that they built the new home around this new room for the University Hills project.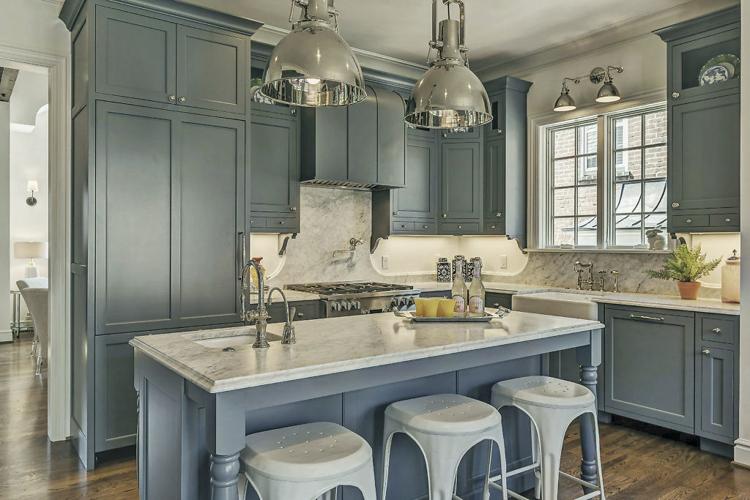 "We took that concept from the house in Ladue and made a house around that room," says Renner.
The full-masonry stucco construction is built with a Tudor influence, with the interior resembling the Maritz & Young home in Ladue; a floating staircase and simple, handsome fireplace reinforce this concept. Mostly white walls and accents provide a counterbalance to the timbers, leaving a clean look that fits with nearly any collection of furniture. Yet the inside also offers more modern touches.
"What you're getting is an open kitchen, a really nice, open master bath, more bathrooms, a finished, dry basement – that's the stuff that's lacking in old houses," Renner says, also mentioning the detached two-car garage that's modeled after many old garages so it has a timeless architectural design yet is made for 21st-century vehicles. "[Building] new is kind of fun in its own way. If we are going to build new, we go to great lengths to do it like this."
Other period-specific details both interior and exterior merge the past with the present, including Tudor boards on all sides, heavy timber brackets, copper gutters, a slate roof and wood-clad windows, with each detail helping the house fit in rather than stand out.
Many of the surrounding residences are products of an era of craftsmen and architects with high-level attention to detail from the early to mid-1900s. The formidable duo of Raymond E. Maritz and W. Ridgely Young put out prolific work that featured ornate, cutting-edge details for the time, landing them clients among some of the most affluent citizens in the area.
"When St. Louis started expanding farther west, [Maritz & Young] were involved in building a lot of houses in Brentmoor Park and Clayton," says Renner. "They have a certain style and look, and you know it; almost all their houses are on the National Register of Historic Places."
Renner and his architect drove through University Hills to ensure that their design fit the look and style of the neighborhood, which featured everything from Tudor to stucco to Spanish Colonial Revival styles.
"We built a first-floor master with the idea of selling it to somebody who was somebody like a downsizer," he says. "It's all first-floor living, but there are additional rooms on the second floor. Kind of the best of both worlds: not a huge home, but it's got a lot of architectural detail."
Nine months of construction followed once the plan was approved, and the house sold 45 days after it was completed – despite the fact that many onlookers did not know the property was new. A tour of the inside suggests just how unique this property is, though, given the attention to detail and historical elements used throughout; only experts like Period Restoration could pull it off. But one look at the outside, and it's plain to see why the project went off the market so quickly.
"I think the outside is very unique, and it does really fit the neighborhood with all those different building elements," says Renner. "It sits on a hill a little bit. It really is eye-catching."
With a history as rich as the one in the metro area, the past is always present. Yet for the team at Period Restoration, the present is the past – and there's plenty of richness in that, too. Find out more about HERE
Article originally posted by Ladue News