Easter 2020 was a lot different this year with the shelter in place order. I celebrated with my son who lives in my guesthouse and his girlfriend with a lovely dinner. You will love recreating these delicious recipes in your own kitchen!
Ingredients
1/2 teaspoon ground cumin
1/4 teaspoon ground cardamom
1/4 teaspoon ground allspice 1/4 teaspoon freshly ground pepper
1/4 teaspoon ground ginger
1/4 teaspoon cayenne pepper
1/4 teaspoon cinnamon Kosher salt
3 garlic cloves, minced
8 lamb rib chops (2 pounds)
2 tablespoons vegetable oil
1 tablespoon chopped cilantro
How to Make It
Step 1
In a small bowl, mix the spices with 1 1/2 teaspoons of kosher salt. Pat the garlic all over the lamb chops, then sprinkle them with the spice mixture.
Step 2
In a large skillet, heat the vegetable oil. Add the chops and cook over moderately high heat, turning once, for about 6 minutes for medium-rare. Transfer the chops to plates, garnish with the cilantro and serve.
Ingredients
2 cups frozen shelled edamame (soybeans; 9 ounces)
1 tablespoon red-wine vinegar
1/2 teaspoon sugar
3/4 teaspoon salt
1/4 teaspoon black pepper
3 tablespoons extra-virgin olive oil
1 1/2 pounds escarole, trimmed and cut crosswise into very thin strips (8 cups)
1/3 cup finely chopped fresh mint
1 3/4 oz finely grated Parmigiano-Reggiano (2/3 cup)
Preparation
Cook edamame in a 3-quart pot of boiling salted water 5 minutes. Drain in a sieve and rinse under cold running water to stop cooking. Drain edamame again and pat dry.
Whisk together vinegar, sugar, salt, and pepper in a small bowl until sugar and salt are dissolved. Add oil in a slow stream, whisking until combined.
Toss together edamame, escarole, and mint in a large bowl. Add cheese and drizzle salad with dressing, then toss again. Serve immediately.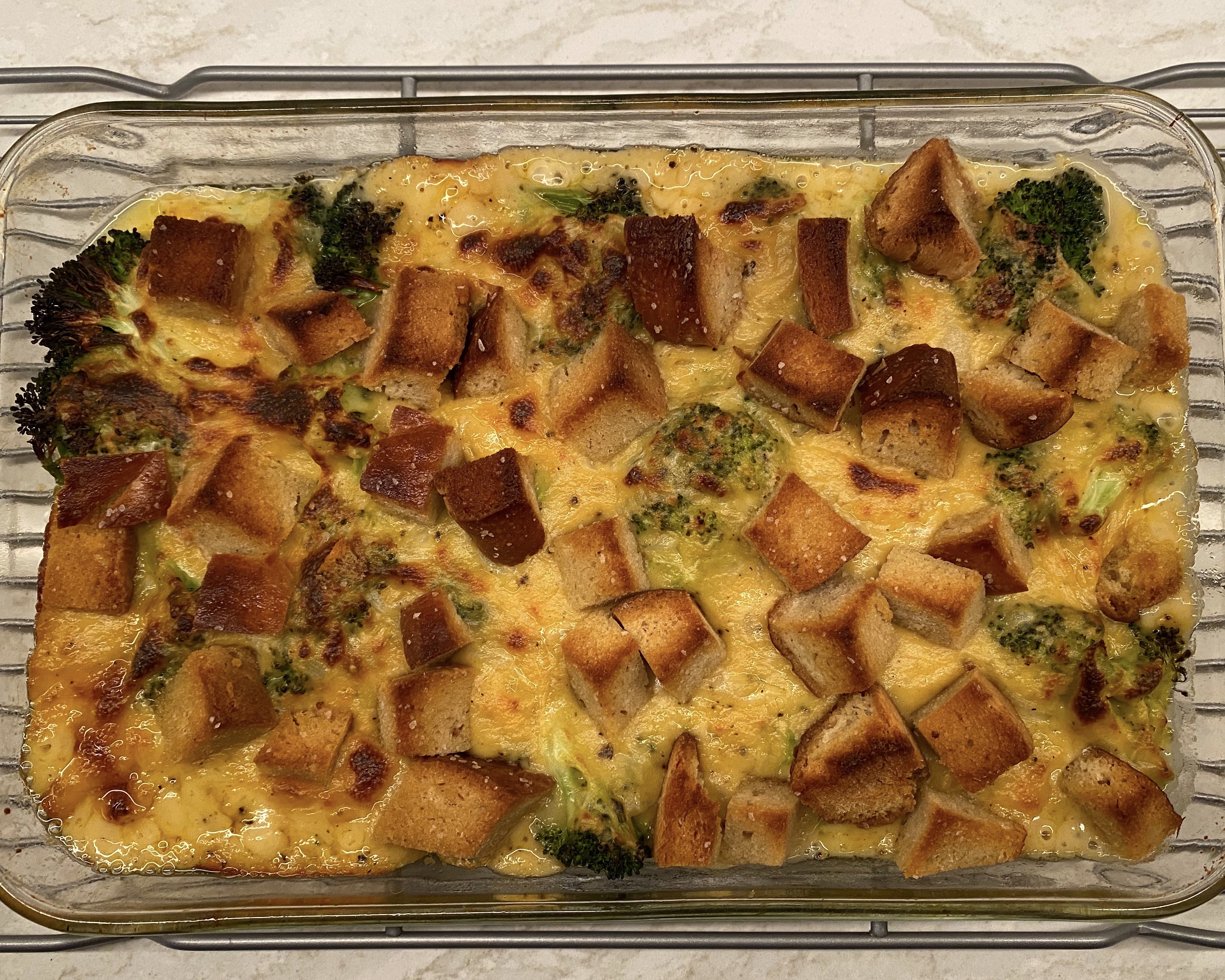 An update on the classic broccoli-cheese casserole, these individual servings of bubbly lager-spiked Red Leicester cheese sauce over broccoli with crunchy croutons are crowd-pleasers.
Ingredients
Cooking spray
4 quart water
1/3 cup plus 2 1/4 teaspoons kosher salt, divided, plus more to taste
12 cups roughly chopped broccoli (from 3 large broccoli heads, stems discarded)
1/2 cup plus 2 tablespoons unsalted butter (5 ounces), divided
1 cup finely chopped yellow onion
2/3 cup all-purpose flour (about 2 7/8 ounces)
1 (12-ounces) bottle lager beer (such as Heineken)
1 cup half-and-half
12 ounces Red Leicester cheese or mild cheddar cheese, grated (about 3 cups)
1 teaspoon Worcestershire sauce
1 teaspoon dry mustard 3/4 teaspoon black pepper
2 ounces rye bread (about 2 slices), torn into 1/2-inch pieces (about 1 cup)
Step 1
Preheat oven to 425°F. Lightly coat 6 (8-ounce) cocottes or ramekins with cooking spray; set aside. Bring 4 quarts water to a boil in a large pot over high. Add 1/3 cup salt; let water return to a boil. Add broccoli; cook, stirring occasionally, until just tender, about 3 minutes. Drain. Transfer broccoli to a large bowl filled with ice water; let stand 5 minutes. Drain. Arrange broccoli in a single layer on a baking sheet lined with paper towels; pat dry. Transfer broccoli to a large bowl; set aside.
Step 2
Melt 1/2 cup butter in a large saucepan over medium. Add onion; cook, stirring occasionally, until softened, about 8 minutes. Gradually whisk in flour; cook, whisking constantly, until flour is completely incorporated and lightly browned, about 2 minutes. Gradually whisk in beer and half-and-half; cook, whisking constantly, until sauce thickens and begins to bubble, 3 to 4 minutes. Gradually whisk in cheese, Worcestershire, dry mustard, pepper, and 2 teaspoons salt until smooth.
Step 3
Pour cheese sauce over broccoli; stir to combine. Season with salt to taste. Spoon mixture evenly into prepared cocottes, and arrange on a rimmed baking sheet.
Step 4
Microwave remaining 2 tablespoons butter in a medium-size microwavable bowl on HIGH until melted, 30 seconds to 1 minute. Add bread pieces and remaining 1/4 teaspoon salt; toss to coat. Sprinkle mixture evenly over broccoli mixture in cocottes. Bake, uncovered, in preheated oven until bread is golden brown and cheese is bubbly, 16 to 20 minutes.
Make Ahead
Broccoli can be prepared and refrigerated up to 1 day ahead.
Notes
Recipe may be prepared in a 9-inch square baking
Pan tres leches, or "three milks bread," gets its name from its traditional preparation: A sponge cake is soaked in evaporated milk, condensed milk and heavy cream, resulting in a light and airy texture with a rich and milky flavor. It's the perfect marriage of custard and cake.
Cake Ingredients
2½ cups cake flour
2 cups granulated sugar, divided
1½ tsp salt
1½ tsp baking powder
5 oz canola oil
6 egg yolks
½ cup water
2 tsp vanilla extract
zest and juice of 1 lime, divided
9 egg whites
1½ tsp cream of tartar
This recipe calls for six egg yolks and nine egg whites, so be sure to reserve the whites from your six yolks.
Assembly
1 13½- to 14-oz can unsweetened coconut milk
1 14-oz can sweetened condensed milk
1 cup whole milk
2 cups heavy cream
1 pinch salt
¼ tsp vanilla extract or dark rum
¼ cup powdered sugar
1 cup toasted coconut flakes, for garnish
Cake Preparation
Preheat oven to 375°F. In a large mixing bowl, sift flour, 1¼ cups sugar, salt and baking powder. In a separate bowl, whisk together oil, egg yolks, water, vanilla and lime juice.
In a stand mixer fitted with the whisk attachment, whip egg whites and cream of tartar on medium-high speed until soft peaks form. Add remaining ¾ cup sugar in a slow stream, whipping until medium-stiff peaks form. Using a hand-held whisk, mix wet ingredients into dry. Using a rubber spatula, stir ¹⁄₃ whipped egg-white mixture into batter. Fold in remaining egg-white mixture in 2 batches. Pour batter into a 9-by-13-inch baking pan; bake for 25 minutes. Cake should be a dark golden brown and spring back when lightly pressed in center. Allow to cool in pan at room temperature for 45 minutes.
Assembly
With cake still in pan, using a skewer or fork, poke small holes all over cake. In a large mixing bowl, whisk together 3 milks and pour over cake in 2 batches; let sit at room temperature for 5 minutes between pours. Cover cake with plastic wrap and refrigerate overnight.
In a stand mixer fitted with the whisk attachment, whip cream, salt, vanilla or rum, powdered sugar and reserved lime zest until soft peaks form. Spoon whipped cream over cake and sprinkle with coconut flakes. Serve cake in pan.