Article originally posted by Sotheby's Extraordinary Living 
In the late 1800s Manhattan, the concept of cooperative living—multiple families sharing one building—was a novelty, yet a group of developers who hit on the idea determined to move forward with it. They hired New Jersey–based architect George W. DaCunha to design an arresting Queen Anne–style building overlooking Gramercy Park, whose gates have, since 1844, been openable only by neighborhood residents in possession of a key. His ornate affair, completed in 1883, was a masterwork of redbrick, with terra cotta, brownstone, polished granite, and carved foliate accents; a mansard roof; and three of the city's first hydraulic elevators. In its early days, the building was home to some of New York's socially prominent families, and by the time of its 75th anniversary, had beckoned to such Hollywood icons as James Cagney and Margaret Hamilton. Ultimately, the building and its concept would survive early skeptics, going on to be known as a distinguished paradigm of the cooperative model. No expense has been spared in the meticulous maintenance of the building over its nearly 140-year lifespan. To this day the foyer retains elements of 19th-century charm—such as stained glass, mahogany woodwork, and leaded- and beveled-glass doors—although the original elevators have been replaced.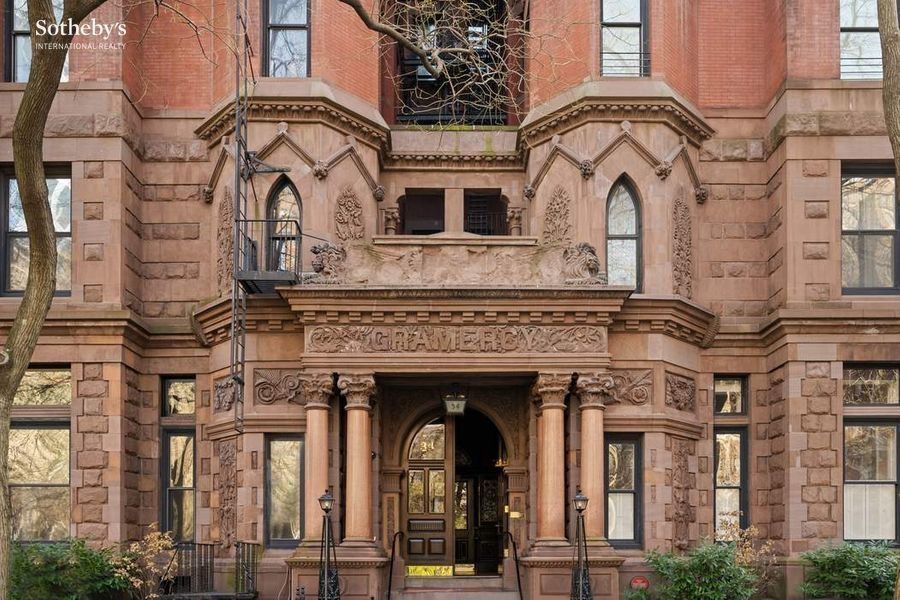 Add to the list of luminary residents comedian, actor, singer, writer, and "Tonight Show" host Jimmy Fallon, who began purchasing space in the building in the early 2000s and over the ensuing years—alongside producer Nancy Juvonen, his wife—combined four apartments on three levels into one home of impressively generous scale and delightfully whimsical and vibrant style. Throughout its 4,950 square feet—a rarity on Gramercy Park outside townhouse living—vintage elements have been painstakingly maintained and restored, perfectly harmonizing with superior fixtures and finishes, contemporary comforts and conveniences, and state-of-art smart technology, from lighting to audiovisual systems.
Occupying the seventh, eighth, and ninth floors of the building's southwest corner, the home is appointed to the hilt with antiques and imaginative finds from around the world. In the colorful living room, 1940s wallpaper and Brooklyn Navy Yard woodwork endure alongside such modern amenities as an in-ceiling projector. In addition to an oversized island with plentiful storage and sitting space, custom cabinetry with E.R. Butler & Co. hardware, and top-caliber appliances, the cheerful kitchen features a gas fireplace with its original mantel and a walk-in soundproofed pantry.
A classical staircase unites the public spaces with the private quarters—six restful and uniquely appointed bedrooms. Perched at the top is the owner's suite, a skylit oasis boasting a gas fireplace, a wet bar, a sitting area, a bath with a separate steamshower and soaking tub, and two well-outfitted walk-in closets. An intercom allows for easy communication between the home's two enchanting and thoughtfully equipped playrooms. On the eighth floor is the one-of-a-kind "saloon," anchored by an antique bar that pays homage to the building's provenance with its inlaid stained glass and intricate wood detailing. Striking ceiling beams and a dramatic stone fireplace contribute to a feeling of Old West warmth. Other highlights include a quiet office, a gym, and two convenient laundry rooms. Naturally, as has been the case since the earliest days of this innovative residential building, ownership conveys a coveted key to the park.
New York, New York | Jeremy V. Stein & Debbie Korb, Sotheby's International Realty – Downtown Manhattan Brokerage