The St. Louis Public Library recently digitalized a collection of images of various locales throughout the City of St. Louis that predominantly dates from the 1920s and 1930s. View the collection HERE.
Many of the images were taken by the Streets and Sewers Department's official photographers and document work on sidewalks, corner storm drains, and cobblestone intersections. They also capture bustling streetcar lines, lively corners, and long-forgotten storefronts. Photographer Dick Lemen originally compiled the collection of thousands of negatives.
A number of images are undated and show unidentified streets and businesses. If you can contribute to the descriptions of these photographs please share your knowledge by sending an email to [email protected]. Thank you!

View of 100 block of N. Broadway. Ramona Cigar Co. at 104 N. Broadway. From resource: 108 N. Broadway. Lemen Streets and Sewers Collection, Rare Books and Manuscripts, St. Louis Public Library

Image taken at the 25th Annual Municipal Playground Festival held at Forest Park. From resource: #614, 8/27/1931 Lemen Streets and Sewers Collection, Rare Books and Manuscripts, St. Louis Public Library

Northeast corner: Federal Reserve Bank, B. Nugent & Bros. Dry Goods. From resource: 5:12 P.M., Broadway-Locust St. Lemen Streets and Sewers Collection, Rare Books and Manuscripts, St. Louis Public Library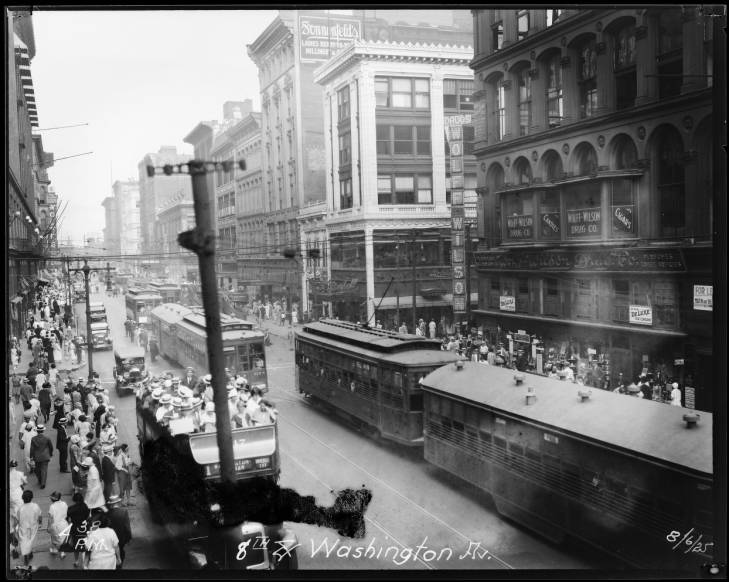 From resource: 4:38 pm, 8th, and Washington, 8/6/25. A view of bustling street activity, including streetcars, open-air buses, and pedestrian traffic. Bedell, a women's apparel shop, and the Wolff Wilson drug store at 700 Washington are visible. Lemen Streets and Sewers Collection, Rare Books and Manuscripts, St. Louis Public Library

View of the buildings that once stood at 14th and Chestnut intersection, including The Regent Hotel. From resource: Northeast corner 14th and Chestnut Lemen Streets and Sewers Collection, Rare Books and Manuscripts, St. Louis Public Library