Instead of loading up on gasoline or the perfunctory oil change, several derelict gas stations across the U.S. have been having a strange resurgence: in the form of restaurants. And these filling stations turned eating establishments can be found around the country, offering everything from gourmet coffee or Cajun brunches to high-end Asian fare. These venues are not only serving great food but they also are retaining much of their original gas station architecture, too. Take the Art Deco–inspired 410 Bakery in Indiana; the old concrete floors of Strange Brew Coffeehouse in Mississippi; and the reclaimed wood found in the Hourglass Social House in Florida. It's in these spaces that the life of the previous building can be felt in the current ambience. For many, dining on a long road trip involves a quick detour into a gas station convenience store for lukewarm pizza or day-old doughnuts. Yet that doesn't always have to be the case. Now, instead of resigning to quick food at working service stations, enjoy the fare at one of these seven defunct gas stations that are now tasty eateries.

Nomad Pizza (Princeton, New Jersey)
Founded by Tom Grim and Stalin Bedon, Nomad Pizza was the work of architects and partners Joshua Zinder and Mark Sullivan of the local design firm JZA+D. The firm closed off the bays and portals at the rear with a façade of cedar and storefront glazing, and installed specialized doors on the front to take advantage of the original garage openings. Nomad Pizza started out as a food truck, but the Amoco gas station turned storefront offers 16 popular pizzas, including hot soppressata and spicy sausage. For more information, please visit the website.

Doodles Restaurant (Lexington, Kentucky)
Built in 1945 as a Shell filling station, Doodles Restaurant is now one of Lexington's most popular breakfast destinations. Architect Tim Mellin renovated the building and preserved the historical flavor of the structure, including the massive plate-glass windows that flood the dining room with light. Popular breakfast items include buttermilk biscuits and beignets; "dirty" shrimp and grits; and the oft-sold-out strata casserole. For more information, please visit the website.

410 Bakery (New Albany, Indiana)
Built in 1929 by Sullivan & Cozart, architects from Louisville, Kentucky, the 410 Bakery is an Art Deco structure sitting on the banks of the Ohio River. The original building, originally called the Economy Filling Station, was renovated in 2016 and turned into a full retail bakery offering small-batch artisan breads, and menu favorites including quiche, and Cajun shrimp and grits. For more information, please visit the website.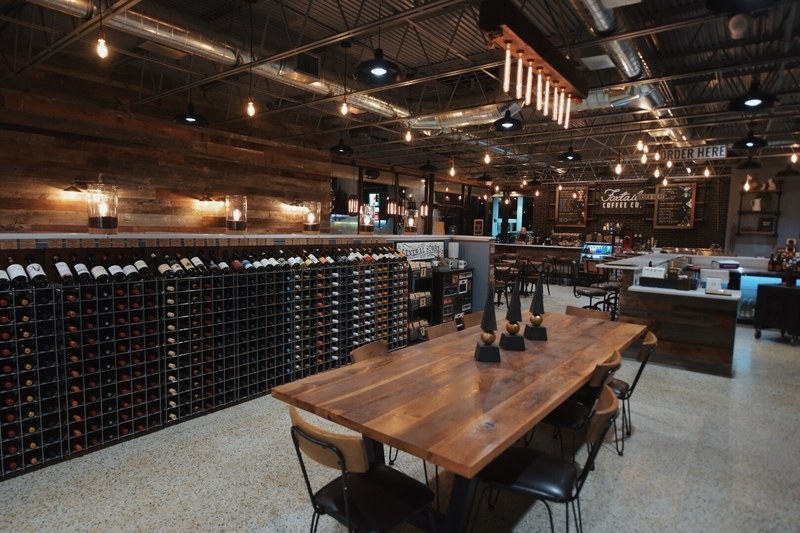 Hourglass Social House (Orlando, Florida)
In Orlando's Hourglass District, a circa-1977 gas station and convenience store was repurposed as the Hourglass Social House. Guests can sip locally roasted java from Orlando favorite Foxtail Coffee, enjoy vegan fare, or indulge in a selection of 48 different types of wine and 60 varieties of beers, surrounded by reclaimed wood, greenery walls, and metal channel frame accents. For more information, please visit the website.

Gan Shan Station (Asheville, North Carolina)
Located in the building formerly known as the Charlotte Street Gulf, "Steamer" Edmonds and his son Gary owned and operated the gas station in north Asheville for close to 70 years. Today, the structure houses the Gan Shan Station, which serves Asian food inspired by East Asian cultures of Thailand, Vietnam, Laos, China, Japan, and Singapore, such as house-made dumplings and coconut squash soup. For more information, please visit the website.

Strange Brew Coffeehouse (Tupelo, Mississippi)
Shane Reed is the owner of Strange Brew Coffeehouse, located in a former gas station across from Milam School, which Elvis Presley once attended. Reed renovated the entire building, leaving original design elements such the concrete floors and roll-up garage doors for a more industrial look. The interior features a blue-and-white color scheme with a blue velvet couch, and boasts blue-toned photos of Elvis as well as exposed ceiling components. Try its most popular beverage, the Albino Squirrel: a combination of white chocolate and hazelnut. For more information, please visit the website.

Eight Row Flint (Houston, Texas)
Tucked in the Houston Heights neighborhood, Eight Row Flint features a rustic yet modern renovation of a former 1950s Citgo station. Design features include original concrete walls and a bar front crafted from bourbon barrel staves donated by Buffalo Trace, Jim Beam, and Four Roses. Highboy tables are made from the tops of the barrels, and pendant chandeliers in the lounge are fashioned from the metal stays of those same bourbon barrels. Craftsman Steve Walters designed the bourbon barrel taps and custom beer taps, which are repurposed from an oil field pipe. Try the craft beer, margaritas, quesadillas, and tacos. For more information, please visit the website.
Article originally posted by Architectural Digest