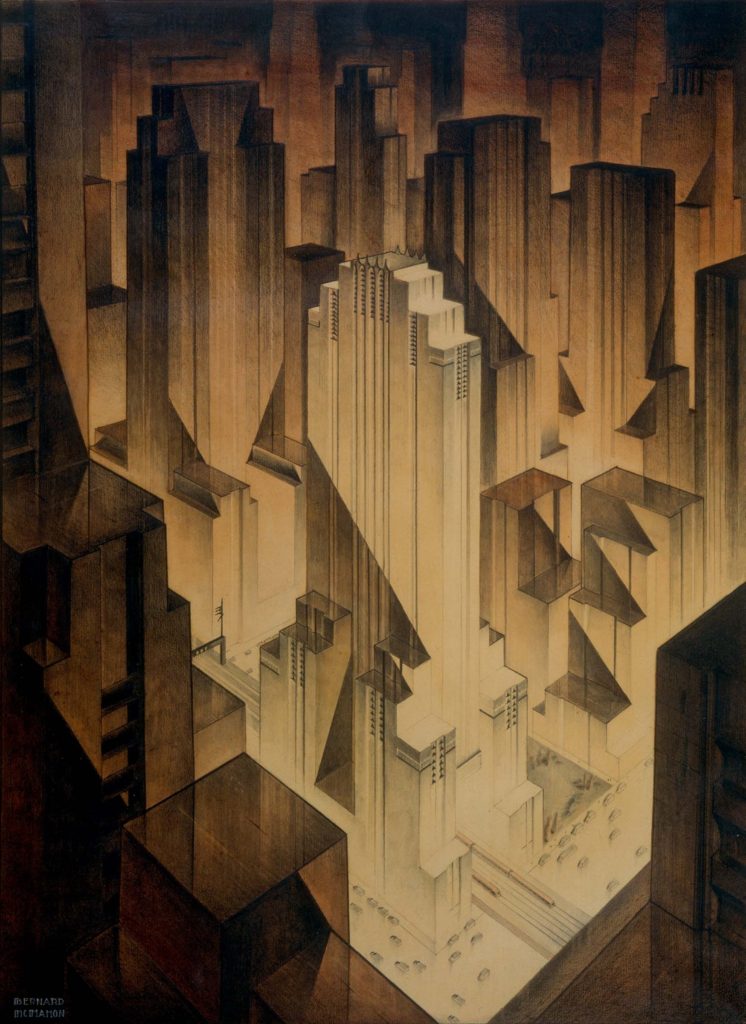 World-Renowned architect Bernard McMahon grew up here in Clayton on the corner of Bonhomme and Central. Growing up in what he referred to as a "Sleepy Little Town", McMahon dreamed that one day he would follow in his fathers footsteps and also become an architect. As a college student at Wash U, McMahon was inspired by fellow Wash U grad, Hugh Ferriss, and created these two breathtaking graphite architectural drawings.
Fresh out of college, McMahon continued to showcase his architectural prowess by creating multiple pieces of artwork for an elegant exhibit at the Corcoran Gallery in 1934. In fact, one of his paintings ,"The Skyscrapers", was so incredibly stunning that it caught the eye of The First Lady, Eleanor Roosevelt. She was deeply moved by McMahon's emphasis on verticality and the depersonalization of the landscape and soon bought it for her own personal collection. This Painting, seen below, is currently on display at the Franklin D. Roosevelt Library and Museum
Building on his extremely successful artistic career, McMahon began designing buildings around his hometown Clayton area. By this time Clayton was no longer the "Sleepy Little Town" he grew up in, but was instead turning into a budding commercial center of St Louis. He designed a small three-story building called The Clayton Inn in 1957 which kicked off a building boom across the Clayton are. Within a year, skyscrapers had been erected all around this tiny little inn and thus in 1958 McMahon designed the first addition to this building increasing the inn up to eight stories tall. In addition to designing The Clayton Inn, he also designed a multitude of other buildings throughout Clayton; He designed the Famous Barr Garage, the Farm and Home Savings and Loan building on Forsythe, the 230 building which is remarkably still standing today, and all of The Clayton Inn Buildings.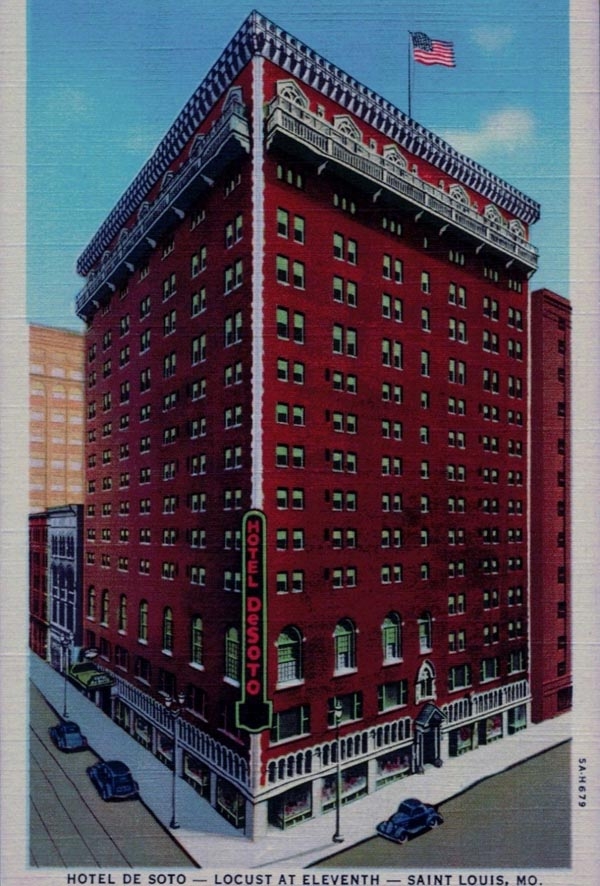 Nearby to a home he designed that is owned by his family (that I am listing) is the Church of the Immacolata that he was also the architect for in 1967.
According to Built in St. Louis, "Immacolata is an immediate neighbor of the Ethical Society. Its curved concrete forms show similar influences as St. Martin de Porres. The bell tower reaches skyward and provides the focal point of the building as well as announcing its presence along this busy stretch of Clayton Road. The interior contains stained glass by the Unique Art Glass Company, and an altar carved in Italy from a single monolith of Roman travertine marble."
This landmark home is available for the first time since being built.
McMahon designed this as his own special family home. The property has recently been completely remodeled to meet the needs of modern tastes while retaining its cool MCM feeling. The main level living space is open with a fireplace and expansive picture windows that look out onto the private backyard. The new kitchen features granite counters, new custom cabinets, dual sinks & stainless steel appliances. Oak hardwood flooring throughout the home. The 2nd floor has 3 enormous bedrooms including a large Master Suite with its own full bath, vaulted ceiling, walk-in closet & office. 3 totally remodeled full baths & a powder room. The Lower Level a walkout with an expanse of windows, completely finished including a retro kitchen as well as wet bar, full bath & another bedroom. Large patio with a firepit. Walk to the Galleria and more!
This significant home is listed for $775,000, you can view the website by clicking here. Check out some more photos below.
Listed by Ted Wight, Dielmann Sotheby's International Realty, 314-607-5555, [email protected]