Auguste Chouteau Mansion
The Auguste Chouteau mansion was the first of the great buildings in St. Louis. Built in 1764, shortly after St. Louis was founded, the structure was known for most of its existence as St. Louis cofounder Auguste Chouteau's mansion but was originally the residence and headquarters of the city's other cofounder, Pierre Laclede. Chouteau purchased the home soon after Laclede's death in 1788 and had it rebuilt from the ground up. He turned it into an elegant mansion on the frontier, complete with black walnut floors, a double porch, and a library that could hold more than five hundred volumes. It was one of the largest homes in North America at the time. Razed in 1845, the house stood near where the south leg of the Arch is today.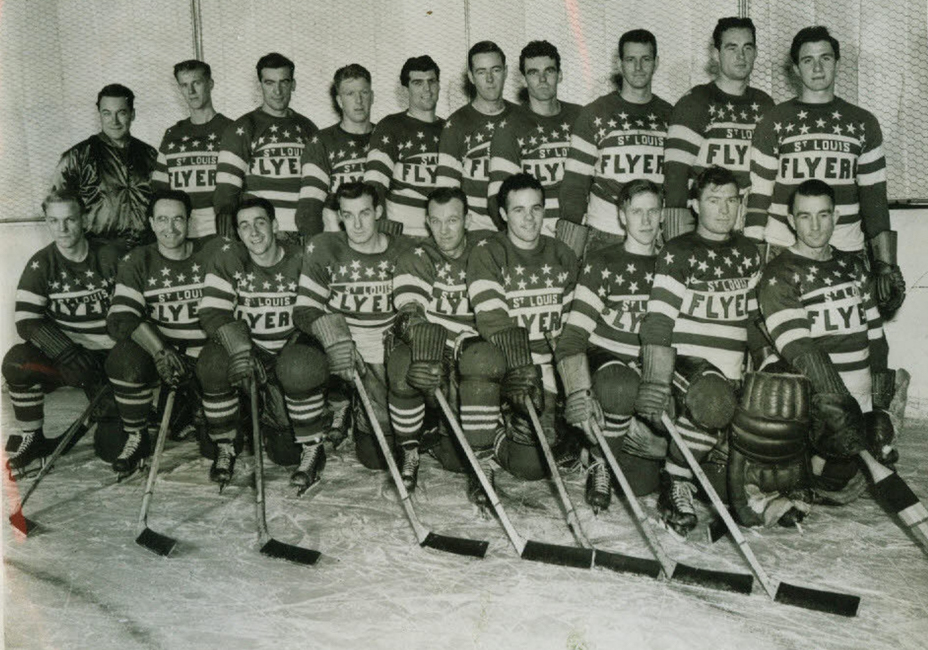 St. Louis Flyers
Long before St. Louisans bled blue for Bernie Federko and Brett Hull, hockey fans in St. Louis cheered on the star-speckled St. Louis Flyers. Making their debut in 1929 and playing home hames at the Winter Garden rink on DeBaliviere Avenue, the colorfully clad flyers skated and entertained a generation of hockey fans in St. Louis. After moving to the St. Louis Arena in 1930, the Flyers became a minor-league hockey powerhouse, winning several league titles as members of the American Hockey Association and the American Hockey League.

Silk Exchange Building
The Silk Exchange Building, once located at the southwest corner of Tucker and Washington in downtown, was designed by Isaac Taylor and built in 1902. Named for the Silk Exchange Realty Company, the building was home to various manufacturers of clothing, buttons, embroidery, velvet, silk, and other fabrics. The building was listed on the National Register of Historic Places in 1982, but plans to renovate it stalled in the 1990s. The silk Exchange Building was demolished in 1995.

Hop Alley
From the 1870s to 1966, St. Louis was home to a distinct neighborhood located at Market and Seventh Streets. No evidence of the neighborhood remains today, but it was once St. Louis's very own Chinatown. Known as "Hop Alley" since the 1890s, this one-block area teemed with hand laundries, tea shops, restaurants, and Chinese culture. It looked and sounded much like Chinatowns we know today, with residents speaking Cantonese and Mandarin with Chinese characters. Hop Alley was exotic and dark and was considered an area of ill repute to many, but it was also a place where Chinese people could feel at home. It's where Chinese St. Louisans lived, worked, and shared a wondrous culture.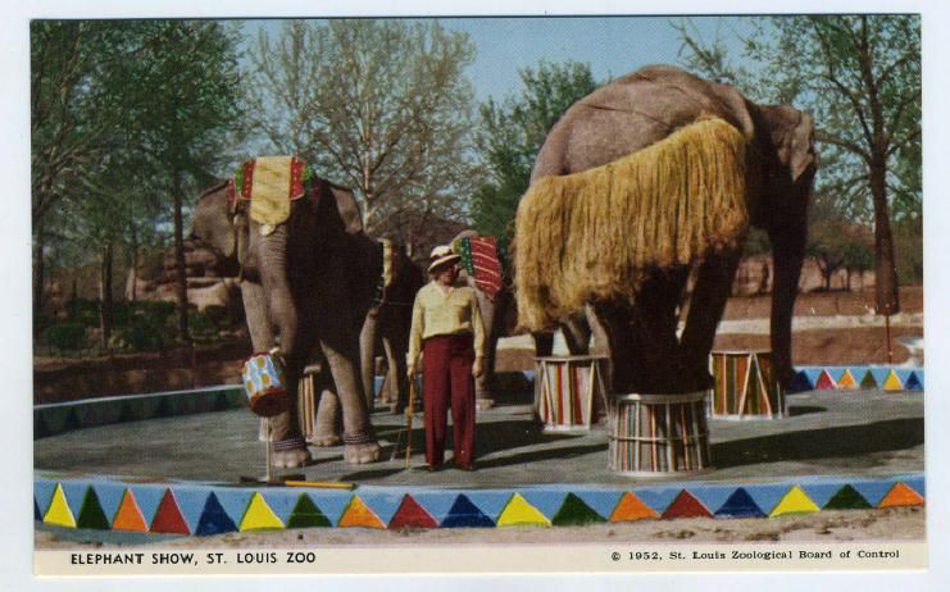 Saint Louis Zoo Animal Shows
Chimps riding unicycles, brown bears on hobby horses, and bowling elephants! The animal shows were the brainchild of George Vierheller, the Saint Louis Zoo's longest-serving director. Each season the shows delighted audiences, and Life magazine proclaimed the "the most entertaining ever known in the U.S." A favorite is remembered simply as the "Monkey Show," which featured chimpanzees driving cars, playing baseball, and making children smile. Not only did these shows help the zoo and the animal performers become famous around the country, but thousands of visitors laughed and delighted in seeing them.

Schober's Wine Restaurant
Located at 6925 South Lindbergh Boulevard, Schober's restaurant was a landmark in South County for years. Opened in the 1930s by Joseph Schober, a German immigrant who first worked as a Cooper upon arriving in St. Louis, Schober's would become one of the most popular German restaurants in the area. Along with a beer garden, Schober's is fondly remembered for its apple strudel, sauerbraten, and for the painted murals featuring Schober's regular customers that wrapped around the dining room. The Schober family sold the restaurant in the late 1960s to Richard Plotz, who carried on the German tradition until the restaurant closed in 1981.
Duke's Restaurant
Named after two famous "Dukes," Duke Ellington and John Wayne, Duke's restaurant opened in March 1986 and offered a unique dining experience in Grand Center for more than a decade. Owned and operated by restaurateur Wade Dewoskin, Duke's opened with a promise that nothing on the menu would cost more than $9.95, and that included the lobster and prime rib. Duke's was also a unique experience, featuring roller skating servers, a piano bar, and bar tables covered with paper and crayons for customers to scribble with as they waited for drinks and food.
Steeplechase Room
A popular bar and nightclub for years, the Steeplechase Room thrived for years inside the Chase Park Place, one of St. Louis's most famous hotels. But when many think of the Steeplechase Room today, it's the nam Harry that comes to mind A former policeman, Broadway star, and television personality, Harry Fender was hired by Harold Koplar to host late-night radio from the Steeplechase Room on KMOX. For over twenty years, Fender entertained listeners and interviewed legendary guests such as Frank Sinatra, Nat king Cole, Ethel Merman, and many more. but when the Chase closed for remodeling in the late 1980s, Fender's show and the Steeplechase Room came to a close.
Information from Lost Treasures of St. Louis by Cameron Collins