Article from Harley Hammerman – Lost Tables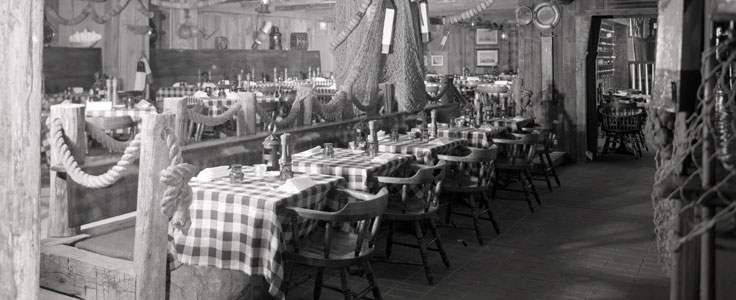 In the 1950s, two of the best places to eat in St. Louis were the Rathskeller and the Mayfair Room. Both downtown restaurants were operated by Mayfair-Lennox Hotels under C. Gordon Heiss. In 1959, Heiss opened a new restaurant that served fresh fish every day. That place was Nantucket Cove.
Fresh ocean fish was almost unheard of in the Midwest in those days. St. Louisans thronged to the new restaurant in the Frontenac Apartment building on Kingshighway at West Pine. On many nights, more than 500 diners were served in a space that seated fewer than 200.
Nantucket's "cove" was its parking lot. Nautical buoys hung on wooden gates, which flanked the restaurant's Kingshighway entrance.
Entrance to Nantucket Cove Parking Lot, 1959
Diner's entered Nantucket Cove via a wooden walkway over water. Inside, it felt very much like the New England shore. The accessories were authentic, many coming from Massachusetts seaport towns, including a hand carved masthead found on the wreck of a whaler. The masthead kept watch over the bar, which was separated from the restaurant by a wall of oars, harpoons and buoys covered with fish casting nets. On one wall there were red running lanterns that had been used on sailing ships of the 1800s. There were also compasses and other navigational equipment.
Nantucket Cove Bar, 1959
A ship's helm, anchors and Portuguese wine casks contributed to the nautical atmosphere. There were captain's chairs, a beamed ceiling and twelve inch planked flooring.
Nantucket Cove, 1959
The restaurant had a trout run with a water wheel and a live lobster pond with a waterfall, where the trout and lobster were kept until ordered by patrons.
"We've developed perfect conditions in our holding ponds to keep our lobsters healthy and happy," said Nantucket Cove's president in 1977. "We control oxygen, salinity, clarity . . . the total environment. From these holding ponds we serve more live Maine lobsters than anyone else in the Midwest.
Nantucket Cove Trout Run and Lobster Pond, 1959
When Nantucket Cove opened, its seafood orientation was revolutionary for the Midwest. The advent of jet air freight in early 1960 was the key, and over the years, Nantucket Cove steadily built its reputation for absolutely fresh, imaginatively prepared seafood. They were known for their lobsters, steamed clams, oysters on the shell, corn sticks and salad, a direct descendant of the original Mayfair salad and dressing.
Nantucket Cove Drink & Food Menu
In 1967, C. Gordon Heiss opened a second Nantucket Cove in Chicago and announced plans to expand into 20 cities throughout the United States. While a third restaurant was reported under construction in Springfield, Illinois, these plans never materialized. In 1972, Heiss sold Nantucket Cove to Frank A. Potts, treasurer of the Mayfair-Lennox Hotels.
Frank Potts, and later his son Charles, continued operations on Kingshighway pretty much unchanged. "I guess we're easily known as the seafood restaurant in St. Louis," explained Charles Potts in 1988. "And we never dropped our lobsters into boiling water. We've always steamed them."
As the population moved westward, eventually Nantucket Cove did the same. In 1994, Charles Potts moved the restaurant from Kingshighway to Clayton's Interco Building, on South Hanley Road. It was an emotional trip for those who had known the restaurant as the preeminent seafood house in St. Louis.
The move was the beginning of the end. Potts sold the restaurant to Amer Hawatmeh in 1995. And in 1999, Nantucket Cove stopped steaming lobsters and closed its doors for good.