"Red," the legendary Vogue fashion editor Diana Vreeland once proclaimed, "is the great clarifier — bright, cleansing, revealing. It makes all colors beautiful. I can't imagine being bored with it. It would be like becoming tired of the person you love."
Vreeland (1903-1989), who famously told Park Avenue interior designer Billy Baldwin in 1955 that she wanted her living room to "look like a garden, but a garden in hell," is the subject of a documentary valentine opening Friday titled "Diana Vreeland: The Eye Has To Travel."
Looking at Baldwin's finished interpretation — the setting for Vreeland interview footage — the mind has to boggle. The room had Venetian blackamoors, mirrored walls, crystal sconces, sculptured busts, crocheted afghan blankets and decorative seashells. Baldwin took Vreeland's "garden in hell" directive to heart.
"I knew what that meant: red," he wrote in his 1974 memoir, "Billy Baldwin Remembers." The designer found scarlet chintz with brilliant Persian flowers in the shop of London decorator John Fowler. "I raced home with yards and yards of it," he wrote, "and we covered the whole room — walls, curtains, furniture, the works."
Featured in magazines and Vreeland's autobiography, the red "garden in hell" has become a designer touchstone. In "Diana Vreeland: The Eye Has to Travel," haute couture clotheshorse Carolina Herrera and rock 'n' roll-influenced fashion icon Anna Sui talk about Vreeland's legacy from the comfort of predominantly red rooms.  (See them in related photos.)
The documentary's director, Lisa Immordino Vreeland, who is married to Diana's grandson, Alexander, provided additional details via email of the garden in hell: The chair in front of the sofa is an antique English armchair. Some of the needlepoint pillows were stitched by Vreeland, and others were gifts. Immordino Vreeland said the fabric from Fowler's shop was a Tree of Life material from India. The same fabric, in blue, covered Vreeland's boudoir.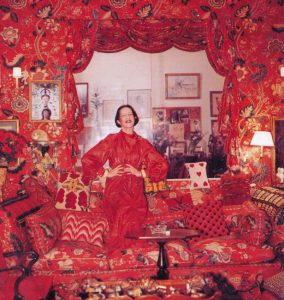 Though Fowler was a partner in the fabric firm of Colefax & Fowler, the Vreeland chintz does not appear to be part of the company's collection. (To replicate the look, I found similar fabrics at Colefax and Fowler, Schumacher and Kravet. For a wider selection, try search terms "Jacobean tree of life fabric" and "Indienne fabric.")
Alexander Vreeland added: "When you entered my grandparents' apartment, you were first struck by the drifts and clouds of scent — candles were burning, incense was sending a plume of floral smoke, and each pillow and throw was impregnated with a rich and worldly scent.  The tables all had large floral bouquets and near the windows were large potted amaryllis or lilies."
That suited Vreeland's exotic, acquisitive nature. In "Billy Baldwin: An Autobiography," the designer recalls her saying, "I know that you know me well enough to know that I adore things. I realize that you have hardly enough room to put your cigarette in an ashtray because there's hardly any room to put an ashtray on the table. Another vase of flowers on the table doesn't bother me if the flowers are divine."
Article originally posted by LA Times