Women often portrayed as secondary characters in the city's formation were actually key to the establishment, survival, and growth of St. Louis. Beyond the Ballot: St. Louis and Suffrage showcases women who made an impact in St. Louis before gaining the vote in 1920.
Through an engaging mix of artifacts, images, media, and interactives, Beyond the Ballot explores women's unique roles in St. Louis's history. One major element of the exhibit traces the long history of the fight for woman's suffrage in St. Louis and the events leading up to the passage of the 19th Amendment in 1920. EXHIBIT DATES: 08/01/2020 – 03/20/2022
Organized by the Missouri History Museum. Presented by Wells Fargo.
Admission to the Missouri History Museum and this special exhibit is free, but advance reservations are required. Reserve them HERE
GROUNDBREAKING ST. LOUIS WOMEN
Whose stories will you learn about in Beyond the Ballot? Here are just a few of the groundbreaking women on display.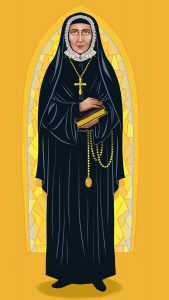 ST. ROSE PHILIPPINE DUCHESNE
When God calls, you answer, even at the age of 48. For Rose Philippine Duchesne, her decision to leave Paris and begin a new life on the edge of the American frontier was an easy one. From an early age, she dreamed that one day she would serve God among Native American children, and her dream finally seemed to be coming true.
Rose traveled to St. Louis in 1818—the first Catholic sister to arrive—expecting to open a school in the city. But the plan had changed, and her school would now be established in the frontier outpost of St. Charles. Rose was adept at navigating the power structure of the Catholic Church, and by 1827 she opened a school in St. Louis. Her superiors wanted her to educate white students, but she also welcomed Native Americans until Bishop DuBourg forced her to stop. Rose admitted black students one day a week, though they were taught in a segregated classroom. She eventually directed three schools, including the Academy of the Sacred Heart, which was the first free school west of the Mississippi and the first Catholic school in the region.
Rose finally realized her childhood dream in 1841, at the age of 72, when she joined a mission to the Potawatomi tribe at Sugar Creek, Kansas. They named her Quahkahkanumad, One-Who-Prays-Always. Less than a year later, poor health forced her to return to St. Charles, where she lived until her death in 1852. She was canonized in 1988 by Pope John Paul II.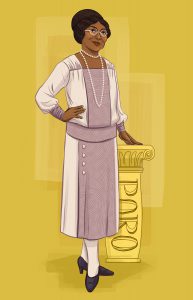 ANNIE TURNBO MALONE
When Annie Turnbo Malone came to St. Louis in 1902 hoping to expand her small cosmetics business, few would have guessed that she'd become one of the richest women in the world. Two years earlier she'd invented Wonderful Hair Grower, the first of what would develop into a complete line of beauty products for African American women. Initially, Annie and a few assistants sold Wonderful Hair Grower door-to-door, but she soon brought other women into the business, training them as franchised saleswomen. By 1918 Annie was a multimillionaire, and her company, Poro, employed 75,000 women worldwide.
A generous philanthropist, Annie gave money to local organizations and to historically black colleges across the country. For nearly 25 years she was the president of the St. Louis Colored Orphans Home, which was later renamed in her honor. In 1920, Annie built a new training and distribution facility that covered an entire block in the Ville neighborhood. The building, called Poro College, also held a public cafeteria, hotel rooms, and a 500-seat auditorium. Poro College became the Ville's vibrant center, just as she had intended. Annie's business declined following a contentious divorce and costly settlement. Still, she remained an astute businesswoman and dedicated philanthropist until her death in 1957.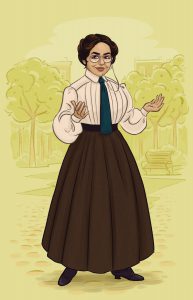 CHARLOTTE RUMBOLD
Perhaps it was Charlotte Rumbold's five-foot stature that led people to underestimate her power and tenacity. Born and raised in the affluent West End neighborhood, Charlotte pursued a career in social work, devoting her time and energy to helping the poor.
By 1900, Charlotte had turned her attention to city reform. Disturbed by what she witnessed in St. Louis's slums, she began establishing playgrounds as a way to improve children's health. She also joined the Civic League of St. Louis, a group dedicated to revamping the city's infrastructure. Charlotte kept health and recreation at the forefront of her efforts and pushed for the construction of city-run public bathhouses and playgrounds.
Charlotte was appointed to a salaried position in St. Louis's parks department in 1907 while continuing to volunteer with the Wednesday Club and the Civic League. That same year she authored a groundbreaking report on the appalling conditions of the city's worst neighborhoods. As Charlotte's responsibilities with the parks department expanded, she asked for a salary increase—from $1,800 to $2,400 per year—but her request was denied by the St. Louis Board of Aldermen. She resigned from her position in 1916 and moved to Cleveland, where she continued to work in city reform.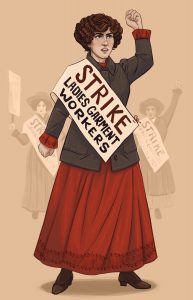 FANNIE SELLINS
Although Fannie Sellins is remembered as one of the nation's most revered union activists, she began her career as a garment worker in St. Louis. Fannie moved to the city after she married, but her husband died young, leaving her a widowed mother of four. She found work in a garment factory and discovered awful conditions, such as being locked into the facility every morning.
Determined to improve the treatment of workers, Fannie was instrumental in organizing Local #67 of the International Ladies' Garment Workers' Union and soon became its chief negotiator. During a major strike in 1911, she represented more than 400 workers and demanded a 9-hour workday—instead of the required 14-hour day—as well as wage increases.
Her successful negotiation in St. Louis made national news, and in 1913 she moved to West Virginia to work with the United Mine Workers of America and their families. In 1919 she continued her work in Pennsylvania. Beloved by union workers, she was also a target of anti-unionists and was arrested many times. Fannie was murdered during a violent strike in Pennsylvania at 47 years old.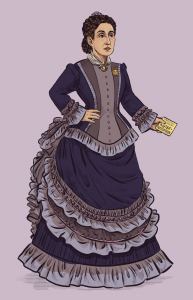 VIRGINIA MINOR
As the US attempted to regain stability after the Civil War, many women seized the opportunity to become a part of the political process. After all, they had made significant contributions to the war effort. One St. Louis woman, Virginia Minor, took groundbreaking steps to assert her rights as an American citizen—a decision that took her all the way to the US Supreme Court.
During a St. Louis suffrage convention in 1869 attended by national women's rights leaders Julia Ward Howe, Lillie Peckham, and Susan B. Anthony, Virginia and Francis Minor introduced a revolutionary argument for women's suffrage. They called it the New Departure.
Virginia and her husband, Francis, who was an attorney, believed that the key to women's suffrage could be found in the inclusive language of the 14th Amendment, which guaranteed citizenship for men and women of all races born or naturalized in the US. They argued that because suffrage was an inherent right of citizenship, women didn't need to "win" the right to vote. They only had to act on a right that was already theirs. This view assumed the legal equality of every American citizen—male and female, black and white.
The Minors needed a test case to prove that their interpretation of the 14th Amendment was correct. On October 15, 1872, Virginia walked up the steps of the Old Courthouse and attempted to register to vote in the upcoming presidential election. Reese Happersett, the registrar of St. Louis's 6th Ward, refused her request.
As a married woman in Missouri, Virginia was not legally permitted to sue Reese. Instead, Francis Minor and two of his colleagues took the case to court. After losing in both the St. Louis Circuit Court and the Missouri Supreme Court, they appealed the case to the US Supreme Court. There, Francis argued that denying women the right to vote was merely a generally accepted practice—not one based on law—and that one of the privileges of citizenship as stated in the 14th Amendment was the right to vote.
In late 1874 the US Supreme Court ruled unanimously against the Minors, stating that citizenship alone did not guarantee voting rights. The decision reverberated throughout the national suffrage movement, and the loss was devastating. It would take decades for suffragists to regain their momentum and gather enough power and resources to begin their fight again.