Schnaider's Beer Garden
In the late nineteenth century, few places in St. Louis could offer a grander beer garden expiernce than Joseph Schnaider's Chouteau Avenue Brewery at the intersection of Mississippi and Chouteau. With enough space to entertain as many as ten thousand revelers at once, Schnaider's Beer Garden was the largest beer garden in St. Louis at the time. Schnaider's even gave us a treasure that remains with us today. Many of the bands that provided music on the various stages decided to organize and form a new and larger group. It's known today as the St. Louis Symphony Orchestra.
Rossino's
Rossino's, the underground Italian hideaway located in the Central West End, was one of the most authentic and unique eating establishments in St. Louis history. From a basement at the corner of Pine and Sarah, Rossino's offered a full menu of Italian dishes, but pizza was why people came. Rossino's pizza was famous in St. Louis, and the owners insisted Rossino's was the first to serve the famous dish west of the Mississippi River. And if the pizza wasn't enough of a treat, the decor certainly was. The restaurant was dimly lit, with candles in Chianti bottles on top of checkered tablecloths. Low ceilings overwhelmed diners, and every wall and ceiling was covered with paintings, antiques, and sports memorabilia. Celebrities, ballplayers, and even gangsters all loved Rossino's. Known as Melrose when the restaurant was opened by Nina and Roy Russo in 1944, the name evolved to Rossino's by 1954 and the rest is history. Rossino's closed in 2006.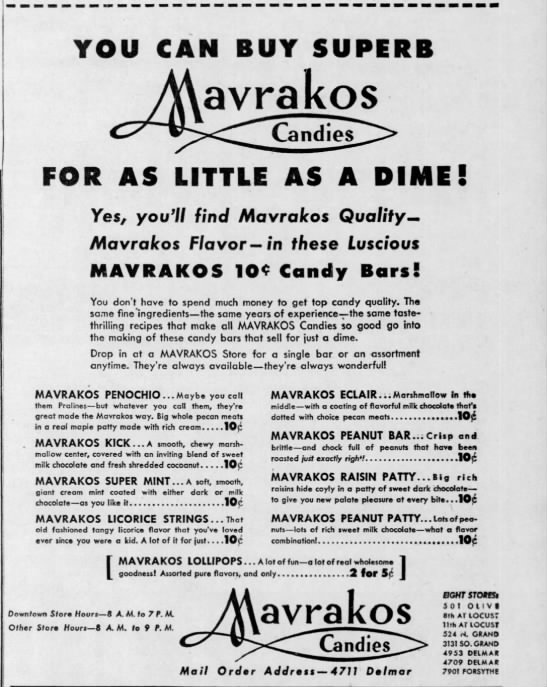 Mavrakos Candy
Caramel apples, molasses puffs, chocolate-covered cherries, chocolate-dipped coconut rings, and heavenly hash. These are just a few of the delicious memories brought to mind when recalling Mavrakos Candy. From 1913 to 1984, Mavrakos was known to make the best chocolate in St. Louis. With more than a dozen stores in the St. Louis area, Mavrakos made for a special trip for anyone with a sweet tooth. The stores are gone, but the recipes aren't. In 2009 another local candy company, the Chocolate Chocolate Chocolate Company, relaunched the Mavrakos brand and began selling many of their signature treats using the original recipe.
Winter Garden Ice Skating Rink
Originally built to introduce the sport of jai alai to the United States at the 1904 World's Fair, the Winter Garden was converted to an indoor ice skating rink in 1916. Located on DeBaliviere between Forest Park and Delmar, the Winter Garden was a social center for fans of ice skating, the site of numerous figure skating competitions, and the home fo the St. Louis Figure Skating Club. In 1929 the Winter Garden became the home of the St. Louis Flyers, a minor-league hockey team that would eventually move to the St. Louis Arena. Despite its rich history, the Winter Garden was closed and demolished in 1964 to make way for a shopping center.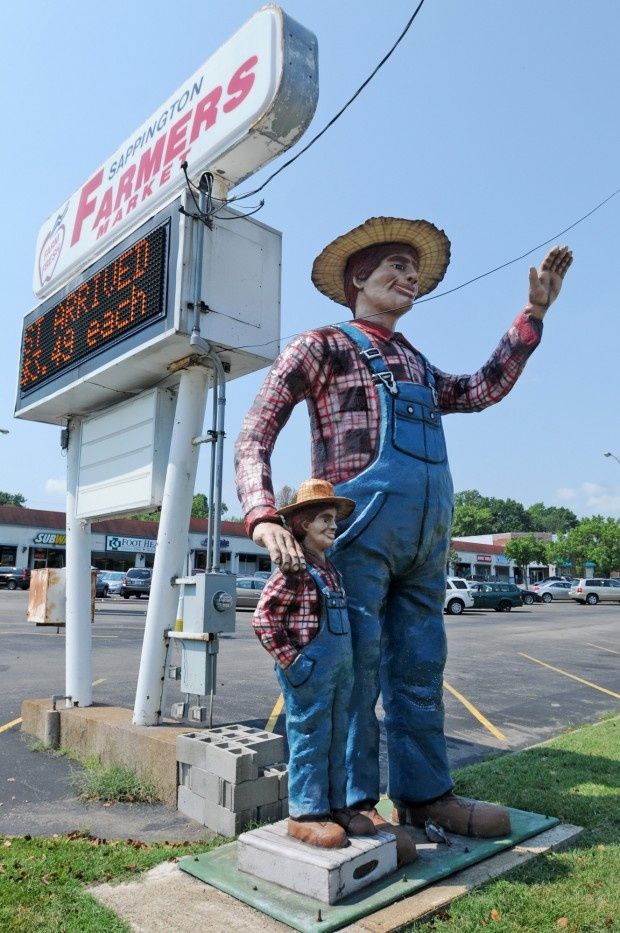 Sappington Farmers Market
For decades, Sappington Farmers Market provided a place to buy fresh locally produced fruit and produce for thousands of loyal shoppers. A business that began as a storefront on Gravois Road, Sappington Market eventually grew to a fill a twelve-thousand-square-foot space on Watson Road in Marlborough. The market was known for its great food and produce, but business waned as supermarkets started to figure out how to keep produce fresh and sell it in bulk. The market's final location, with Farmer Fred and his son Clyde waving to passing cars, closed in 2012.
Information from Lost Treasures of St. Louis by Cameron Collins