America's Sports Car, the Chevy Corvette, was first manufactured in St. Louis. So was the World War II "Jimmy," the GMC CCKW truck that carried supplies for Allied troops as they pushed eastward after the Normandy invasion. So was the sleek Moon roadster that Walt Disney drove—until he sold it to finance the production of Steamboat Willie. St. Louis was the home of the first gasoline station dedicated to serving motorists, and many of the earliest, coolest automobiles were made here. At one point, its car manufacturing came in second only to Detroit. By 1965, we were cranking out more than 700,000 vehicles. We had not one but three Automobile Rows over the years, lined with grand buildings where you could browse, beg to test-drive, or have a beloved vehicle repaired.
This moving history is celebrated in a new book by Reedy Press, They Will Run: The Golden Age of the Automobile in St. Louis. The Museum of Transportation will host a book launch (along with a car show, natch) on October 27 from 1 to 4 pm. Authors Molly Butterworth and Thomas Eyssell will be on hand to sign books, and about 60 vintage cars will roll in for the show. Below, just a handful of the vehicles made in St. Louis.

A 1921 Dorris 6-80 touring car. Founded in 1906, Dorris took over the original St. Louis Motor Company plant. There, it created the float carburetor that would be used for decades. "Build up to a standard, not down to a price," urged the slogan; the company's first cars cost almost $7,000.

A 1921 Traffic Motor truck delivering Vess Orange Whistle soda—also made in St. Louis—in Washington, DC, in 1925. Traffic Motor trucks were manufactured in stl from 1917 until the Great Depression.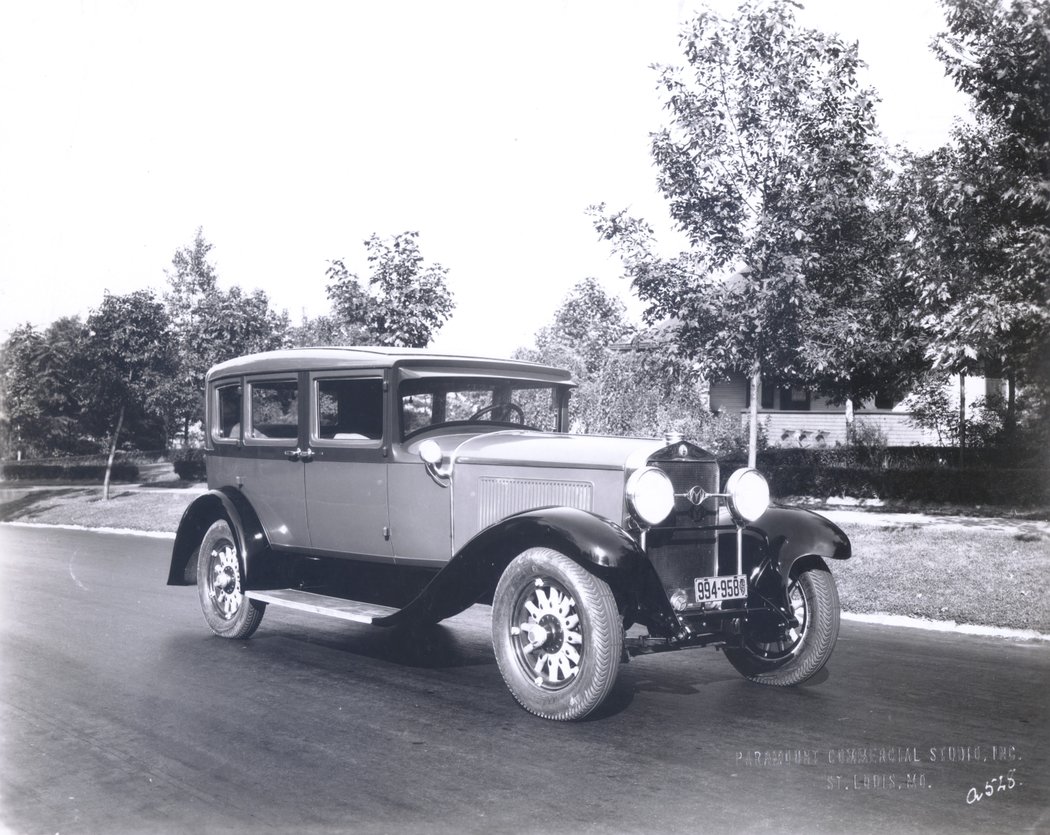 A 1929 Moon. Founded by carriage maker Joseph W. Moon, the Moon Motor Company produced affordable, fully assembled, mid-level cars—but with high-quality parts and a lot of handwork. Moon was in business from 1905 until 1930, peaking with 10,271 vehicles in 1925.

A 1931 Gardner roadster. Buggy-maker Russell Gardner shifted to distributing the early Chevrolets, then introduced his own "assembled car" in 1909, put together in St. Louis with components from larger manufacturers. Dubbed "the distinctly different motor car," the Gardner had a grace, quality, and technological sophistication were extraordinary for the price.

Troops assigned to a CCKW six-wheel-drive 25-ton truck, one in a series of off-road trucks built for the U.S. Army during World War II. The Deuce and a Half played a major role in the Red Ball Express that carried supplies to Allied forces.

The man who brought speed to the Chevrolet Corvette, Zora Arkus-Duntov, in one of the first 1957 Corvettes featuring fuel injection. Introduced in 1953, in Pennant Blue, Sportsman Red, Black, or Polo White, the Vette had a long front end and, by 1958, a duck tail. Which doesn't sound sexy, but it was. The name, if you took the time to wonder as you zoomed around town in America's most iconic sports car, came from a small, maneuverable warship—but the Corvette was more often used for love.
Article originally posted by STLMag