I just got back from a fabulous vacation to Glacier National Park in Montana.  I have been to several of our National Parks, though I have to say that Glacier National Park was probably the most breathtaking. Every view was perfect….almost like they were fake.  What was special about this trip was we spent a total week exploring the park….very thorough, though we never were bored. I traveled with my son, Teddy, who looked very Pacific Northwest with his beard and my oldest brother, John, from New York State.  We flew into Spokane, Washington and stayed our first night in Coeur d'Alene, Idaho. Coeur d'Alene boasts the longest floating boardwalk. There my son discovered the Inland Northwest Ale Trail and was determined to see as many as possible….I think we hit about 12 of them….including Top Frog which was in a remote place in the woods with some of their patrons who actually showed up on horseback.
Our next destination was West Glacier where we stayed at Lake Five Resort for two nights.  It was rustic and right on a lake…where we went canoeing and paddle boating. Our cabin did not have towels or soap provided, though the owner was kind in giving us some towels and a bar of soap to use during our stay.  We explored the Western side of Glacier National Park and even went on a whitewater raft trip.  We changed it up a little the next night and stayed at The Historic Tamarack Lodge in a great cabin.  It was not on a lake or with much of a view, though the cabin was perfect with towels and soap provided!  One day we also traveled the Going-to-the-Sun Road up into the mountains.  This road is not for the faint-at-heart….it can be narrow with straight drop-offs.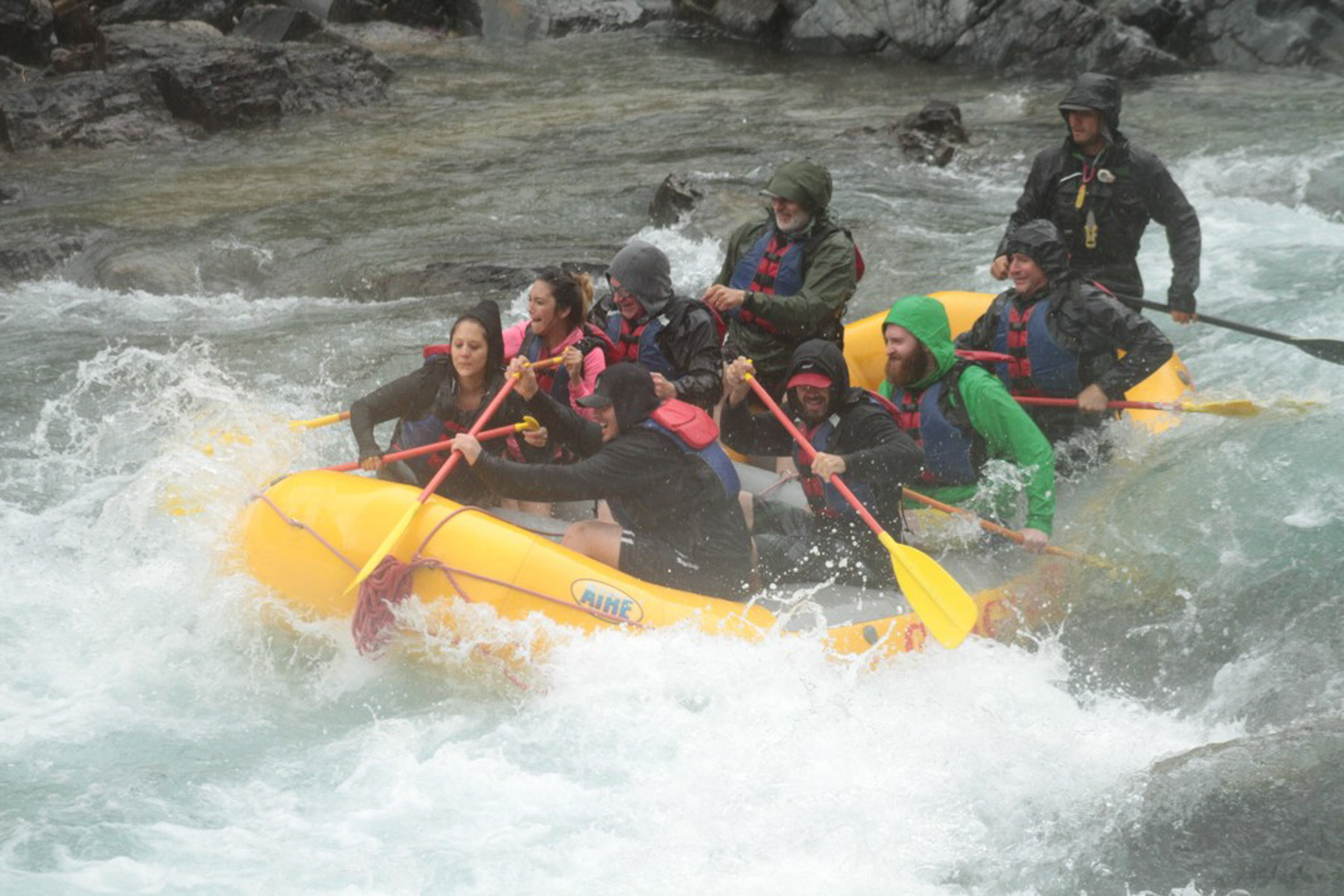 The next day we circled around the Southern portion of the park to the Eastern Side of Glacier National Park.  There we stayed at St. Mary's Lodge & Resort for two nights. This lodge is located on the Black Foot Indian Reservation.  Here we had a balcony with one of the best views of the bordering mountains. One night we tried the popular Cattle Baron Supper Club in tiny Babb, MT.  This was a steak-lovers dream!  While on the Eastern side of Glacier Park, we finished the other side of the Going-to-the-Sun Road.  Finally, I saw some wildlife other than ground squirrels….a mountain goat!  I still have not seen a moose in any of my travels…ever.  Luckily we did not see any bears….there are lots of Black Bears & Grizzlies in the Park.
Our last destination near Glacier Park was the northern side up in Canada where we stayed at the Prince of Wales Hotel in Waterton, Canada.  Here we enjoyed English tea in this historic hotel perched high above a lake.
Where should I go next year? Alaska? See more pictures below…