Born Vera Jayne Palmer, Jayne Mansfield was one of America's top pinup girls. Jayne desired to be an actress from a young age and after graduating high school she studied drama and physics at Southern Methodist University in Dallas.
In January 1950, Jayne married Paul Mansfield (left) and spent the next few years juggling motherhood and college classes while her husband was in the army. Living in Texas she competed in and won several beauty pageants. Few actually knew how smart she was. She had an IQ of 163, had many hidden talents such as the ability to speak five languages, and was a classically trained, pianist and violinist.
Paul Mansfield had hoped she would lose interest in acting however when she didn't, he moved to LA with her to begin her movie career. Her film career began at Warner Brothers where she was given smaller roles. She was soon given a large part in the dramatic film The Burglar (which wasn't released until two years later when her career had peaked.)
Jayne later had appearances in various productions such as Will Success Spoil Rock Hunter? The Girl Can't Help It, and The Wayward Bus. These were all hugely successful and cemented her image as a blonde comic relief.
In January 1958 Jayne divorced Paul Mansfield and married actor, bodybuilder, and Mr. Universe titleholder, Mickey Hargitay. Their marriage came to an end after five years when Jayne got a Mexican divorce in Juarez in May of 1963. The divorce was declared invalid and the two reconciled in October 1963. After their third child, Jayne sued for the Juarez divorce to be declared legal and actually won. During their marriage, they had three children: Miklos, Zoltan, and Mariska (Detective Olivia Benson in "Law & Order: Special Victims Unit.)
Jayne's career was at its height and she sought publicity in whatever she could find. She repeatedly and successfully managed to create wardrobe malfunctions that exposed her famous chest.  An "accident" occurred once at an appearance on the "Tonight Show" and another time to deflect attention from Sophia Loren while at a dinner party for the Italian star's honor. The infamous photo was published worldwide and can be seen below. She made headlines again worldwide when Mickey picked her up so that she could bite some low-hanging grapes from a vine and both breasts "accidentally" popped out of her dress while at a Berlin Film Festival party. The incident was published in magazines all over the world with the word CENSORED hiding her chest. Her racy publicity which had brought her fame became her downfall as well.
After her divorce from Mickey Hargitay, Jayne was linked romantically to singer Nelson Sardelli, but married director Matteo Ottaviano in 1964. After her divorce from Ottaviano in July 1966, Jayne was supporting herself and her children by doing burlesque and dinner theater.
In late 1966, she took another step to revive her career and joined the newly formed Church of Satan. It is still unsure if this was a serious attempt to find herself or if it was another publicity stunt. However, founder Anton LaVey (left) was entranced by Jayne and took an instant dislike for her attorney boyfriend, Sam Brody (right.) LaVey and Brody clashed several times and the story goes that LaVey put a "curse" on Brody to protect Jayne. LaVey warned her to stay away from him or the curse would affect her also.
Jayne didn't listen and soon after Brody and Jayne were involved in two separate automobile accidents. Months later, Jayne's son Zolton was mauled by a supposedly tame lion at Jungleland in Thousand Oaks, California. A collection of her prized jewelry was stolen from her hotel room while in Japan. On a trip to England, she was publicly humiliated and her show was canceled after she was falsely accused of skipping out on her hotel bill. She was charged with income tax evasion in Venezuela, robbed in Las Vegas, and attacked by a mob at a Carnival in Rio de Janeiro.
On June 22, 1967, Brody was on his way to pick up Jayne from a charity lunch when his vehicle was struck by a car, breaking his leg and ribs. Brody's injuries did not stop him from going on tour with Jayne to Gus Steven's Supper Club in Biloxi, Mississippi. After the show, they decided to drive to New Orleans where she would appear on a television talk show on the morning of June 29. They left the club after midnight with their 19-year-old driver, Ron Harrison, and their three kids.
On their way to New Orleans, Harrison spotted a white cloud that was coming from a mosquito-spraying truck ahead of them on the highway. Unable to see clearly, Harrison accelerated and drove around the truck into the fog. Harrison had no idea that a slow-moving trailer truck was ahead of the mosquito sprayer until the front of his Buick slammed under it. The roof of the car was sheared off, killing Sam Brody, Harrison, and Jayne instantly and leaving the children injured but alive.
The news stunned fans and Anton LaVey announced that Jayne was "a victim of her own frivolity." He had warned her about the curse and she ignored it.
Many connected to Jayne reported strange happenings after her death. Linda Mudrick, Jayne's personal maid for many years, often heard her son Miklos talking to someone when she knew he was alone in his room. When asked, he told her that he had been talking to his mother.
The weird happenings did not stop there and numerous occurred around her famous 40-room, Mediterranean-style mansion in Beverly Hills known as the "Pink Palace."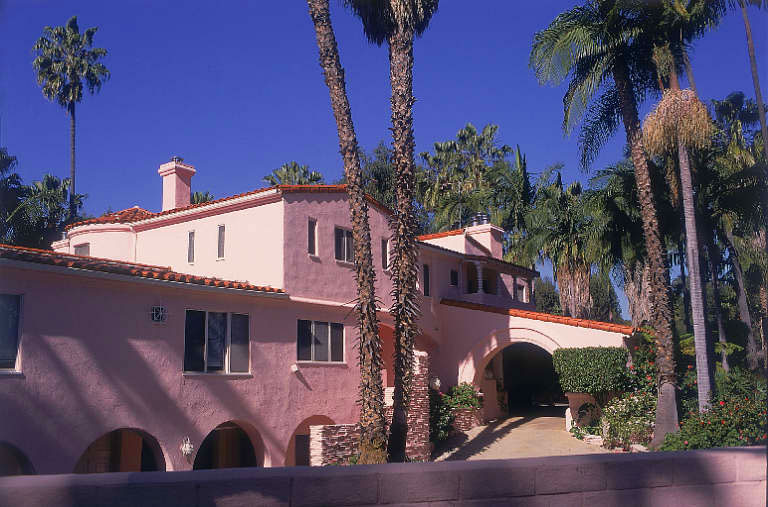 Soon after Jayne's death, Mickey was involved in a bad accident driving out of the gates of the Pink Palace. Matteo Ottaviano, Jayne's third husband, also experienced turmoil. His father had a heart attack, legal problems closed his nightclub and his best friend was killed. Jayne's road manager, Victor Huston died suddenly. Linda Mudrick (the maid) was involved in a terrible car accident. Jayne's son, Miklos and a friend were playing in a toy electric car one afternoon at the Pink Palace, the little girl's long black hair somehow became entangled around the axle and was yanked from her head by the roots.
Many believed that Jayne was still around and angry over the fighting that was going on over her estate. Her spirit haunted the Pink Palace and wanted to ensure that her children received their inheritance.
A bank president and his family were the first occupants of the house after Jayne's death. The banker's son found a pink Honda that late actor, Nick Adams, had given Jayne during a brief affair. The boy took it for a spin around the estate and then decided to try it out on the road. He was struck and killed by an oncoming car just as he was leaving the gates. Allegedly, the banker and his family moved out the same day.
Singer Cass Elliot of the Mamas & the Papas later bought the house. Cass left her husband to oversee the redecorating while she went off to record some television commercials in London. Cass's death occurred while she was away.
The next occupant of the house experienced strange phenomena as well. She began to feel the urge to dye her hair blonde, dress in Jayne's clothing that she had found in storage, and even consulted a plastic surgeon about breast enlargement. When questioned by her concerned friends, she could give no explanation for her strange behavior. One night she claimed to hear a woman's voice begging her to "get out." The woman packed up her belongings and fled the Pink Palace.
Beatle Ringo Starr, a former friend of Jayne's (seen below) was the next to occupy the mansion. Ringo had the exterior of the house painted white, however, it began turning pink again soon after. The house was repainted again using a sealer and two coats of paint but turned pink once more. Finally, the house was repainted a third time and remained white until it was torn down.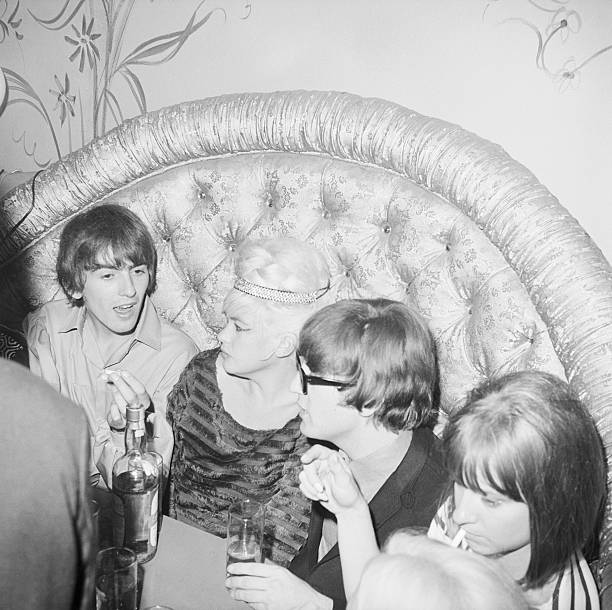 Singer Englebert Humperdinck (seen below), who had once been romantically involved with Jayne purchased the house in 1977. Upon moving in he had the house blessed by a Catholic priest and stated that he did not believe the house was haunted any longer. He sold the Pink Palace to developers in 2002 where it was demolished later that year. Since then, there have been no further reports of Jayne's ghost.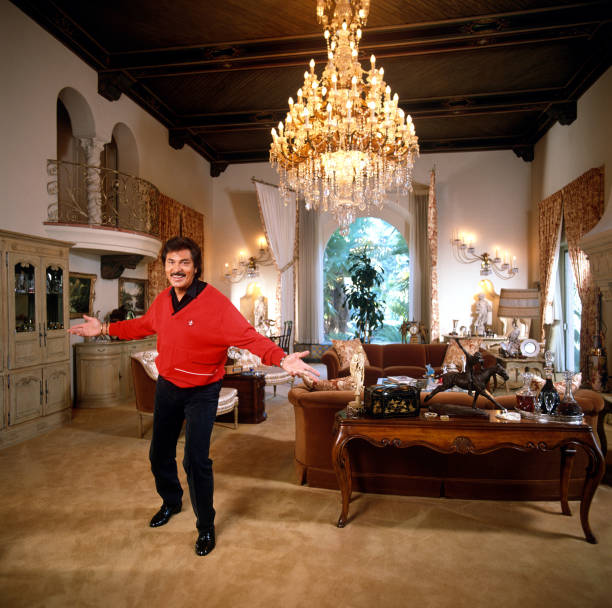 Inside the Pink Palace
"Newlyweds Jayne Mansfield and Mickey Hargitay bought this seven-bedroom Mediterranean mansion in 1958 for $76,000 (nearly 700,000 today.) The couple painted it pink — the actress' trademark color — and dubbed it the Pink Palace. Features added by Mansfield included a heart-shaped pool and pink shag carpeting, even on the walls and ceilings. The actress lived there until her death in 1967, and it was part of her public persona." (HollywoodReporter.com)
Information from: HollywoodReporter.com & AmericanHauntingsInk.com
Photos from: MessNessyChic.com